A carpet is a common item for many households. But it is also an art, a craft, a tradition and now with artist Faig Ahmed, a part of contemporary art.
It's easy to understand why Faig Ahmed's artworks have gained such popularity, been exhibited in many museums, and made the rounds of social media, reposted in admiration for its innovation blended in with its traditional craft.
But what lay behind the artist's quest to transform carpets into his artistic vision and where did it all start?

For Faig Ahmed, "The carpet is a structure – the structure of society, community or culture." Like most Azeri families, Faig grew up with carpets in his household. He spent his childhood imagining that the patterns of his carpet in his room were either trees, dragons or roads. This lead him one day when his parents were out, to experiment with one of the carpets at his home, cutting it into pieces with the aim to change its pattern placement.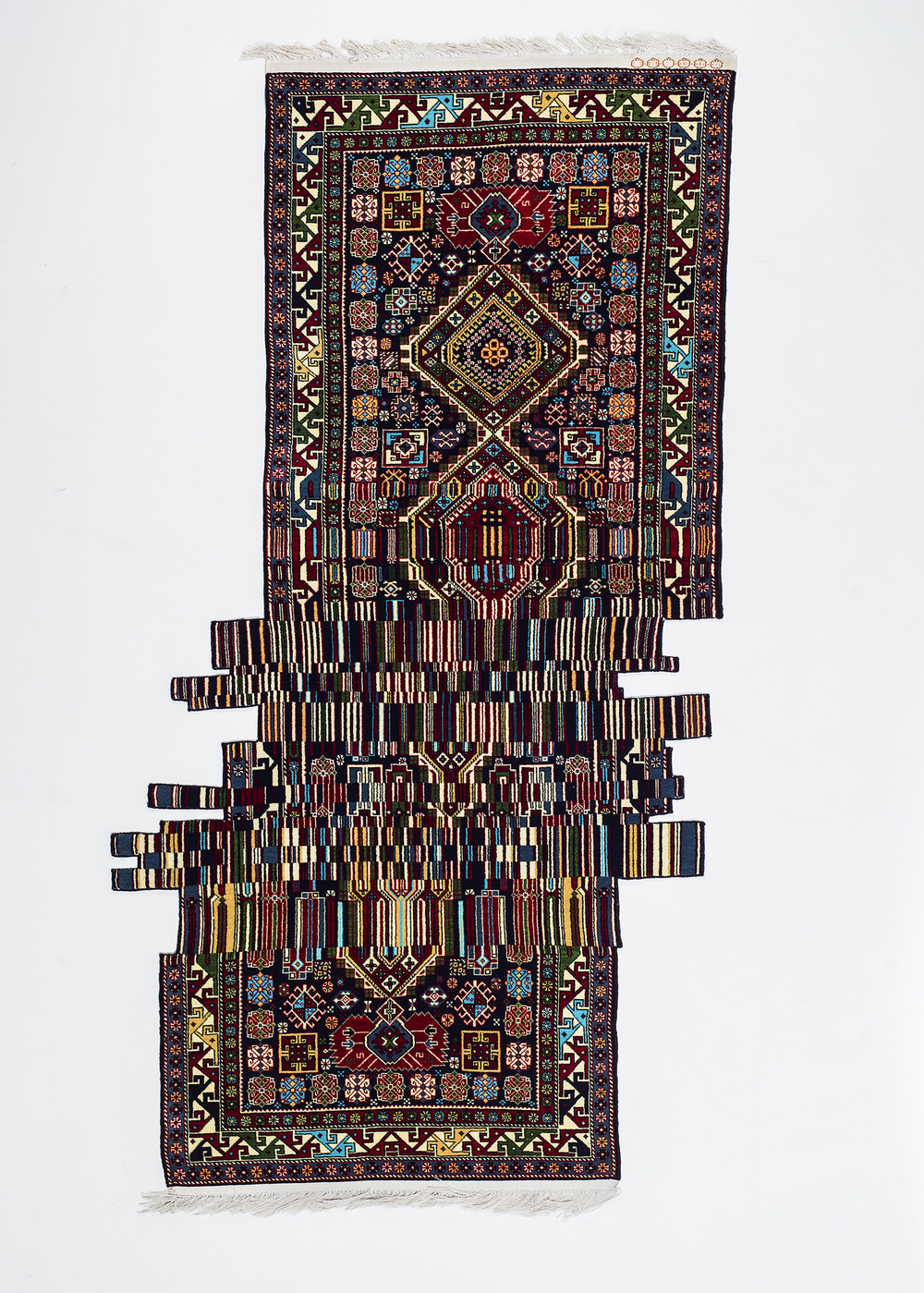 DNA. 2016. Faig Ahmed. Image Courtesy of Faig Ahmed Studio
After that first introduction to artistic experimentation, it was inevitable that Faig Ahmed go on to study art. He graduated from the sculpture department of the Azerbaijan State Academy of Fine Arts in 2004, which set him off onto his path of discovery.
Researching ancient symbols in the patterns of carpets from around the world, the artist has spoken of finding many similarities in a variety of cultures. Those points of affinity in the history of carpets, are for the artist also within the melting pot of his country.
"We have been conquered many times and have been a part of different empires, spoken many languages and changed alphabets many times – from Farsi to Arabic, Cyrillic and Latin. At the same time, the majority of the people use traditional elements of home decoration – like carpets – to connect with some kind of cultural ground under their feet.
It's a delicate balance. You have to be sensitive to changes while keeping your identity and remembering your roots."
That seems to be at the very heart of Faig Ahmed's art. The fusion of innovation and traditional craft, his identity of a contemporary artist and his own traditional roots. This amalgamation can also be seen within the contemporary art scene in Azerbaijan, which according to Faig Ahmed, changed after the collapse of the USSR in the 1990s. He states that most local artists were using abstract and Western art as a model, whereas now, artists are looking back to traditional art forms and techniques from the region. Techniques that through Faig's work, and through curating exhibitions for many young local artists, he has helped put at the forefront of the contemporary art scene in Azerbaijan.
10-( 35 ).2017. Faig Ahmed. Image Courtesy of Faig Ahmed Studio
The technical aspect of Faig Ahmed's art, starts of with him making sketches on his computer, to then transfer them onto special engineering paper. Following that, he gives his work to carpet makers who weave his creation with naturally dyed woollen or silken threads, using ancient techniques of the region, that were done 300 years ago.
Archive#1. 2019. Faig Ahmed. Image Courtesy of Faig Ahmed Studio
Initially Faig Ahmed sat beside the weavers for about a year, to learn and understand the craft and tradition of weaving. The weavers at first, did not understand the construction and deconstruction part of Faig's work, thinking he was being disrespectful to the customs. He put forth his explanation "that centuries ago people created what we now think of as our classic carpet designs through the same kind of innovations."
Speech of the Birds. 2016. Faig Ahmed. Image Courtesy of Faig Ahmed Studio
That's the thing with art, it keeps moving forward, just as we think science might. Art searches for experimentation, innovation and uniqueness all through its need for expression and to share feelings, history and thoughts. It also can pave the way to bring about perspectives. History can often be turbulent, and lead to present tensions. A history, a current situation is only complete filled with as many perspectives as it can gather. Art is there to present its perspective propelling viewers to seek for more.
Humanity often refers back to traditions and customs, acknowledging, challenging or disagreeing with them. Throughout, humans through their work, place their fingerprints onto what has come before.
Faig Ahmed's art fingerprints, lie in the woven threads that flow from the imagination, like a river of colour, a magical carpet ride, of modernisation, tradition and wonder, leading us to think through the object of a carpet on the many subjects, such as the home, the value we place on everyday objects, the notion of craft and modernity, spirituality, cultures, migration, melting pots and creativity.
Gautama. 2017. Faig Ahmed. Image Courtesy of Faig Ahmed Studio
Doubts. 2020. Faig Ahmed. Image Courtesy of Faig Ahmed Studio Currently on show at Sapar Contemporary New York
---
Faig Ahmed was born in Sumqayit, the third-largest city in Azerbaijan, in 1982, and graduated from the sculpture department of the Azerbaijan State Academy of Fine Arts in 2004. He represented Azerbaijan at the nation's inaugural pavilion at the Venice Biennale in 2007 and participated in the "Love Me, Love Me Not" exhibition for the 2013 event and the 11th Mercosul Visual Arts Biennial in 2018.
He has exhibited his works worldwide including group and solo exhibitions in New York, Paris, London, Berlin, Moscow, Mumbai, Rome, Sydney and Dubai. In 2013, he was nominated for the Jameel Prize 3 at the Victoria and Albert Museum in London.
His works are in public collections including Los Angeles County Museum of Art, Art Institute of Chicago, Seattle Art Museum, Palm Springs Museum of Art, Chrysler Museum of Art, Rhode Island School of Design Museum (RISD), Wake Forest University Museum; Bargoin Museum, France; MOCAK Museum of Contemporary Art, Poland; The National Gallery of Victoria, Australia; Arsenal art contemporain Montréal, Canada; The National Museum of Art, Architecture and Design, Norway. As well as private collections such as the West Collection, Philadelphia; the collection of Beth Rudin DeWoody, New York City; Galila Barzilaï-Hollander's collection, Brussels, Espacio SOLO, Puerta de Alcalá, Madrid; and the private collection of H.H. Sheikh Zayed bin Sultan bin Khalifa al-Nahyan, United Arab Emirates among others.
Faig Ahmad's works have been recently exhibited in several museum group shows all over the United States, including the Museum of Fine Arts, Boston; Bellevue Arts Museum, Washington; the Museum of Contemporary Art Cleveland; Milwaukee Institute of Art & Design; Boca Raton Museum of Art; Newport Art Museum; Honolulu Museum of Art; as well as the Museum of Contemporary Art of Rome (MACRO), the Museum of Applied Arts and Sciences, Sydney, Museum of Old and New Art, Tasmania, the Textile Museum of Sweden, Borås, the New Tretyakov Gallery, Moscow, Istanbul Modern, Istanbul, and The National Museum of Art, Architecture and Design, Oslo.
He currently lives and works in Baku, Azerbaijan.

---
Wave. 2016. Faig Ahmed. Image Courtesy of Faig Ahmed Studio.Photo by Giovanni De Angelis
---
All images courtesy of Faig Ahmed Studio