The Art of Food
Lebanon
The art of food is taking an ingredient and creating magic. That magic develops itself through all our senses, until it becomes a memory.
That memory of Lebanese food, travelled from the Lebanon with all its diaspora across the shores and lands of the world. Whether during the migration of the 19th Century, or later throughout the Lebanese Civil War, food travelled with people towards many parts of the world, such as Europe, The United States, Australia and the Gulf States.
Lebanese cuisine has gained so much popularity for its wealth of flavour, delicacy and variety.
The collapse of the economy which peaked in October 2019 with the devastation of the country's currency, the Lebanese Lira, led to food prices rising rapidly and famine reaching the doors of many houses. The price of meat had risen so high, that the state TV's cook, Chef Antoine, took a decision to remove beef meat from any segment of his cookery show.
The magic of the art of Lebanese food, lies not only in its splendour, its taste, its visual delight, but in its propelling a community spirit, its ability to be shared and for many dishes be produced with few ingredients, yet loaded with taste. Lentils, pulses and grains are a staple of the Lebanese cuisine. Mountainous people lived off the land for many years. Unfortunately, the effects of the Civil war rendered the country reliant on imports, leaving its agricultural land to fend for itself.
The politics of the land had a literal effect on the land itself, however a civil society, its diaspora and legions of supporters emphasised the discussion around agriculture and around Lebanese food.
Below are some wonderful people and organisations, who in these challenging and devastating times in the Lebanon, are showcasing how food can go along way and be shared in its spirit of community and humanity. Mobilising through the art of food or to share food for all.
These are hard times for Lebanon, and in much of the world the economic situation is rendering some countries to fall into recession, these initiatives will help feed families in a healthy and flavoursome way, rebuild places as well as share some hope in challenging times.
---
---
---
Souk el Tayeb / Tawlet



@SoukelTayeb, founded by @KamalMouzawak, is a food market showcasing the agricultural products of the country and Tawlet their restaurant producing regional food. These places have been badly damaged. The donation to rebuild Tawlet and Souk el Tayeb Beirut, would help secure 100 jobs and preserve part of a culinary heritage. With @wckitchen they have started an emergency kitchen.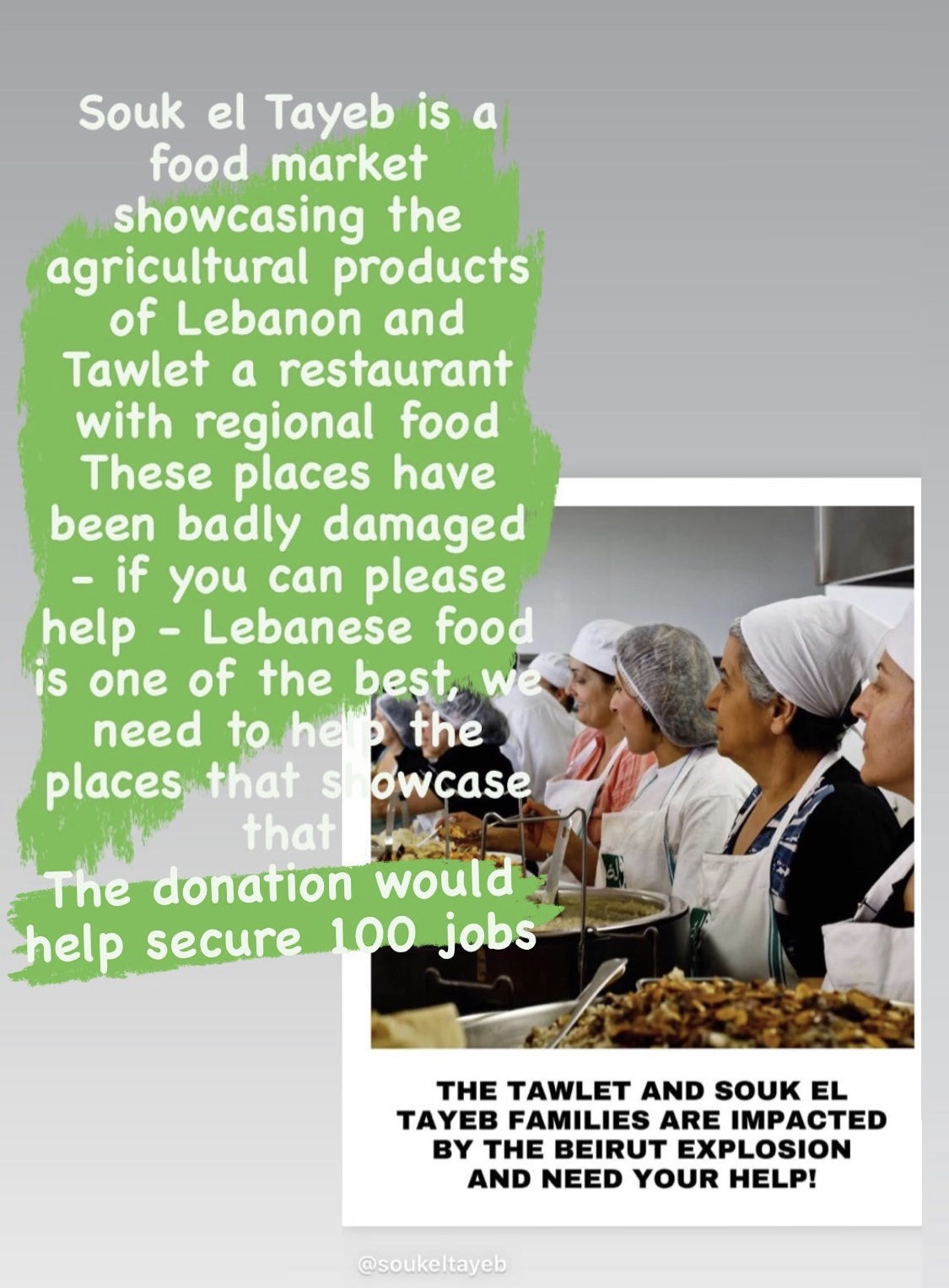 https://www.gofundme.com/f/help-us-rebuild-tawlet-and-souk-el-tayeb-beirut
---
World Central Kitchen
World Central Kitchen: Wherever there is a fight so that hungry people may eat, we will be there. www.wck.org
Repost: @wckitchen Take a look at how we package thousands of individual hot meals for #Beirut! This work is only possible because of our amazing local team and volunteers working hard every day. With this kitchen & WCK restaurant partners, we're cooking over 10,000 meals per day now. #ChefsForBeirut
---
Cook for Beirut
LOCAL CHEFS JOIN FORCES AS THEY COOK FOR BEIRUT
All Proceeds from The Dinner Will Be Donated to @LebaneseRedCross

Inspired by Clerkenwell Boy and Serena Guen who originally came up with the idea to curate a charity dinner in aid of UNICEF UK's humanitarian work helping children and refugees affected by the crisis in the Levant, Gates Hospitality is bringing together a team of local chefs as they 'cook for Beirut'.

Collaborating for a series of charity dinners, chef Rita Soueidan, Bethan Kehdy, Ruby Chaer, Mohammad Orfali, and Greg Malouf are set to bring together their creative forces as they cook up a four-course dinner at Publique where all proceeds will be donated to the Lebanese Red Cross.
@cookforbeirut_ #cookforBeirut is going live! Join us on Sunday August 23rd at 7pm UAE time via @zoom link. Access for $20 USD and all proceeds donated to @lebaneseredcross
---
INKED
Following the tragic explosion in Beirut, we need your help to send monetary aid to the city.
We are joining Alserkal Avenue's initiative to raise funds by hosting a four day dinner pop-up where 100% of the proceeds will be sent to @LebaneseRedCross via the Emirates Red Crescent.
As we are currently closed, we will host the pop-up in October only. The humanitarian situation in Lebanon warrants immediate attention and response from the international community and every amount counts. Please share this with your friends and family and social network.
There are many other ways to help, you can check out @AlserkalAvenue's page for details about the concepts and retail spaces contributing to the cause.
Beirut will rebuild, but today we can come together in many ways to help as Lebanon needs us all.
THE DETAILS
The dinners will take place from October 6th to the 9th and there will be one seating per evening at 8:30pm sharp. Doors will open at 8pm.
The experience is priced at AED 450 per person (inclusive of VAT) and includes a five-course dinner menu inspired by Lebanese traditional recipes. A vegetarian menu option will be available when requested in advance during the booking.
PLEASE NOTE THAT DUE TO THE PARTICULARITIES OF THE EVENT, THE MENU IS FIXED AND WE ARE UNABLE TO CATER TO ANY ALLERGIES & INTOLERANCES.
NOTE: All social distancing measures will be fully enforced so if you are joining us as a group and would like to be seated together, please inform us in advance.
For more details contact info@inked.ae or +971- 50 845 1359
http://inked.ae/experience/for-beirut/ @inkeddubai
---
Omar Sartawi
F o o d M e e t s A r t fundraiser all proceeds went to @bebwshebbek please consider donating to Bebw'shebbek: https://www.ulyp.org/donate
@omar_sartawi " My Beirut 2 " Tear broth with same salinity and viscosity as tears .
Some have bleed...but everyone cried .
Food Artist www.omarsartawi.com
---
Beit el Baraka's mission is to help Lebanon's edlerly and retired citizens gain back a sense of dignity amid a country with no social safety net or pension scheme. Founded by Maya Chams Ibrahimchah, her aims and those of the organisation's team, are to stop people falling into poverty. Beit el Baraka provides food, housing and medical support. A Free Supermarket based on a system of points was started to encourage the elderly and retirees to shop and feel like they are engaging with the community, rather than receiving charity, ensuring they retain their dignity. When helping with housing, much is done through unused material from construction sites or upcycling furniture. Unpaid bills for families of retirees who are too old or sick are settled. The work at Beit el Baraka is achieved through people or companies volunteering, contributing provisions or their skills. The organisation also encourages a community spirit amongst the retired and elderly in order to combat loneliness. The NGO has been looking to agriculture for sustainable solutions, with Beit el baraka embarking on agriculture projects to cultivate food. During these critical times the Lebanon is facing, they have provided food and shelter to many families.
Please consider donating and if you are in Lebanon, you can become a volounteer and help the organisation.
https://beitelbaraka.net/donation/pay/ https://www.beitelbaraka.org/ @beitelbaraka
Join `@chef__noha and @thesirtfooddiet for a zoom cook a long to support @beitelbaraka
---
The Lebanese Food Bank is a non-profit started by a group of Lebanese aiming to eradicate hunger across Lebanon. The non-profit provides food on a daily basis to families and individuals in need from the collection of surplus food from restaurants, hotels, caterers, supermarkets and food exporters or importers. They also contribute food to a number of Lebanese NGO's. Feeding, Development and Awareness Programs, are developed aiding with their mission of overcoming hunger in Lebanon.
Please consider donating https://lebanesefoodbank.org/donate/ https://lebanesefoodbank.org/ @lebfoodbank
and if you are in Lebanon, you can become a volounteer and help the organisation.
---
Community Spirit
Repost still image from video by @makram.radwan with @offre.joie please consider donating to https://offrejoie.org/donate/
---
Sahtein Beirut Challenge
Sahtein Beirut Challenge was started by Siriana Abboud, join in, follow the steps in the posted picture and turn your love of Lebanese food to humanitarian aid.
Join the #SahteinBeirut challenge & support victims of Beirut's explosion. @sahteinbeirut
---
Nightjar

Repost: @nightjar.coffee In light of the recent tragedy in Beirut, Nightjar have teamed up with 'Moreish by K' to bring to you an evening for "Hands of Glory" - a pop up soup-kitchen to assist those in need at this time. ⁠
⁠'Moreish by K' is a series of culinary collaborations, menu creations, and pop ups designed to bring clean soulful food with an ethnic twist to the table. Designed, cooked and shared by Kunwal, the woman behind 'Moreish by K' that's fast becoming a buzz in the local foodie community. ⁠
⁠Join us on from 6pm, 24th - 26th August for unlimited soup & salads for a good cause. ⁠
⁠AED180/person: ⁠
All profits will be distributed to Emirates Red Crescent (license reference no. 3186).⁠
⁠Book through our website (link in bio!) and secure your seat today; or invite up to 4 guests to share with you!⁠
⁠Together we can make a difference. ⁠⁠@moreish.by.k⁠ @nightjar.coffee⁠
---
Chef Hany Harb
Their mission is to cook meals with the other chefs already in Lebanon, and are aiming to do around 18,000 to 20,000 meals a day. They have also raised over €45,000 in donations, which will be distributed to Lebanese NGOs Caritas, Red Cross and Farah Al Ataa.
From left: Rafel Sammut, Robert Bonello, Hany Harb, Claudienne Harb, Zack Demarco, Jean Galea Souchet and Marko Pavlovich. Photo: Chris Sant Fournier.
Repost from: https://timesofmalta.com/articles/view/watch-chefs-leave-for-beirut-to-cook-for-blast-survivors.812409
Please consider donating to @caritas_lebanon @lebaneseredcross and
Farah Al Ataa https://www.peaceinsight.org/conflicts/lebanon/peacebuilding-organisations/farah-al-ataa/
---
Le Chef
https://www.gofundme.com/f/rebuild-le-chef
---
Ottolenghi
@ottolenghi In solidarity with Beirut, we're offering this pistachio and rose water semolina cake in the Islington and Notting Hill delis until the end of September, with all proceeds going to Lebanese-based charity @beitelbaraka
The team at Beit El Baraka are working around the clock to provide an emergency home rehabilitation program that aims to repair as many homes as possible in the devastated areas around the Beirut harbour, and to provide nutritious food and medicine. It's vital work - head to @beitelbaraka to see more. NOPI's GM @pierre_le_gourmand has been sharing more information on @yalla_beirut too.
Please consider donating to @beitelbaraka
---
Yalla Beirut!
Yalla Beirut! is a London based initiative in solidarity with Beirut Raising funds for @lebaneseredcross @beitelbaraka
by @pierre_le_gourmand
---
Nada Saleh
Short extract from book New Flavours of the Lebanese Table (2007 / first edition Fragrance of the Earth - 1995/1996)
#ManoushehForBeirut hosting manousheh gatherings and donations will be made to @lebanesefoodbank and @beitelbaraka . If you want to cook your own Manousheh we'll be sharing Nada Saleh's special manousheh bi kishk for you to try. Please consider donating to @beitelbaraka and @lebanesefoodbank
---
Ivan Debs
Repost @ivan.debs #UNITY You may come from the North of Lebbanon, from the South, East, West, in the end, the Tabbouleh is the same. We are one.
---
---
Please consider donating to any one of the charities providing food and aid, or rebuilding food hubs, mentioned in this piece.
---
---
Images © to the orgs or artists referenced - reposted from their public Instagram