---
The world is facing challenging times ahead, with so much heartbreaking news coming out of many countries, we hope for better times and that all of us keep safe and well.
Many countries are in complete lockdown, with many shops, restaurants, galleries, museums and hubs closing, the economy will inevitably take its toll.
Some governments have pledged to financially support people and businesses.
As we ride this wave of uncertainty and hope for the best, Art Breath will be looking back to look forward: look forward to all the places we want to visit once this world situation clears and it is safe for us all to do so. In the meantime, though technology has been known to consume our world, thankful that we are in an era where technology can be our saviour and connect us all together, but anticipating getting back to connecting with nature and with people in real time. So until then, please keep reading and dreaming of all the amazing hubs and art we look forward to seeing in person….
#LookingBackToLookForward
---
Creativity is really important for the soul. There are many ways to be creative in our daily lives, from writing, painting, embroidering to playing music, but it's also great to be creative in a group setting, not only is it fun, but to be around people who encourage each other is a wonderful indication of how humanity can get together. Much of this epoch has brought technological overload, reconnecting with the earth, moulding clay and working with our hands, not only can be therapeutic, bring down anxiety levels that modern life seems to have propelled but can also help encourage our imagination and awareness of the power that creativity has.
A couple of weeks ago, it was such a delight to go to Studio Pottery London as part of the Tate Program. The most beautiful space and a warm welcome greeted us. Situated in Eccleston Yards, Studio Pottery London is founded by Lucy Attwood, artist potter and Studio Pottery's Director and artist potter Gregory Tingay who is also the Artistic Director of the space.
The creative hub has been endorsed by Edmund de Waal and is aimed at bringing together a community of pottery lovers, whether professional artists and ceramists who can work there or absolute beginners who can take up classes and practice wheel-throwing with the many great teachers: Gregory Tingay, Omer Oner, Jago Poynter, Rose Schmits, David McGuire, Freya Bramble Carter, Joshua Schoeman, Puya Vakili, Celia Dowson, Ben Sutton and Matilda Moreton who are all also wonderful artists in their own right.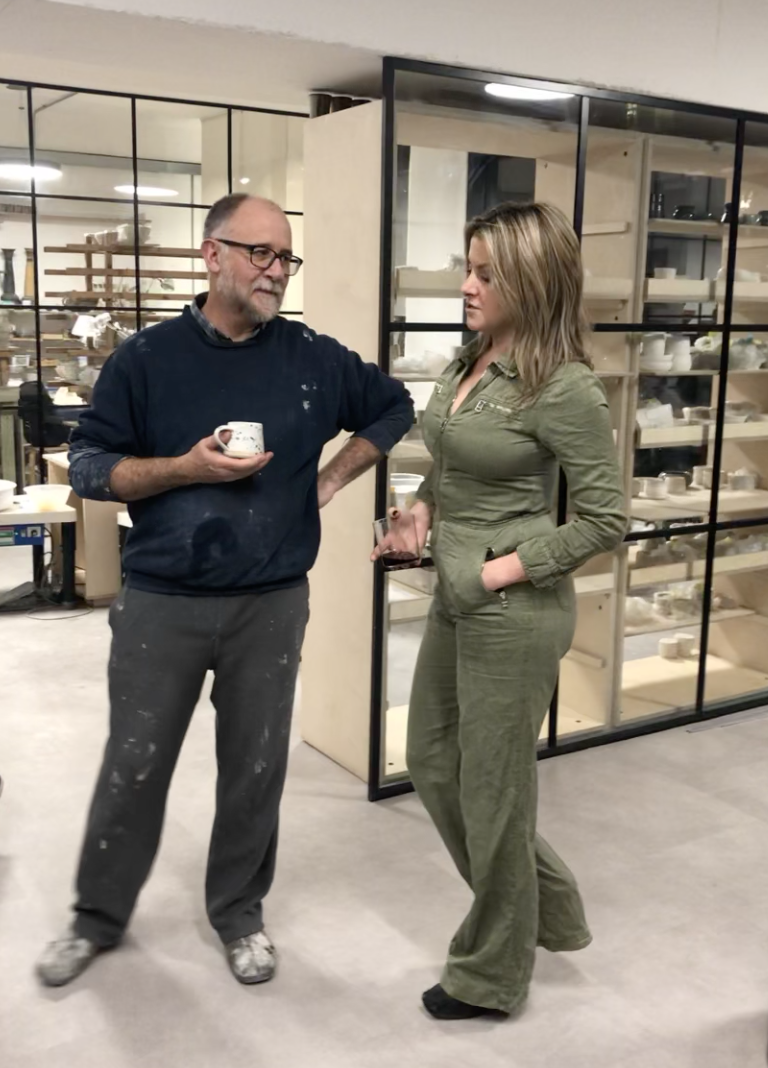 Founders of Studio Pottery London: Gregory Tingay ad Lucy Attwood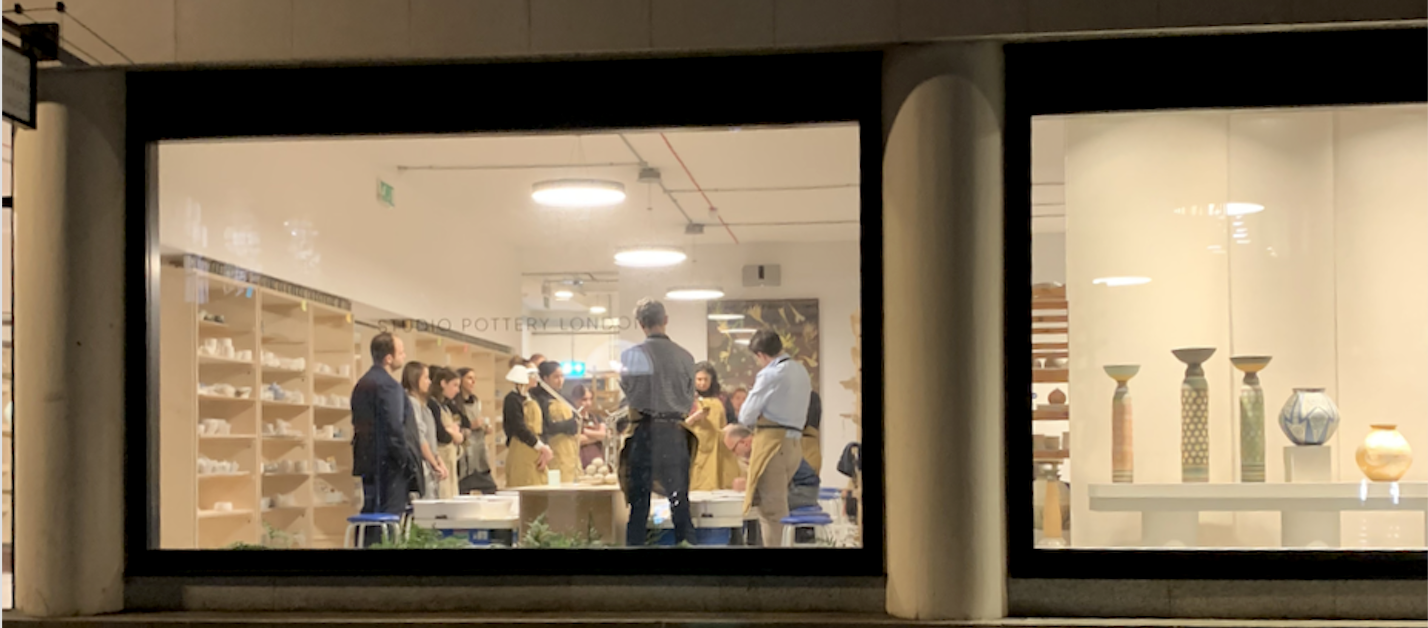 Designed by Flint as an open-plan studio with a Bauhaus aesthetic, large glass windows span the whole studio front letting the natural London light flood in and the creative environment flood out. The sensation of a den of calmness but at the same time a hub of creative wonder and discovery is felt upon entering the space. Different contemporary pots of shapes, sizes and colour available to purchase, adorn the shelves, with the wall-shelving created from reclaimed and recycled pottery boards. A reminder of this creative field being a sustainable outlet.
Seeing a round dough-like shaped clay being transformed into a small cup after wheel-spinning feels quite magical. Careful repetition and gradual work can generate patience and has a grounding quality. Throwing feels both as though one controls the clay but somehow the clay may also be inclined to take control. Like a dance, it is so, until one finds one's rhythm, and then through the repeated shaping of the clay may come an object or a form. An art form in which its origins of making pottery stem back to millions of years ago.
One of the oldest human inventions, pottery can be divided into earthenware, stoneware and porcelain. It is mostly resistant, and therefore, throughout the years, its study has helped with understanding the developments of societies and culture. The earliest pottery is believed to have been discovered at Xianrendong Cave in the Jiangxi province of China, and some of the earliest forms of fired clay sculptures are thought to be the Gravettian figurines, such as the Venus of Dolní Věstonice (what is today The Czech Republic). Throughout history, as archeological research and history of art has shown, pottery has been a part of most civilisations and all continents. Whether we look to prehistoric pottery, to Sub-Saharan Africa, back to Mesopotamia, to the Hellenic Republic, Roman, Japanese, Chinese, Ottoman Empire, The Korean Peninsula, Armenia, The European continent or the shores of Britain, pots, vases, cups or any man-made object framed the everyday, networks of trade, artistic development and thus the progress of nations and tribes.
Pottery is very much alive in the contemporary art world in Britain, with Studio Pottery London flying the flag for the next generation as well as celebrating the lineage of potters that have come before. Embedded in Studio Pottery's name is The British Studio Pottery that was formed by potter and art teacher Bernard Leach.
From William de Morgan, Lucie Rie, Hans Coper, James Tower to today's contemporary artists, including the artists and teachers who work at Studio Pottery London, potters and ceramists make for a thriving industry and celebrated art.
---
Founders of Studio Pottery London and works from artists at Studio Pottery London:
Lucy Attwood
Having studied at The Courtauld Institute of Art, Lucy Attwood worked at Christie's auction house managing private clients across eighty different sale categories. She then spent time at the Serpentine Galleries managing their patrons. Lucy has arranged international trips for collectors to Art Basel, Venice Biennale, Pakistan and India. Lucy specialises in Post War Contemporary Art, Studio Pottery and London House collections. In 2018, she established Pop Up Pots, a mobile pottery studio that has brought wheels and workshops to all manner of institutions and brands; including Adidas, Instagram, Soho House and Daylesford. On the back of her success with Pop Up Pots, Lucy co-founded Studio Pottery London with Gregory in 2019. As a potter herself, Lucy was keenly aware of the total lack of provision for potters in west and central London. With Studio Pottery London, Lucy and Gregory hope not only to provide a much needed space for creatives, but to grow a community and hub for ceramics.
Gregory Tanguy
Born in Zimbabwe, Gregory finished his education in England. He read Art History at Cambridge and was a Bendictine monk for 18 years. Gregory has trained under some of the most distinguished potters of the 20th century. At Buckfast Abbey, he was apprenticed to Mary Boys-Adams (nee Gibson Horrocks), a pupil of Bernard Leach, and at Quarr Abbey, Molly Attrill was his mentor. Gregory worked and taught at Dartmouth Park Pottery in North London for ten years. Hauser and Wirth, Somerset, have selected him as their Artist in Residence the summer of 2019. Gregory is particularly known for his sgraffito pattern-making.
---
The Chelsea Potter (Jago Poynter)
Trained as a potter, Jago has a degree in ceramics from Cardiff School of Art and Design. In his contemporary work simplicity is key. Jago focusses his attention on the form, colour and the existential qualities of an object, making each a distinctive protagonist in any setting. He is both a designer and a maker, moving between studios in London and Jingdezhen, China, where he has been developing his practice within industry.
https://www.thechelseapotter.com/
---
Rose Schmits
Born and raised in the historic Dutch city of Delft, Rose moved to London for a BA degree in Fine Art at City and Guilds of London Art School which she finished in 2019 with a degree show installation consisting of 283 earthenware vessels. During the three years of her degree she fell in love with ceramics and decided to embrace the ceramic heritage of Delft and use it to make work that tells her story as a trans woman from a historic Dutch city renowned for its pottery. Her work takes the traditional blue and white pottery and uses this technique to make unorthodox, bodily vessels that question bodies, gender and our relationship with heritage. Following her degree, she became one of the founding members at Studio Pottery London. Here she evolved her work from hand-coiling to wheel throwing. After months of dedicated work at the studio she took up technician work and soon after was appointed studio coordinator. Her work has been shown at the British Ceramics Biennial 2019, as part of the Fresh award, and at the Exceptional show at Collyer Bristow Gallery 2019/2020.
---
Visit https://www.studio-pottery-london.com/
Whilst the space is temporarily closed due to the global COVIC-19 pandemic - You can go online and visit the website, read about Studio Pottery London's work, classes, community and artists, plan to visit in person when these challenging times pass, support the artists, go to their websites or Instagram/social media pages buy or spread the word about their work.
#ArtUnites
All art images copyright of the artists