Ahmed Morsi on the Alexandria School,
Surrealism in Art,
A world of symbols that inhabit Poetry and Paintings,
Uniting Everyone,

Art as a Universal Language, Allowing the Freedom for Art to just be,
and Belonging to the World not one PLace:
The Flying Poet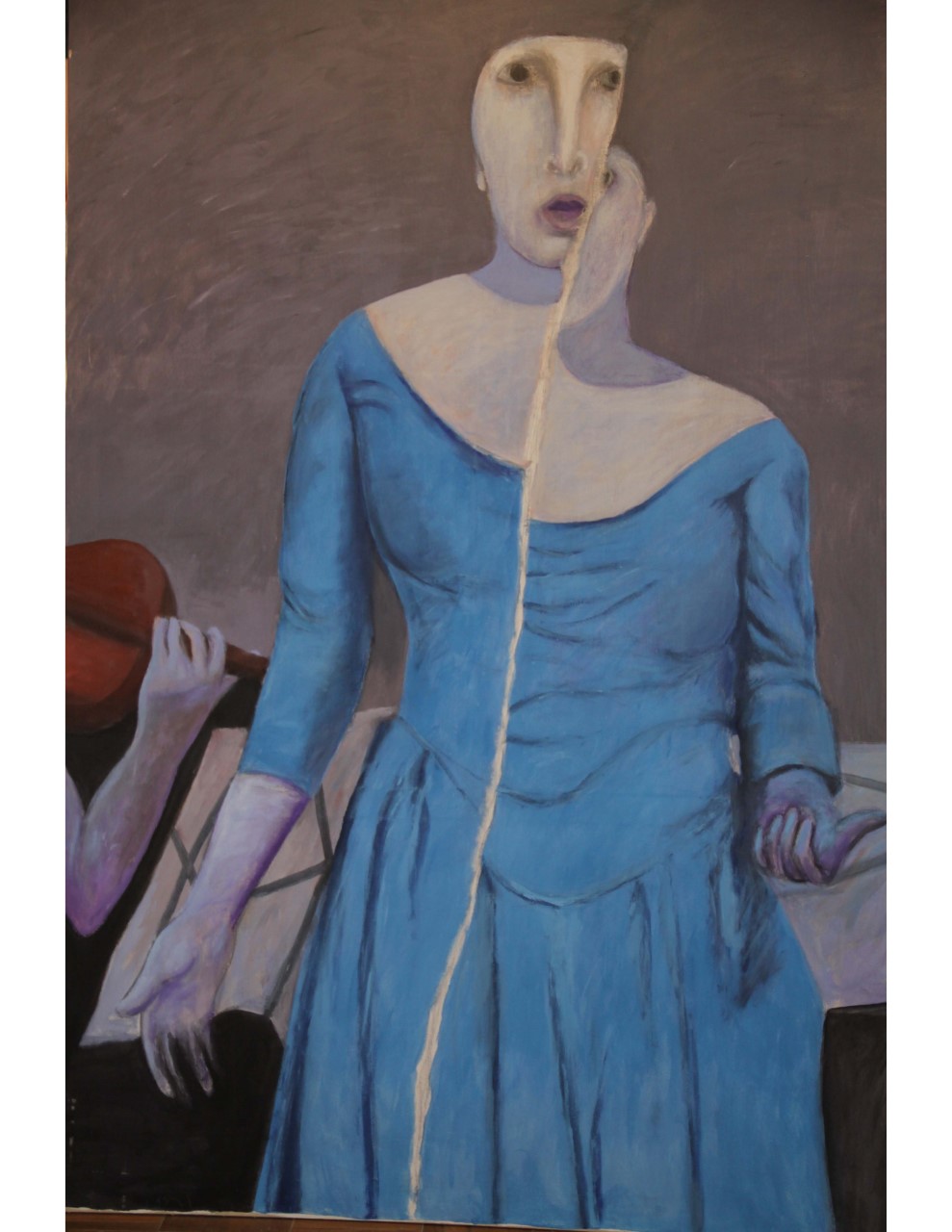 Ahmed Morsi, Untitled (Soprano), 1997, acrylic on canvas, 87 x 60 in.
All Artwoks on show at Aicon Gallery
---
"...The atelier remains,
as though I had not abandoned it,
for more than 60 years,
embracing the sea view."
"The unfamiliar Royal Ras Al Teen Palace,
moorings of the shipping boats,
screams of the seagulls..."
*Verse from "Elegy for the Mediterranean Sea", written by Ahmed Morsi and translated from Arabic.
---
You are an artist, poet, translator and critic, do you separate each of your creative fields from each other when working or do they at some point all connect together in your work? And how do you balance being an artist with also critiquing? Are these two paths meant to live in parallel of each other?
I believe each of these is a separate domaine. My own identity is perhaps that meeting point. As a younger man, these domains may have existed in parallel. But since moving to NYC, for over forty years now, when I write poetry, I rarely paint. And when I paint, I rarely write. I do believe a painter should paint, look at works of other artists and be a critic of both his work as well as that not produced by him, for many reasons, most important of which is the need to connect to a larger creative force. Having said that, I don't think a good critic must also be an artist. Criticism requires its own set of tools. Poetry and painting are domains that make demands of the self, creative processes that are painfully personal. Conversely, translators and critics maintain a certain disconnect so as to deliver objectivity, albeit, of course, slightly nuanced.
Alexandria in the 1940s when many French galleries moved there replaced war-torn Paris as a hub for art. Then and a decade later, you were part of that circle of artists who were defining Alexandria's art scene. Could you share with us about your time in Alexandria and then Cairo and the art scene in Egypt of the 40's, 50's and 60's?
During the war years and during the years of reconstruction as well, many Parisian galleries moved their exhibitions to Alexandria, just across the Mediterranean. At this time, Alexandria was a cosmopolitan city with a rich culture and a population of diverse ethnicities with money to spend on Art. So I saw exhibitions for Picasso and Matisse in Alexandria before I saw exhibitions for Cairo's artists. I briefly studied art at the studio of an Italian artist, Silvio Bicchi, himself the son of another Italian-Alexandrian master, Otorino Bicchi with whom many notable Alexandrian artists also studied. I bought books and discovered a new platform called The Artist's Book at Hachette, a bookstore owned by Oscar. At the same time, I was reading French poetry; Paul Valéry and Arthur Rimbaud. I taught myself French so I can read their poetry in its original language. So, in Alexandria of the 1940s through early 50s, my environment was undeniably Mediterranean.
Alexandria continued its unique place in Egyptian modern art with the grouping of young artists coming of age in the 1940s that together formed what became coined by Alexandrian writer, novelist and critic Edwar el Kharrat as The Alexandria School. I served as the painter and poet in this collective.
Between the 1952 revolution and the 1956 Suez Canal war, Egypt was swept by Nationalism and most of Alexandria's French, Greek, Italian, Armenian and Jewish residents unwillingly left for more hospitable lands - unwilling because my unique city was also theirs. It was then that I too began a long journey of alienation from my birthplace, my home.
The Nationalist movement had a strong influence on art and literature in Egypt during the 1950s and 1960s. Artists were mostly influenced by the political environment of the times. Art flourished. The government sponsored projects such as public galleries where anyone could exhibit and had a budget for acquisitions by newly established public museums. Art was now for everyone.
You moved to Baghdad, what was your experience there like and what influences were there on your art and poetry?
I left Alexandria in 1955 for Baghdad not knowing if I'd stay and then I stayed two years. On my first day, I went searching for an authentic cup of espresso and found it in a cafe that gathered Baghdad's artists and literati. I made life-long friends in Baghdad. It was this group that introduced me to the world of criticism. I was given an entire page in the local newspaper. I went to exhibitions. I made friends. I wrote and I painted and I exhibited. And when I returned to Egypt, I collaborated on several projects with my Iraqi friends. Iraq has a special place in my heart.
Ahmed Morsi Iraq's Weeping Women II 2011 Acrylic on canvas 60.25 x 90.25 in.
There is a surreal element to your paintings and a lot of symbolism, where does that characteristic come from? This aspect has stayed with you throughout the years, does it have to do with a longing for your roots, a longing to safeguard another time, a memory?
The Alexandria School I referred to earlier and to which I belonged, was a collective of artists who "lived surreally" and "created surreally". To quote Al Kharrat, "Surrealism is a living practice". My world is one of symbols that inhabit both poetry and paintings. It is my language and the vocabulary I use to express my longing for home, my long journey in search of my Alexandria. Not the Alexandria of today.
Ahmed Morsi, Clocks II, 1998, oil on canvas, 82.25 x 120 in
How has the politics of the region affected your work and how do you present it in your paintings?
I am not "political". For the most part, that which concerns me is universal to all beings and this life journey we are experiencing. There have been only a handful of instances when I reacted to regional politics.
You designed stage sets and costumes for The National Theater and the original Khedieval Cairo Opera House, how did you find that experience and do you feel there is an element of theatre in your paintings?
I started this at the request of another Alexandrian, playwright and friend Alfred Farag. When I left Baghdad and returned to Alexandria, he had moved to Cairo to work on his first theater production of Fall of the Pharaoh. He sent for Edwar (Al Kharrat) and I to join him and specifically requested I produce the costume and set designs. It was an art form I knew nothing about. I spent days of research at the Egyptian Museum in Tahrir square; hours sketching ancient Egyptian figures dressed in their garments of the time and backgrounds from murals. Is there an element of theater in my paintings? I leave that distinction to the viewer.
The avant-garde magazine Galerie 68 that you co-founded in 1968 with Edwar Al Kharrat, Ibrahim Mansour, Gamil Atteya, Sayed Hegab and others was Egypt's voice of modernism and a cultural source. What did having an outlet, such as a magazine that may reach a wider audience than gallery goers, do to your work and to the region's art scene, as well as perhaps affect local politics?
The content of Galerie 68 represented a paradigm shift and each of the contributors paved a path in previously unchartered territory for poetry, short story, essays and criticism in the Arabic language. Besides being its editor-in-chief, I was also the magazine's art director. The visual selection stood up to the literary content. The magazine's influence was across the Arabic-speaking population and it was inter-disciplinary I would say. So, I would not compare it to that of gallery visitors.
Edwar El Kharrat, co-founder, was a member of the Egyptian Communist party in Alexandria as a young man and most of Galerie 68's contributors had political inclinations - except me. But the devastating effects of the 1967 war in the years that followed forced a reaction from me. I put down my pen. That is how Galerie 68 came to a halt - my poetry as well, for nearly 30 years.
You have lived in both what we call "East" and "West", have you found there to be more similarities within each country you have lived in, in regards to the struggle of artists, life and the art scene than there are differences that may be portrayed in media and literature?
The struggles of man, whether of the East of the West, are universal - these are the larger, non-discriminating issues that concern me. Only a handful of my paintings have titles. The rest, only for the purpose of exhibitions. I am not partial to names that give form and meaning and place things of importance into a much smaller space. It is important that I feel unencumbered as an artist.
What are your hopes and dreams for your mother country Egypt and for its art scene?
I am not aligned with a political agenda. And I don't believe that art should be either. I have lived in NYC nearly as long as I have lived elsewhere. Am I an artist or an Egyptian artist? I am an artist. Ask where I was born, my answer then would be "in Alexandria" but that is a separate question.
Ahmed Morsi, Untitled (Lovers) 2006 Acrylic on Canvas 73.25 x 118.5 in.
Do you feel culture and art can shape a country's civil society and help keep the memory of an era, the memory of a history alive?
Art for me - whether my poetry or paintings - is an expression of my personal experiences; unbounded by time and place. I prefer not to make of art a utility and rather to allow it the utmost freedom to just be.
Ahmed Morsi, The Yellow Mask 1975.
Ahmed Morsi solo show "The Flying Poet" is on at

Aicon Gallery

until January 12th 2019. The current exhibition is a Retrospective in that it spans the last fifty years of Morsi's oeuvre starting with work done in his native Alexandria and continuing through his long sojourn and creative output in New York city. The show comprises twelve major canvases as well as an equal number of drawings, etchings and lithographs.
Ahmed Morsi The Flying Poet
---
Ahmed Morsi (b. 1930, Alexandria) is an artist, art critic and poet with a career that spans seven decades of creative output. In the 1950s, he simultaneously studied literature at Alexandria University and painting at the studio of Italian master Silvio Becchi. In 1974, Morsi moved to New York City, where he continues to paint, write and critique from his Manhattan home. His work is in public collections including the Egyptian Museum of Modern Art, the Alexandria Museum of Fine Arts, Mathaf: Arab Museum of Modern Art, Sharjah Art Founda tion, Barjeel Art Foundation and in various notable private collections in Kuwait, Saudi Arabia, Lebanon, France, England and the United States.
All pictures are courtesy of Aicon Gallery New York