Hala Schoukair on
Art and Nature, Patterns,
Mimimalism and connecting with the Environment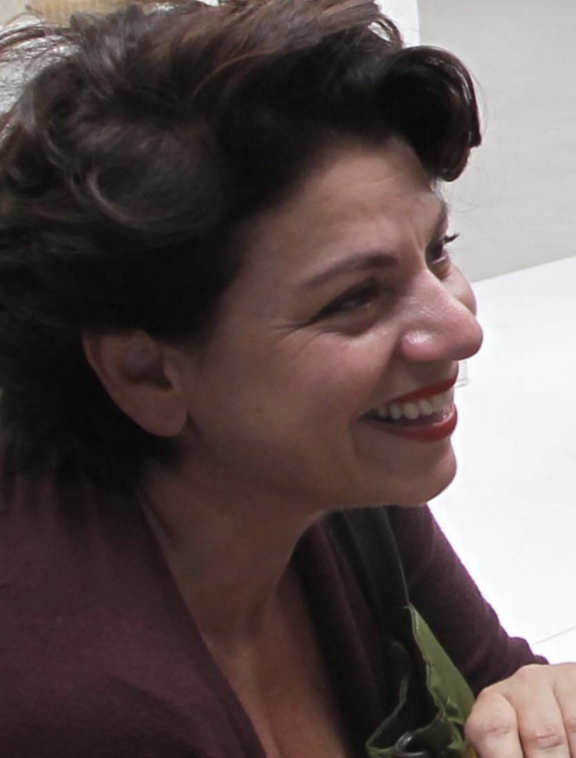 ---
Artistic patterns and organic shapes based on nature stretch across Hala Schoukair's art with a soothing and ethereal delight. Nature's essence and sensation is at home throughout Schoukair's paintings.
Her works of art zoom into earth's landscape, emerging with spectacular waves of sequences, receptive to the depicted environment, taking the viewer's sentiments onto other worldly and mystical artistic scenes.
Schoukair's enticing art often expresses itself with one colour, echoing out in multiple shades, and cocooning within her floral motifs and repetitive brushstrokes, powerful messages evoked in a gentle and sensitive manner.
This May at MENART FAIR in Paris, Hala Schoukair will be exhibiting with La Galerie Bessières Art Contemporain. As we await to view her paintings connecting nature with art, we spoke to the artist on her work and inspirations...
---

A part of your childhood was filled with art, at which point was your interest in the field ignited?
I think art is natural to everyone, I don't feel very special. lt's a part of many children's lives. But I kept my childhood within me, and I never stopped. I started drawing the minute I could. My mother hanged on to almost all of my drawings, so I still know what I did as a child.
I never assumed the role of an artist, as it was part of my upbringing. Even as I pursued my university studies, though they weren't directly related to fine art, I never seized to paint. So I guess I also never started; it was always present.
Then suddenly, maybe very late in my life, I exhibited my work. Perhaps, when work is shown, the role takes on a more professional route, sharing a discourse and conversations around the art becomes part of it.
I am very happy to be showing my work, and that people are sensitive to it. That communication is so wonderful. Life could have evolved in a different way, but I would have still continued to paint all my life, it's a part of me, art is like breathing. I hope my fingers will help me to continue.
Throughout your artistic path, you have had different sets of impacts and influences, the art from Japan, and Lebanon in favourable times as well as traumatic ones throughout the Civil War.
Definitely what happened in Lebanon has had its impact on my work, but when I paint, it's a refuge, I am linked to the creation. I observe natural landscapes, I am drawn to that. It doesn't mean I don't have an appreciation for art which directly references the war, the politics and the activism, all this interests me and belongs to me too. But when I work, I am transported and in sink with nature's force. I think my fingers have a mind of their own. They shut off my own mind, they shut off all the problems, and they flow with the feeling of creativity, the feeling of being revived.
The influence from Japan I believe came into that, into those moments, the bond between us humans and the ultimate spiritual being.
Looking at nature and its colours is my biggest influence. It feels part of my being and my art. I am always looking for that feeling, it's one I am comfortable with, a space I feel I belong, in a non-material way.
I am passionate about things but I am not a big fighter. I was reading about ecofeminism, and I thought ok, this means something to me, as I am minimalistic and use very little product. It's my way to be part of the ecosystem, I don't want to have a big carbon footprint.
Are you seeking tranquility and peace through your work and does spirituality have a place in your art?
I think it's a material spirituality. There is no religion in it at all. It is maybe that nature speaks to me; probably like it does to many.
I am trying to capture in my work a period of time which is fleeting; it's a very minimal moment in a day, even in a life. We deal with so many things in twenty four hours, that i'm just trying to crystallise that one minute of the day which could maybe give us some peace.
Untitled N°15 - 2018, acrylic on canvas, 175 x123 cm
Art in a way holds much power then?
I hope so. I hope it has this power.
Of course art carries many elements of power, when we are part of it or read about art, we can envisage that it's powerful, but sadly, when we look at the current state of the world, we may feel disheartened over how little power art has in the face of what is going on, creatives and art lovers are still a minority compared to people making arms or preparing war.
Can you tell us about your creative process? At one point you chose to use for each painting just one colour and one paintbrush. How did that approach came about? Is it in reference to nature?
I had an art studio in New York but it was located very far from where I lived, and I often needed to be at home with my children who were raised there. It was hard, life was intense in New York with two children. I also had to travel quite a bit between New York and Beirut, my life was being interupted and I just needed to be able to do art wherever I was. I suddenly had this thought, what is the minimum I need to create art, and it was one colour, and one paintbrush. So I decided to run with that idea and work with just that
Travelling back and forth, and being creative in a small space when I was in New York, is also partly how my style came into itself. I ended up applying with my paintbrush a repetitive technique which is found in many of my paintings. There is something about one's own life that feeds into the art unconsciously. I think it's all a little bit related.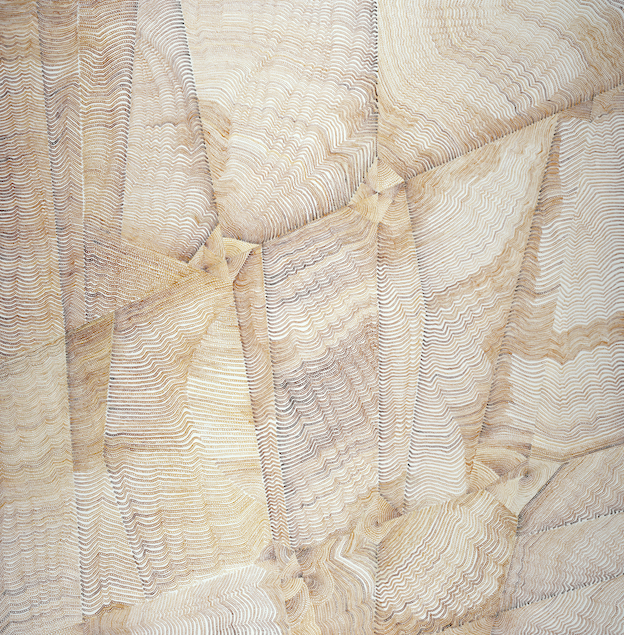 Untitled N° 10 - 2019, acrylic on canvas, 145 x 142 cm
Untitled N°8 - 2017, acrylic on canvas, 118 x 176 cm
When I am at the end of my rope, when I can't handle things, I go to the one colour, one paintbrush, that's how the process starts with the minimal material, and whatever is felt comes out.
Simplifying is my form of ecofeminism; of being minimalistic and at one with the environment.
Untitled n° 14 - 2018, acrylic on canvas , 148 x 140 cm
You get lost in your art and in time
It's like hearing music, we are transported and in between the notes, contemplating.
Art is always on my mind. Even when I am not working, I am looking.
I feel the act of looking is a very powerful thing to do, I pay attention to what is around me, staring often at nature. I could spend hours focused on the mechanism of an insect and on flowers, and they come together in my mind. Many series of paintings have come out of that.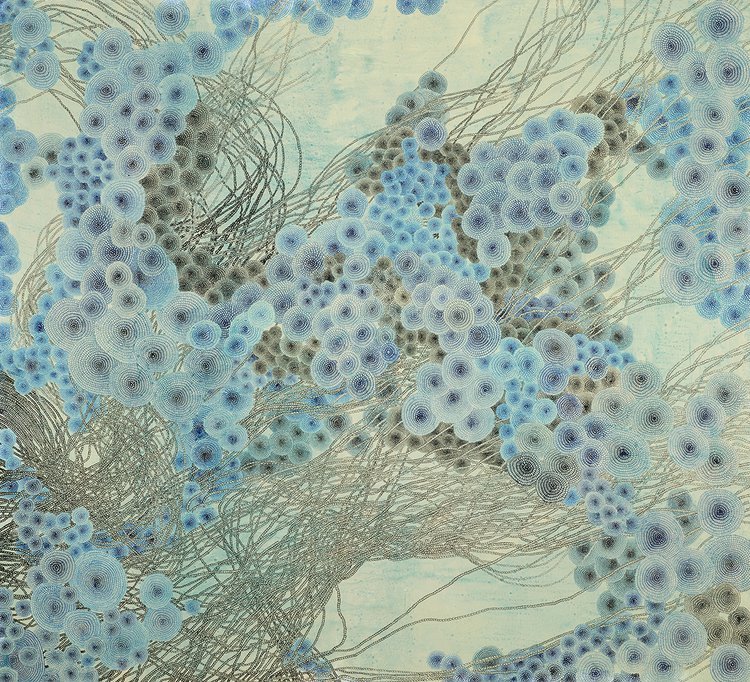 Untitled N°11 - 2019, acrylic on canvas, 140 x 145 cm
Untitled N°16 - 2018, acrylic on canvas 142 x 146 cm
You mentioned you didn't study fine art, but your studies in cinematography, in a way, feeds quite well into what you are saying in regards to observation
I wish I had studied fine art, but my mother who herself was an artist (Saloua Raouda Choucair), didn't really encourage my being as a painter, though she really encouraged my creativity. She found being an artist quite stressful, and so she pushed me to have a different life, which I understand.
There is still much gender inequality. Do you think things are getting better?
I feel it's about rights, women's rights. We are complete, but the rights, the politics of it, the injustice of that, the aggression of some laws, need to be corrected. Something has to change.
There is a lot to be said. But I am with one paintbrush, one colour. My art speaks but perhaps not in a such direct manner.
Art doesn't need to be literal, a pattern can send many messages, where one can sense an emotion or have a feeling.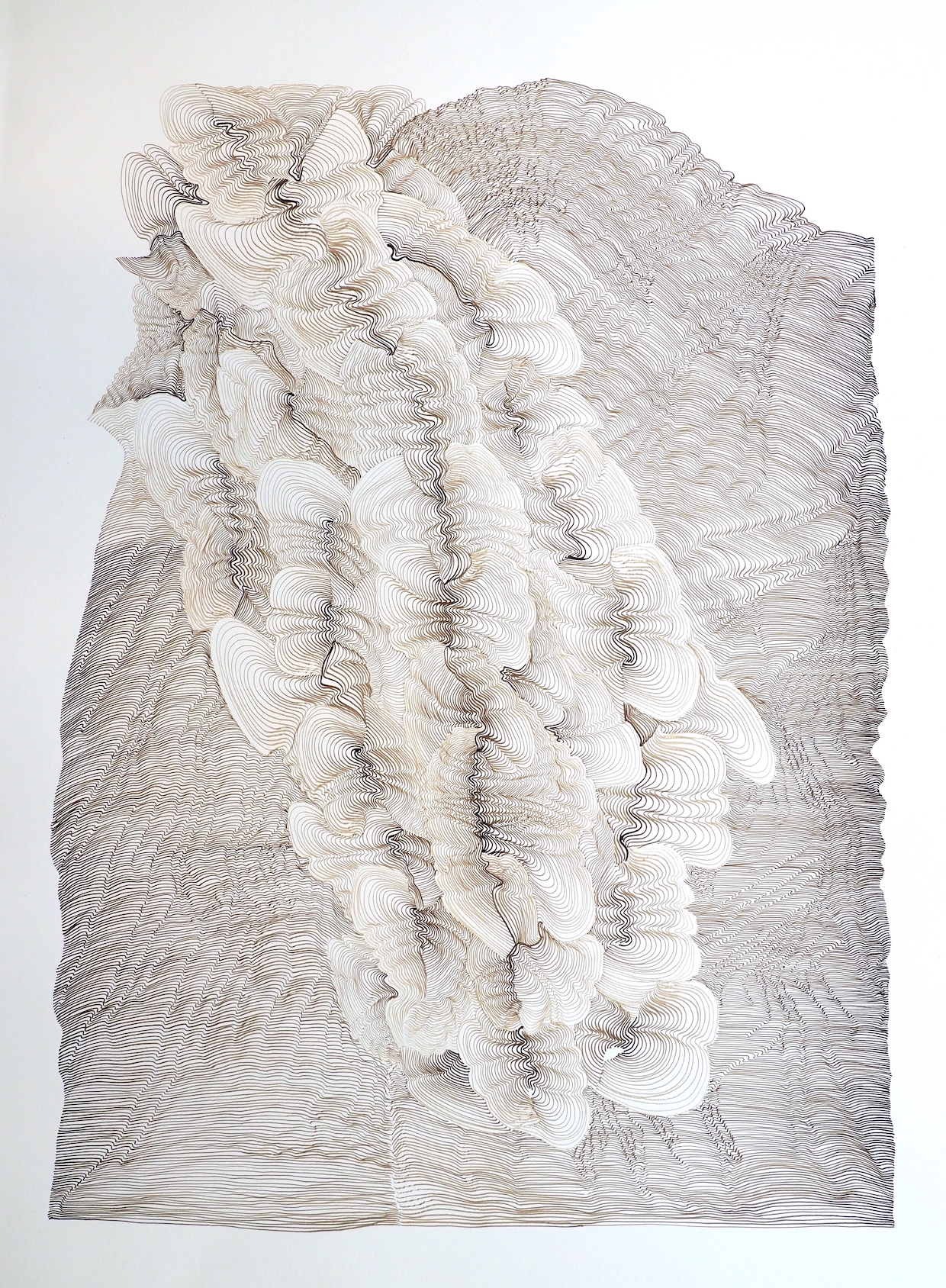 Sans titre N°3, drawing ink on paper, 76 x 55 cm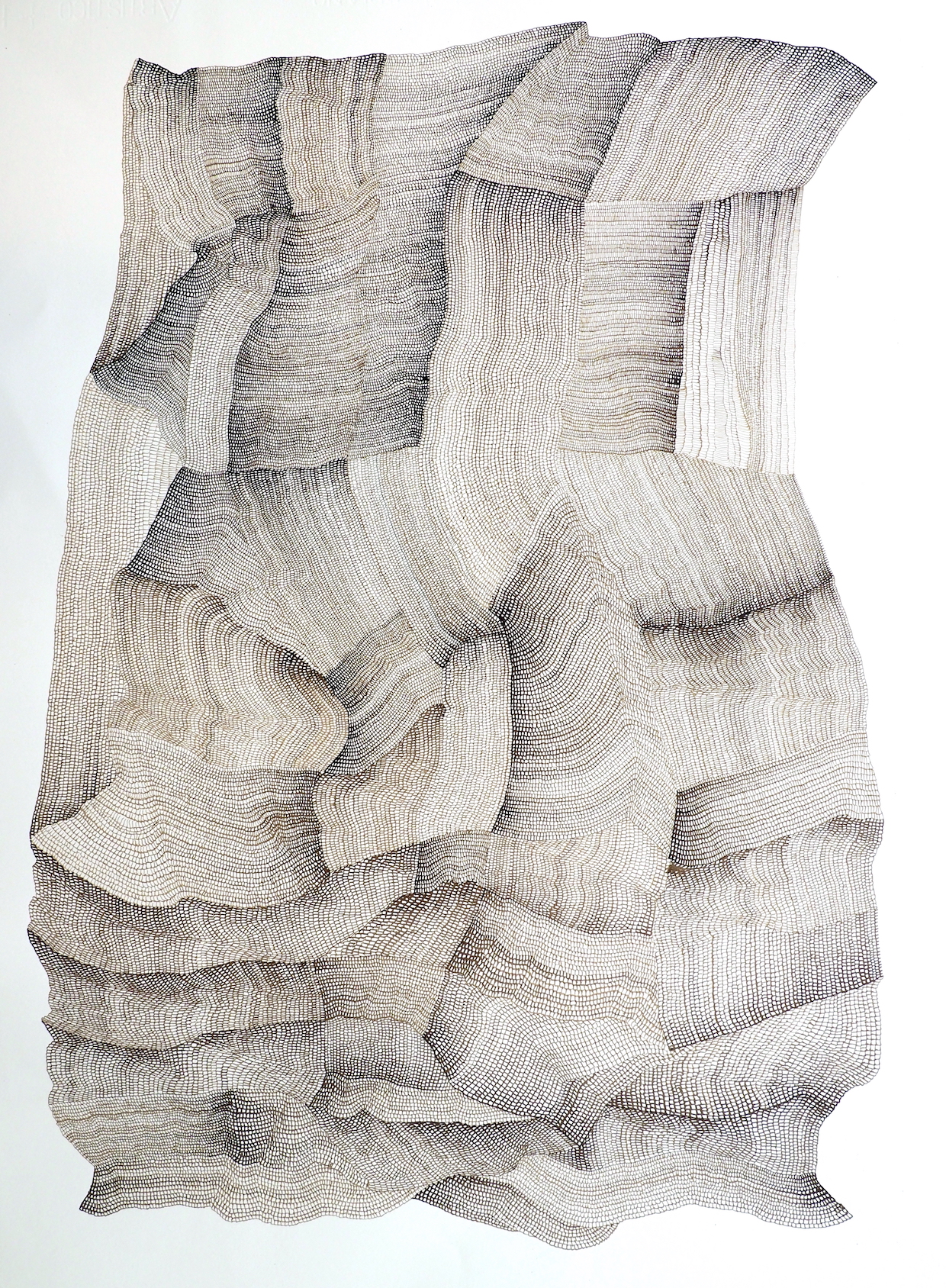 How does the act of painting in Lebanon reflect on your work?
After thirty years of living in New York, I moved back to Lebanon three years ago, where I have more space, and so my work is becoming larger. The country's nature, its weather all feed into my art.
When I was younger I strongly felt the separation with the Lebanon. The first time I left and fled the war was very difficult; it was very hard to adapt, I wasn't prepared. Later when my movement became more frequent and a little more regular, it felt less painful to leave.
I am glad I am back now, despite all the problems, I am happy to be home after so many years.
As you just mentioned, Lebanon has recently endured many problems and sadly a large scale devastation in 2020. Does your work help you in any way get through certain tensions or emotions?
It is really present, but I don't shape it to be evident in my art.
I understand how people feel, wanting to express some anger.
The last paintings I did in 2021 I jabbed the paper with plenty of holes.
I wrote something about how I felt. It's simple and perhaps very flat in a way, but it was how I felt.
"They are made in 2021 on a white paper.
9 x 12 inches.
They are all the same size.
The same grid
Every day is the same.
Everyday is different.
Every time I want to write, I hold a paper, look for a pencil, then I find a brush or a needle, I make a line, a cercle, then the urge to write melts through the colour or the form.
Is this my language?
Where did the idea go?
 I'm thinking through every puncture, holding my breath with my fingers, my words slipping through holes disappearing in the universe, dots punctured through a paper with my anger, my questions, my revulsion, my wonder, all mixed, all is air in the end, like my soul, and divided.
I am formed by all these particles, every particle is half hell, half paradise, it flips continuously, what is the air meant to be and what did we put in it?"

The core idea of the art, is that I live in hell and paradise within the same minute.
As with Lebanon, waking up in the morning and the weather is beautiful, with the mountainous air, trees surround me and I am on the balcony, I could be in paradise. And then suddenly, it is hell again, I am angry, and I want to say so many things, but I let that dissolve.
Some of it dissolves into my art, but underneath it all, there is also a lot sadness; of course how can there not be. I understand how many artists want to express this, I do go there, but then I let my feelings fade, and go to the other part of my self, this is how I deal with things.
You unify all the emotions into your art and then it transcends into a separate entity.
In Lebanon you are also working on the Saloua Raouda Choucair Foundation?
I am in the middle of that project, it takes a lot of work, time and thought.
The foundation motivates me a great deal, I want to see this project finished and see the work of my mother in a nice light. It gives me a lot of pleasure. Of course it has its anxieties, but it is also great to see it through. I feel like it is my mission. I feel I was born to secure my mother's legacy. She had so much she wanted to say, so much she wanted to do, she was driven by such a force, like I have never seen before, that I feel that I have to at least show part of that. I will never do exactly what she wanted, because I don't know where her imagination was going to go, but I have tried my best and I am trying my best to do the foundation and leave this for her. I hope she will like it.
Her imagination goes through you
I hope something comes through.
Some of your work will be coming through at the MENART Fair in Paris in May, can you tell us about that?
La Galerie Bessières Art Contemporain who represent me will be showing some of my paintings.
As an artist much time is spent alone amongst four walls, when people see my work, it's a wonderful form of communication. Even if they don't say anything, it's a connection.
That's the best thing in life, it is one of those pleasures.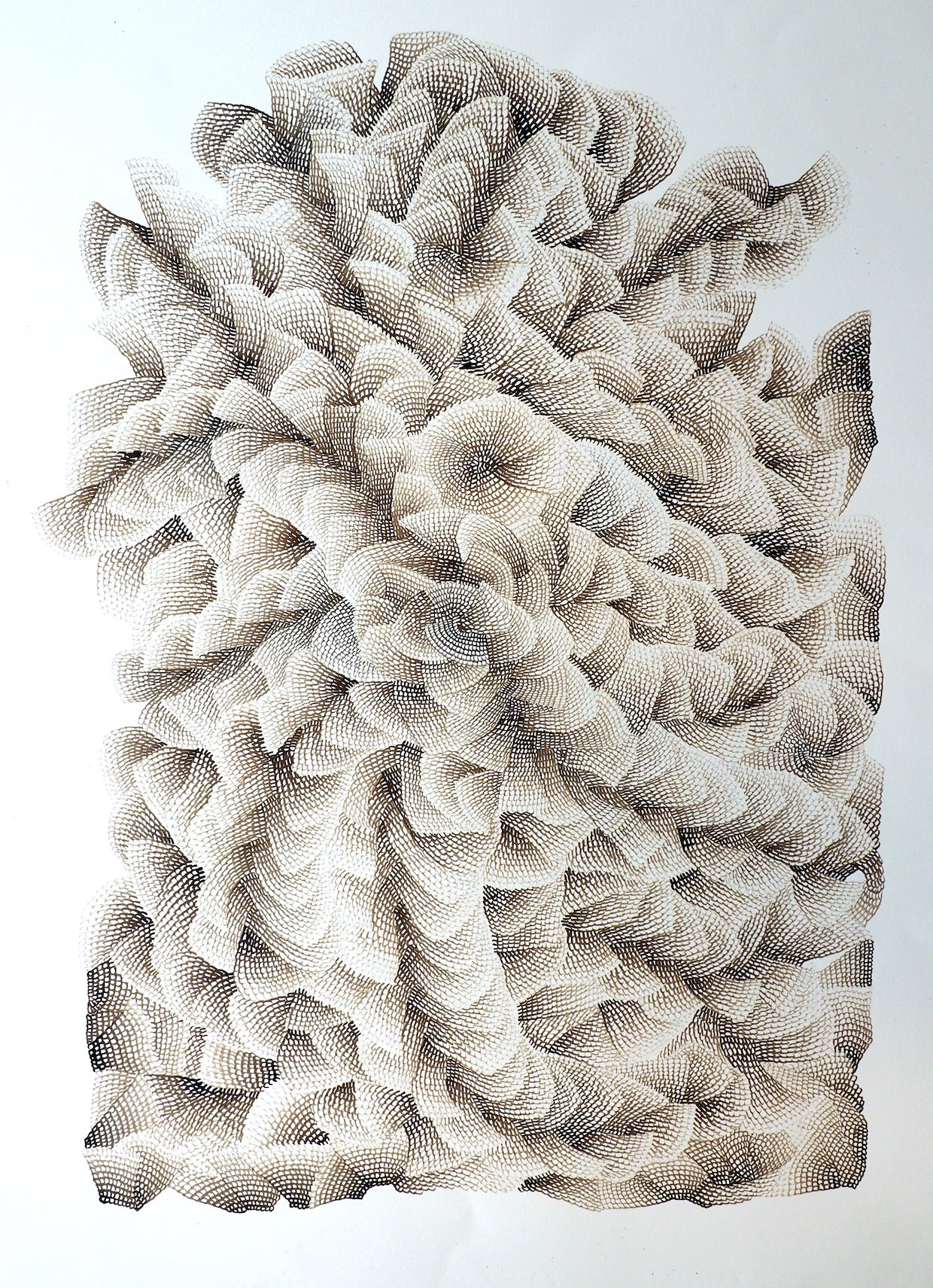 Sans titre N°4, drawing ink on paper, 76 x 56 cm
---
Hala Schoukair and Galerie Bessières Art Contemporain
at MENART FAIR from the 19th to 22nd May at CORNETTE DE SAINT CYR – PARIS
pictures courtesy of Hala Schoukair and Galerie Bessières Art Contemporain
images © Hala Schoukair
---
Interview as part of a series Art Breath x MENART FAIR
---
Hala Schoukair (b. Beirut, 1957) received her master's degree in Cinematographic Studies from the Sorbonne University, Paris, and has been painting since her graduation in 1981. Solo exhibitions include Grains of Light, at Agial Art Gallery, Beirut (2013) and You Promised Me Spring, at Agial Art Gallery (2017). Group exhibitions include Continuity and Change: Islamic Tradition in Contemporary Art at The Williamsburg Art and Historical Center in New York City (2007), Morgenröte, aurora borealis and Levantin: Into your solar plexus at the Knusthalle Bern (2015), and the 32nd Salon D'Automne (2016) at the Sursock Museum in Beirut: Galerie Bessieres, France (2021).
Hala lives between Beirut and New York. She is the president of the Saloua Raouda Choucair Foundation.
---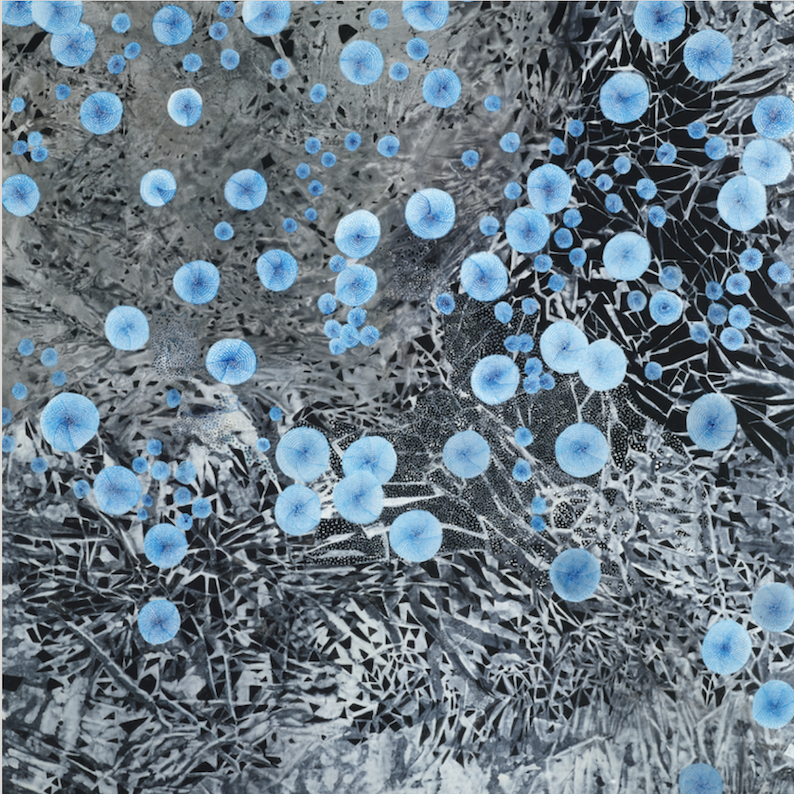 Untitled N°13 - 2018, acrylic on canvas 148 x 142 cm
---