Mohau Modisakeng on

Art to Recall Historical Narratives that have been Erased,
Reviving Collective Memories and
The Body as a tool in Art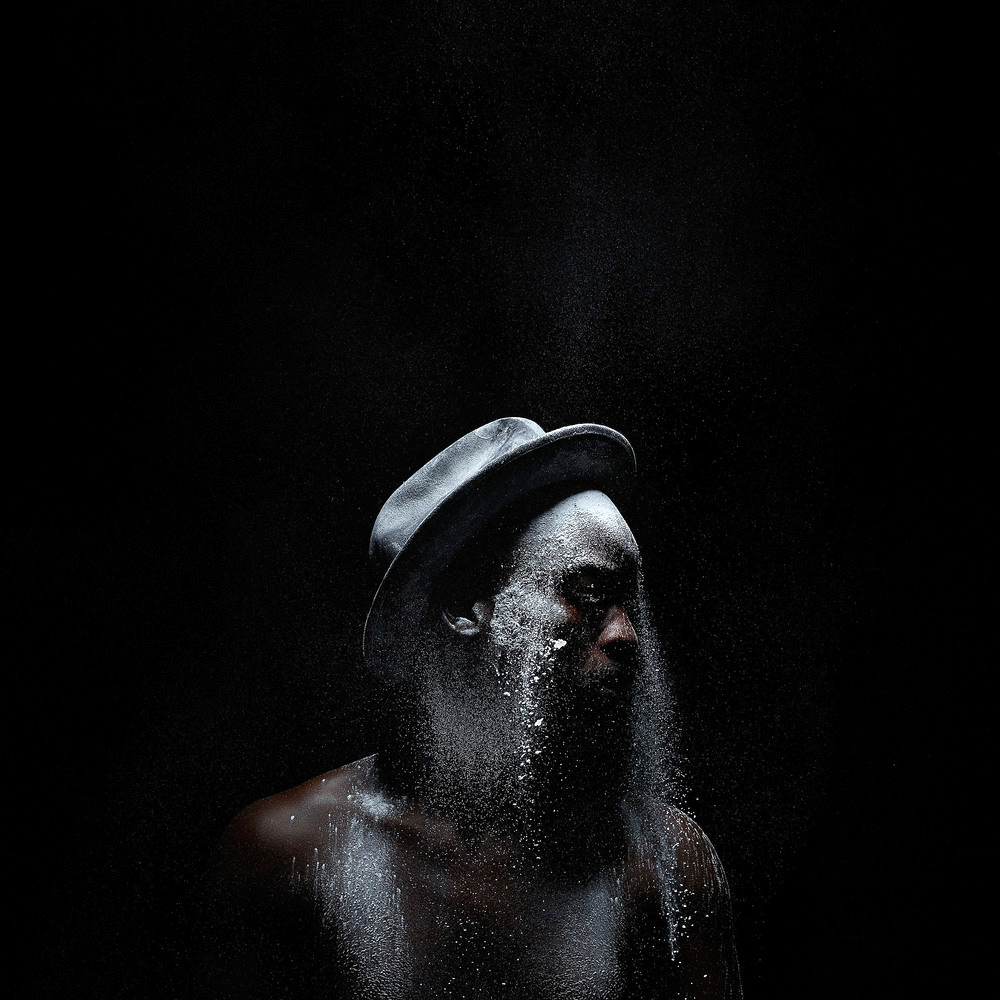 Metamorphoris. Mohau Modisakeng
The artist delves into South Africa's violent history through the use of his body, to identify how human beings understand cultural, political and social roles in post-colonial Africa and in particular post-apartheid South Africa. Through film, large-scale photographic prints, installations and performance, Mohau Modisakeng's artworks are moving, powerful and poetic. They focus not on direct representations of violence, but on how the body can be used and translated as a poignant marker of collective memory.
---
What initiated you to go into art?
I realized at an early age that I had an interest and talent to draw and paint.
In 2004 I travelled to London for the first time as part of an exchange program. There I was exposed to art museums, art classes, and that represented my introduction to the art ecosystem.

Returning from that trip, I knew I wanted to study art at university.
What approach do you take with your art? I read that you have a daily ritual before starting your practice?
The daily ritual related to how I start and end my day. Having been raised by a spiritual mother l picked up several practices that bring me closer to my ancestors.
I build on this spirituality in my work. It forms the foundation of my visual language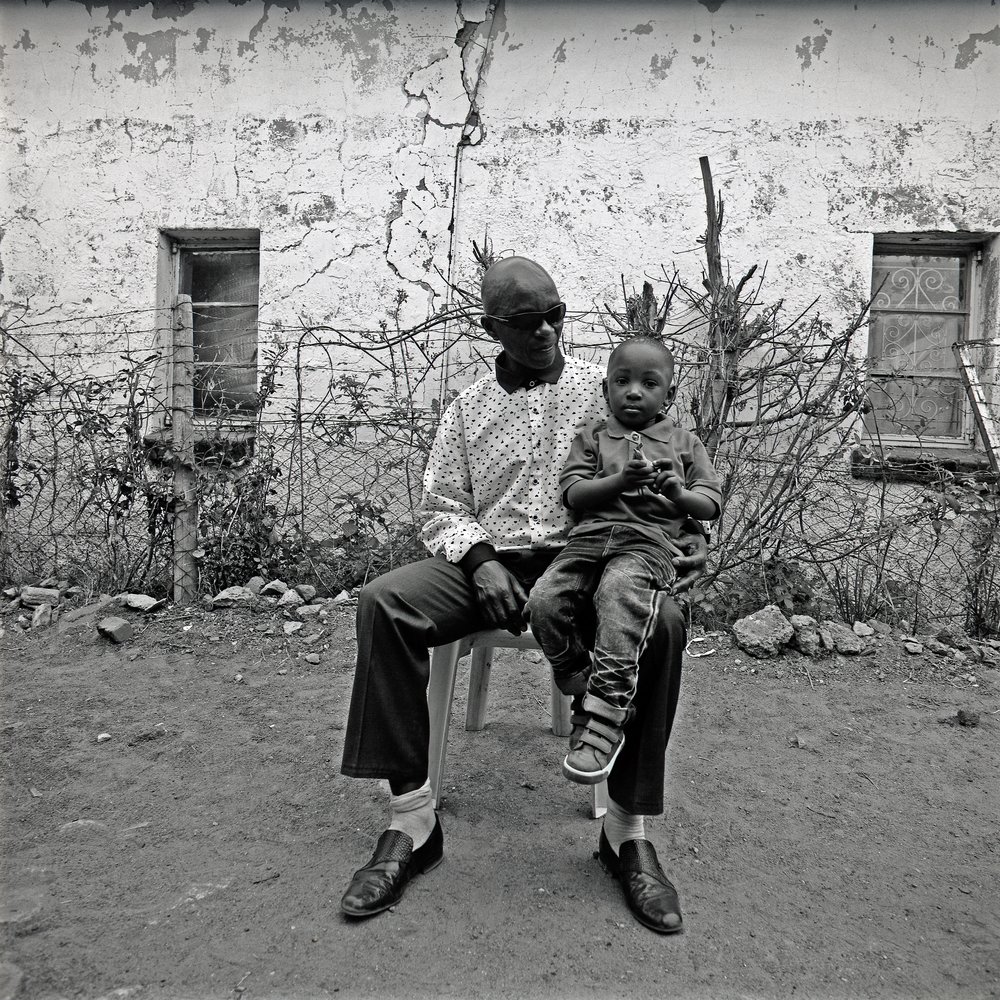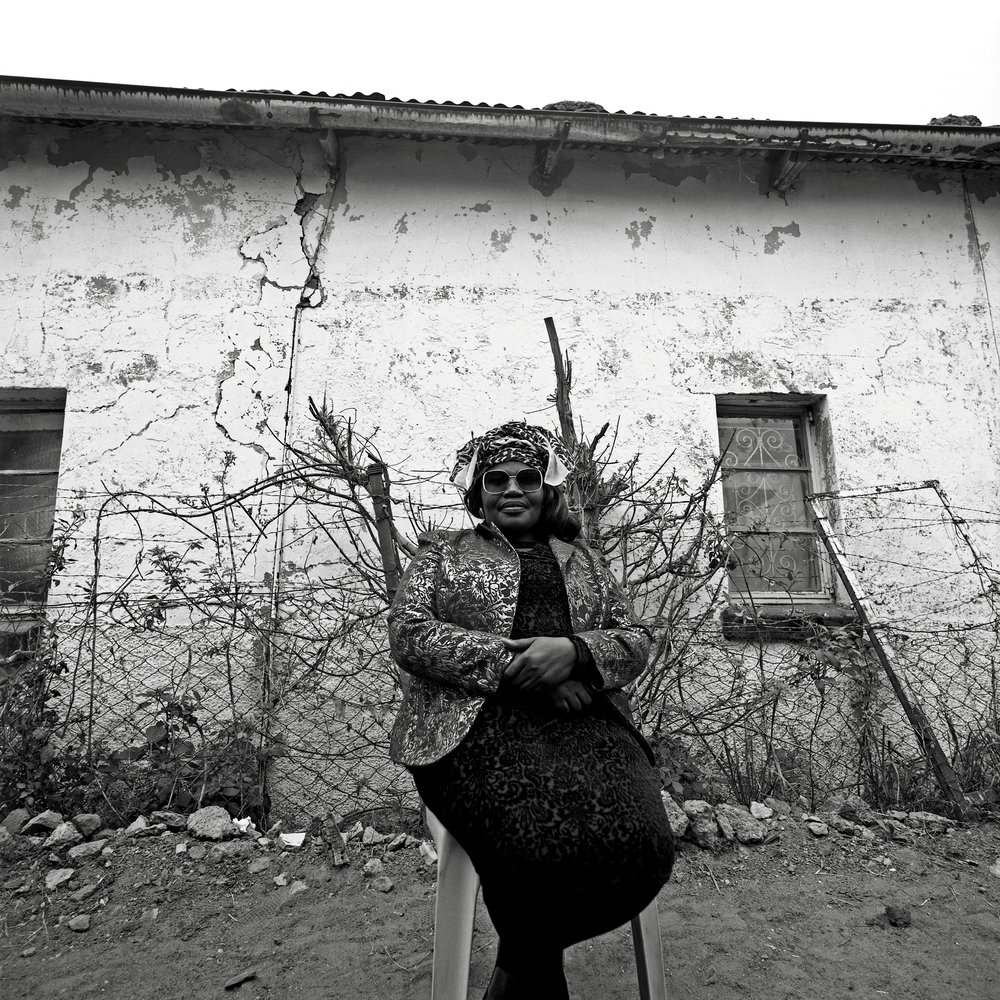 Black Family Album by Mohau Modisakeng
"This selection of photographs, shot on a medium format film camera depict different members of my family. These were taken in 2018 during a family gathering in the Free State to mark the unveiling of several tombstones of people belonging to the Modisakeng, Makhoba and Mckenzie family. [...] In this collection i've documented my mother, aunts, fiance, uncles and nephew. The textured background with a leaning fence, dried up vine and cracked wall is the house next door to my grandmother's house in the township of Bochabela where my mother grew up."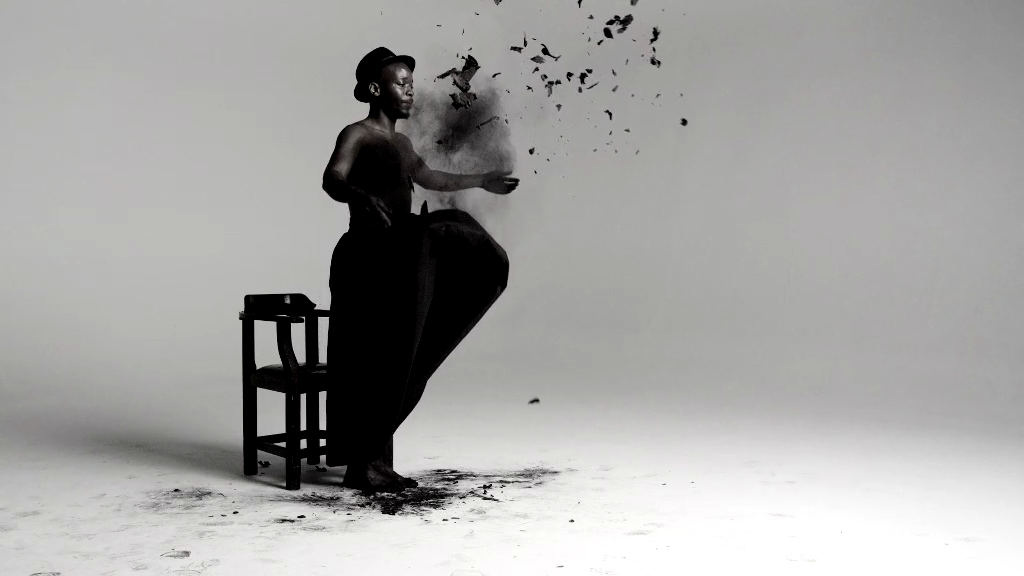 Inzilo by Mohau Modisakeng. Still from Single-channel video 4 min 57 sec. Edition of 10
Inzilo is an isiZulu word meaning 'mourning' or 'fasting'. As in many of his films and images, Modisakeng's body occupies centre stage in this work. He enacts a mourning ritual by sitting, standing, and rotating slightly, all the while throwing a burnt, ashy substance into the air. Extreme close-ups of his body begin to suggest the shedding of a skin, as though the ash is falling from his limbs as the ritual proceeds. He performs an elaborate rite of passage in which the initiate seems to draw the material for his transition from within his own body. In the absolute purity and focus of the moment, Modisakeng is turned inwards but gesturing outward, undergoing a mysterious transformation that is at once a private ceremony and a public declaration.
You were trained in sculpture but went on to work with other mediums, such as performance, photography, installation and video. How much has the practice of sculpture affected your work?
Sculpture is still my first love. As a student I focused on sculpture because my favourite professor was the South African artist Jane Alexander.
In my other work, the discipline of sculpture permeates. Even in my photography the subject is often treated as sculptural compositions.
In my performance work too, movement is often juxtaposed with moments of stillness, where the space occupied by a body or an object is just as important as the surrounding space.
Fossils (Black) by Mohau Modisakeng. Assemblage scan 2016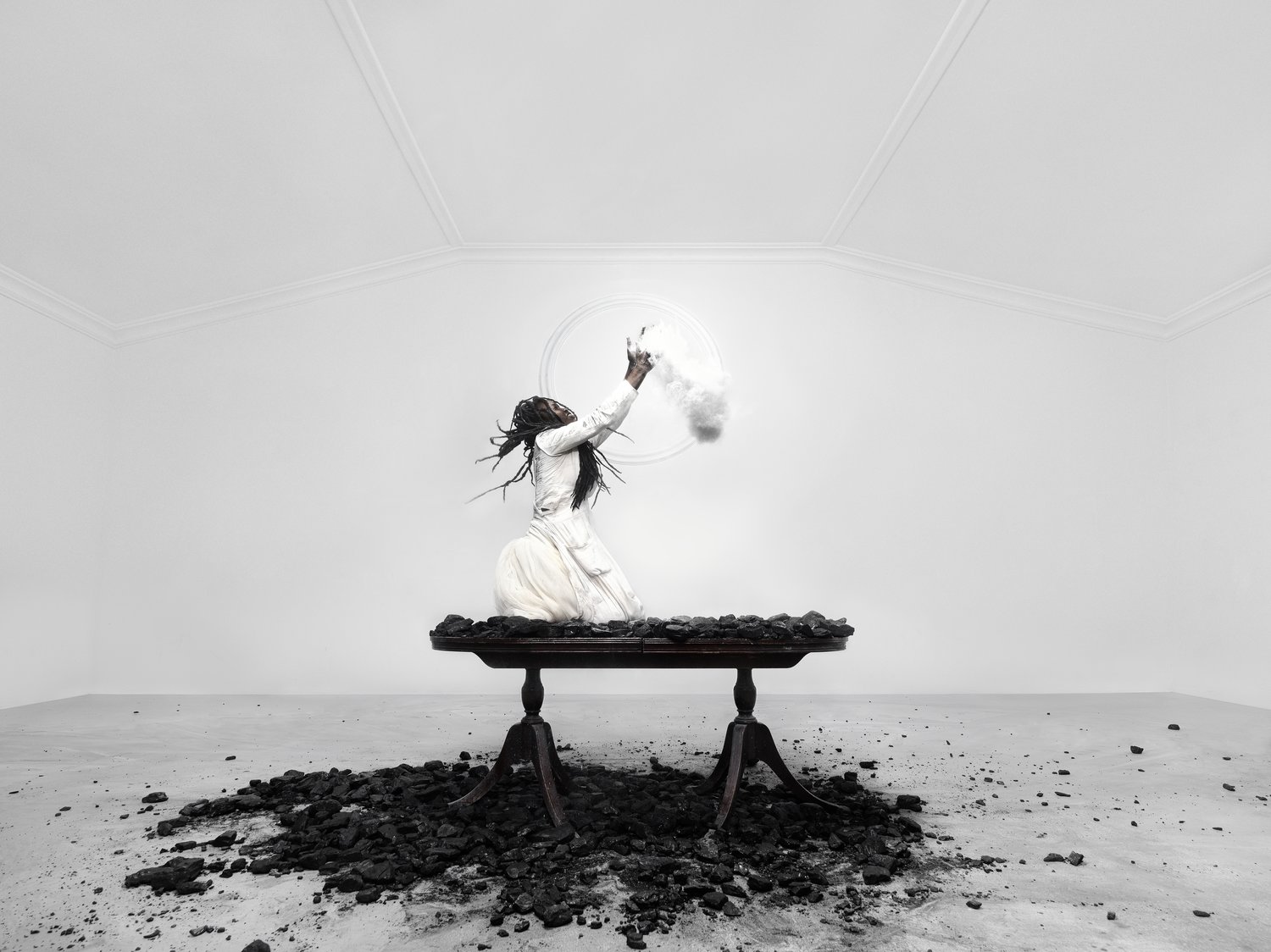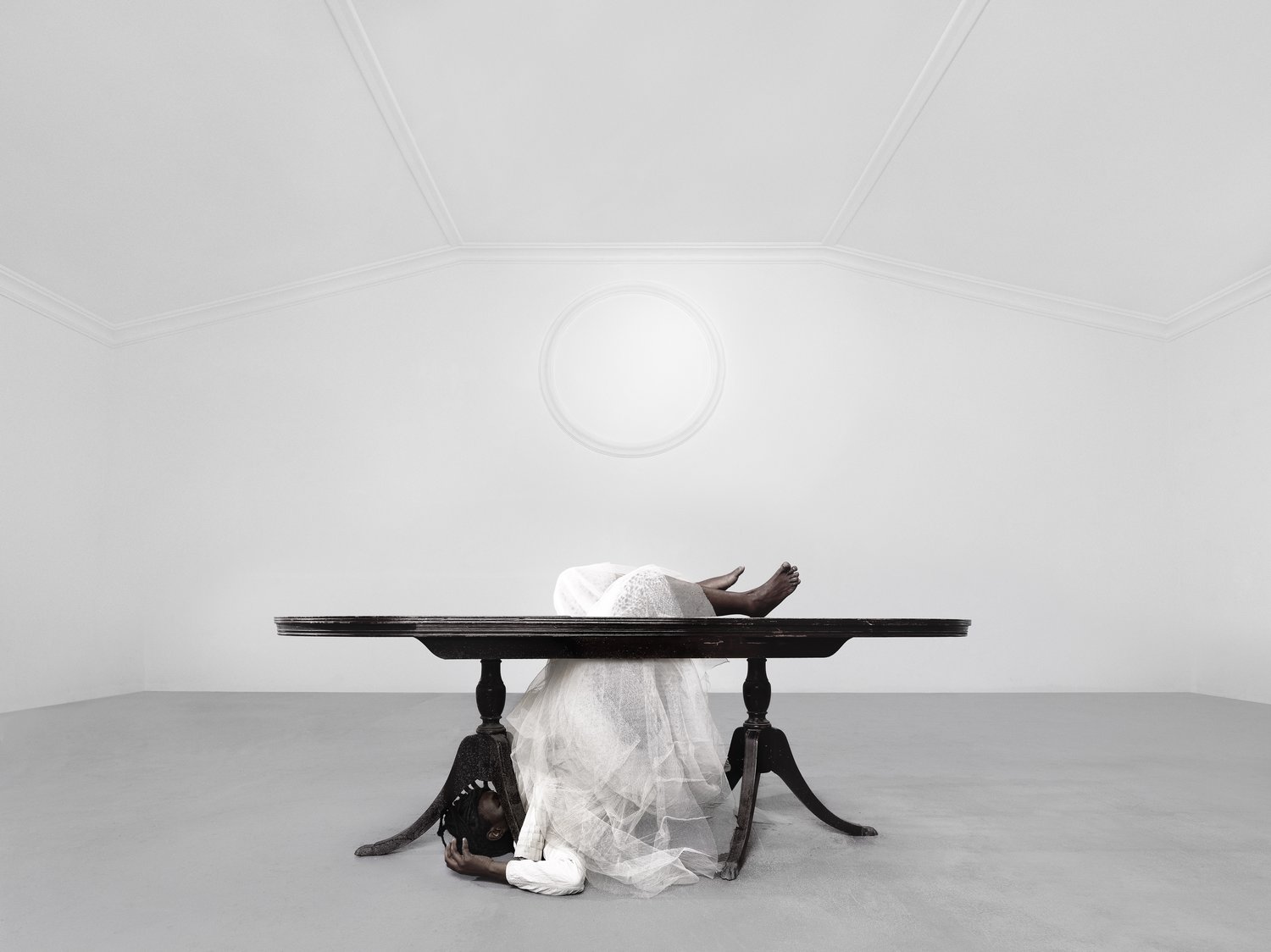 Zion by Mohau Modisakeng. 2018
"ZION deals with the relationship between body and place. The idea that all people are meant to belong somewhere, some place, yet in reality there are millions of people that are unsettled, in search of refuge, migrating across borders and landscapes for various reasons. In this work there is no obvious signifier of place except for a heap of coal being thrown on a table, onto the floor and over he body. The black rocks of fossilised material represents the abundant natural mineral wealth deposited beneath the ground. Whilst coal is a valuable source of energy across the world, sustaining modern economies and industries, the more valued minerals such as oil, gold, copper and diamonds, which are found in abundance on the African continent, often breed and fuel conflict. And whilst most people are forced to flee from their homes due to harsh climate and collapsing economies, civil war is amongst the leading causes of migration across the african continent. As such, the depiction of coal in this series not only refers to the mineral wealth attached to place, it also refers to the absence of place as people flee from their homes due to the violence that follows the exploitation of these types of mineral resources. The Zion series thus refers not only to the absence of place/home but also to the many conflicts that have caused the forced migration of millions of African people within the African context, casting them into a life of refuge. The series depicts a struggle of a woman, who in the time of conflict often assumes the role of the provider and a carer, struggles to retain some sense of home....she is seen at the diner table serving a resource for the (human) family to consume...while in a fleeting state. In this work the tensions of this relationship of exploitation is anchored by an unusual love story."
You portray the violent history of apartheid and colonialism in your work. Can you tell us more about utilising your art to take back control and make visible the bodies that some historical narratives have erased?
Art in South Africa, or black art more specifically, has always assumed the role of speaking directly or indirectly about the condition of living in an unfree, racially segregated and violent society.
When the country supposedly made its transition in 1994 art continued to play a similar role - except the focus with most artists prioritised highlighting individual struggles.
When I started making work, I wanted to strike a balance between both - meaning that my work was to deal with my personal experiences with violence during the state of emergency in South Africa, but it also needed to deal with the apparent amnesia and outright erasure of the complex histories of the social, cultural and political lives of African people.
As society continues to stray from its histories, the task of reclaiming forgotten narratives is seldom taken on by artists today who may have different concerns and interests.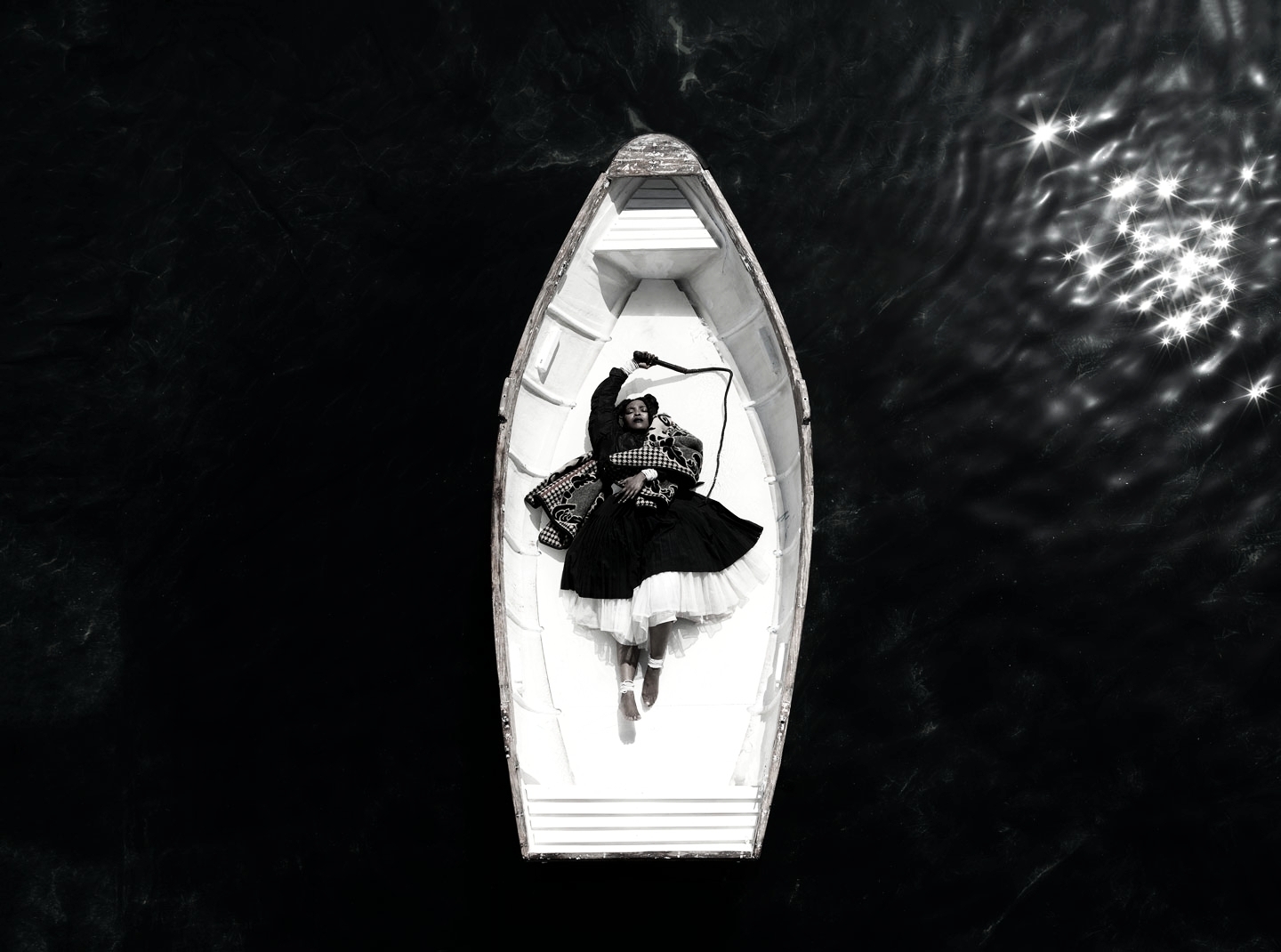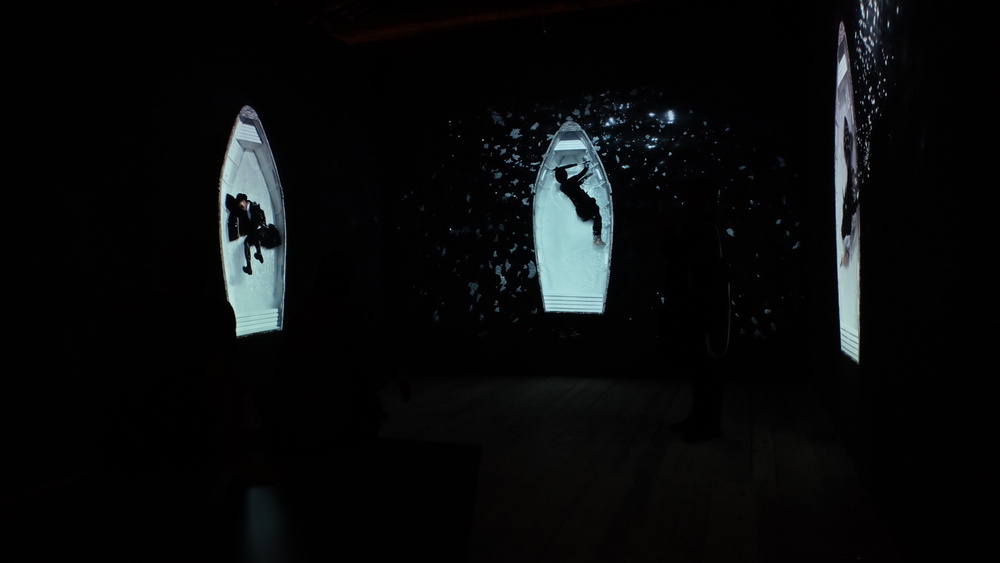 Passage by Mohau Modisakeng. 2017. Three Channel HD Video.18:49 min. Edition of 10 + 2 AP
Passage (2017) is a three-channel projection that meditates on slavery's dismemberment of African identity and its enduring erasure of personal histories. In each of the artwork's three projections, we are confronted with a character – a woman with a hawk perched on her arm, a young man in a Trilby hat and a woman wrapped in a Basotho blanket. The arched shape of the boat frames each passenger with their heads pointed towards the prow of the boat, they are each traveling with a single possession. As the passengers lie motionless on their backs looking up at the sky they begin to perform a series of actions that move between gestures of struggle and resignation. A pool of water slowly forms beneath their bodies. The rising water gradually floods the well of the boat eventually leaving the passengers submerged while the boat is slowly sinking and eventually disappearing. In Passage, the ebb and flow of water, as both life giving and deadly, symbolizes the many who have arrived or departed from South Africa in trade, as cargo or as transient bodies belonging to no particular state. In South Africa, systems of indentured labour and slavery were instituted by the Cape Colony in 1652 to meet the growing demand for labour. Dutch settlers imported people from the Indian subcontinent, Indonesia, Madagascar, East Africa and Angola, putting them to work on plantations and at ports. South Africa became a jostling ground between the Dutch and British, its native people rendered as mere commodities moving through the establishment of an industrialized mining economy, as labourers and as soldiers in the Anglo Boer and world wars. In Setswana the experience of life is referred to as a 'passage'. The Setswana word for life, botshelo, means 'to cross over'. As such, all human beings are referred to as bafeti ('voyagers'), a word that points to the fact that the experience of life is transient; it has a beginning and an end, as with any voyage. Passage (2017) was commissioned by the South African Department of Arts and Culture on the occasion of the 57th International Art Exhibition – la Biennale di Venezia.
Your work is poetic and strong at the same time, silent images who's message speak loudly. You engage in transformation to reframe histories. How much can the role of art be a tool in reviving collective or personal memories?
Art, whatever form it may take, has always been at the centre of how we express ourselves as humankind, from cave drawings to the naive paintings of many childhoods.
As adults too, the role of art remains the same, we observe our experiences and the world around us and we relay those experiences through music, writing and making art - that is the foundation. At the core of all that is memory, a portal to our experiences in time.
What better way to time travel than through dreams made concrete.
There is a duality in your work of reality and fiction, performance and documentation. What process do you take to frame and shape this duality in your art?
That's an excellent observation. And I wonder if this duality between fiction and reality or performance and documentation is the result of some contrived process – it may very well be.
But this duality might represent a tension between the seen and unseen, what is expressed and what is unspoken, what we know as reality, and its many blind spots - such as the mysticism of the spiritual realm.
Politics and history affect art, do you think art in return can affect politics?
I think politics will always affect art more than art can ever influence politics. At least not in my country.
Whilst art doesn't seem to have much of a place on the political arena in South Africa artists are often the first to be called upon when politics needs to give a face to a cause.
In most cases, it is the artists that create and tell the mythologies of nations, they design the flags, they compose the anthems, they give identity to what politician can only debate and pull each other apart over.
Untitled (Zanj 6) by Mohau Modisakeng. 2019. Archival ink-jet print on Hahnemuhle Ultra Smooth. 150 x 150 cm. Edition of 6 + 2 AP
Untitled (Zanj ) by Mohau Modisakeng. 2019. Archival ink-jet print on Hahnemuhle Ultra Smooth. 150 x 150 cm.
How have you seen contemporary South African art evolve?
There is certainly a bigger interest in South Africa contemporary art from the outside world. Annually the world descends on Joburg and Cape Town to discover new and old South African art and artists.
But what I have observed is that the various distortions of our recent history have created a superficial sketch of the complexities of South African society.
And perhaps that is the result of building a new country on an absent and forgotten history.
What has and does art mean to you?
It used to mean the world to me, but I have given a lot to my work, and whilst there has been many rewards I question what it will mean to me going forward.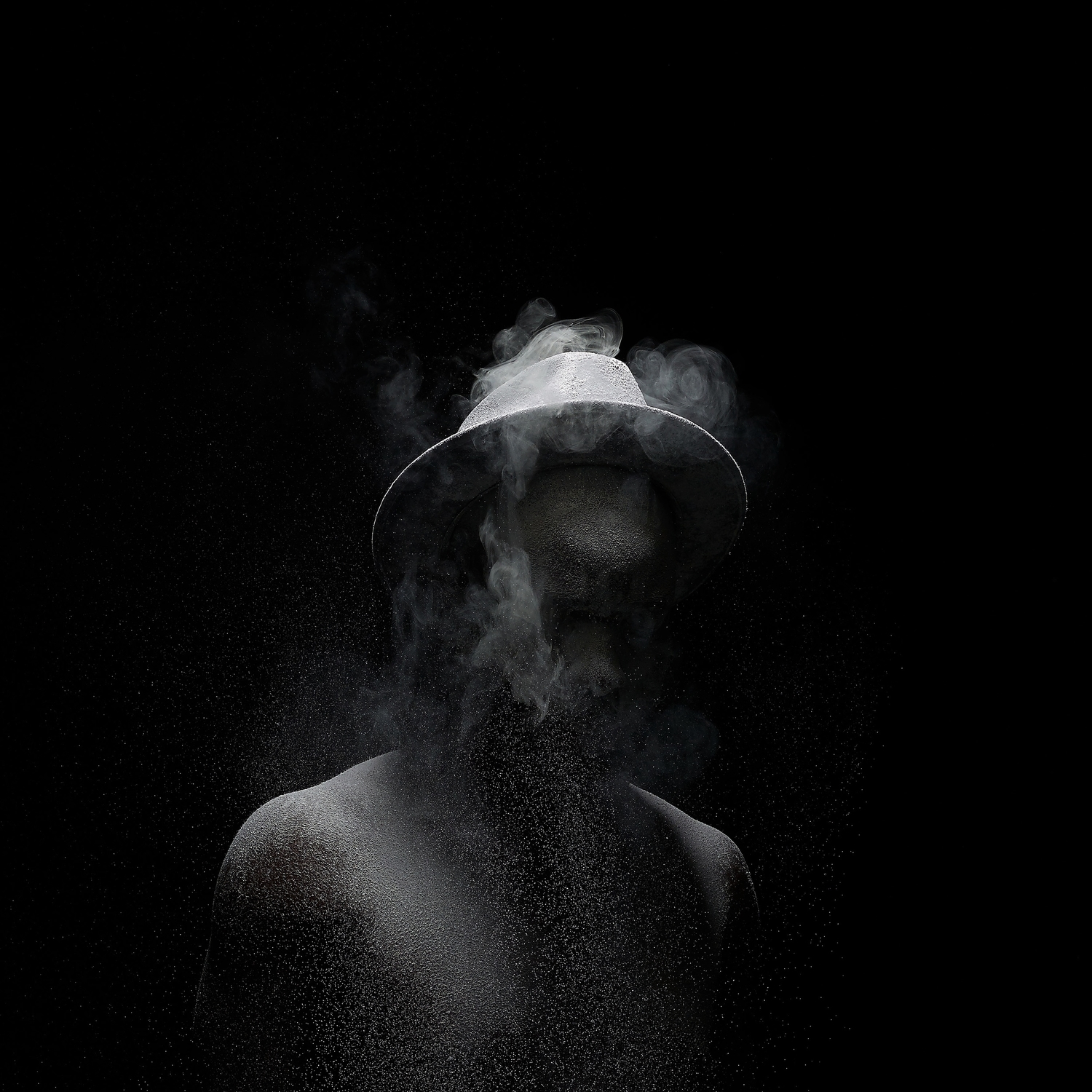 Metamophorsis. Mohau Modisakeng
---
Mohau Modisakeng was born in Soweto in 1986 and lives and works between Johannesburg and Cape Town. He completed his undergraduate degree at the Michaelis School of Fine Art, Cape Town in 2009 and worked towards his Master's degree at the same institution. His work engages race, the militarisation of society and the deep divides of post-apartheid South Africa and the post-colonial continent. He interrogates the collective narratives that inform our experience of the world, in particular those that evoke the black body as a site of fragmentation and distortion.
Modisakeng was awarded the Sasol New Signatures Award for 2011. He has exhibited at VOLTA NY, New York (2014); the Saatchi Gallery, London (2012); Dak'Art Biennale, Dakar (2012); Focus 11, Basel (2011); and Stevenson, Cape Town (2010). In 2013 he produced an ambitious new video work in association with Samsung as a special project for the 2013 FNB Joburg Art Fair. His work is included in public collections such as the Johannesburg Art Gallery, Iziko South African National Gallery, Cape Town and the Saatchi Gallery, London as well as in significant private collections such as Zeitz MOCAA
---
Pictures courtesy of Mohau Modisakeng Studio
Images copyright of MOHAU MODISAKENG