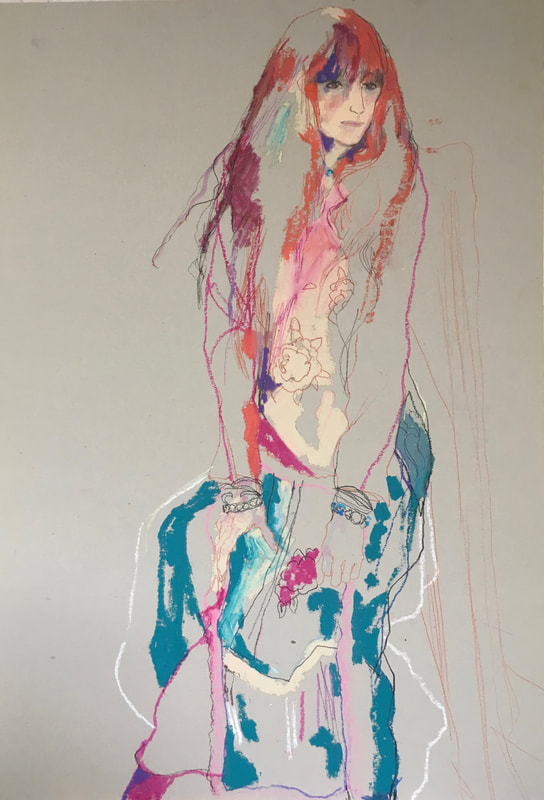 You exhibit your work
Yes, I had an exhibition in China and one at Pitfields not far from Old Street (London) and one at Livington Studio in Hampstead (London).
And you work with the Jaipur Virasat Foundation?
I do that every year they are called 'Wonderful Workshops'. Faith Singh, this brilliant woman, started it as a charity because she wanted to keep the crafts of Rajasthan alive.
The workshop I run with Di Livey, is printing with mud and it's called Dabu. It is mud resisting printing. It is like Batik, but with mud, a really ancient form of printing.
You can do other workshops there too.
What are you thoughts on how art, print and fashion can help people and communities?
Well I think they can help a lot. I went to an exhibition a long time ago, it was about women stitching their lives in Bihar India. The exhibition was opened by an old Indian lady who was explaining these women's lives and how some of the women once married were not allowed out of the house. I promise you by the end, everyone at the exhibition was in floods of tears.
She got all the women telling their stories through stitching, sewing pictures of their lives, going to the well, their husbands beating them, their weddings, all done in really gorgeous roman stitch, and from this work they were able to make some money.
I think people are more and more using fashion for good, it has become a big thing, hasn't it, it used to be hippy and now it is called upcycling.

At St Martins we have people like Simone Cipriani come in and give talks on ethical fashion and we always have a team project, a sustainable project, fairly abstract, but it means that the students from different paths have to work together; they end up hating or loving each other.
---