NeSpoon on
Creating Ceramics and Lace Patterned Murals Across the World,
Working with Communities,
the Role of Art in Public Spaces,
Highlighting Water Scarcity and Deforestation Concerns,
and Human Rights through Art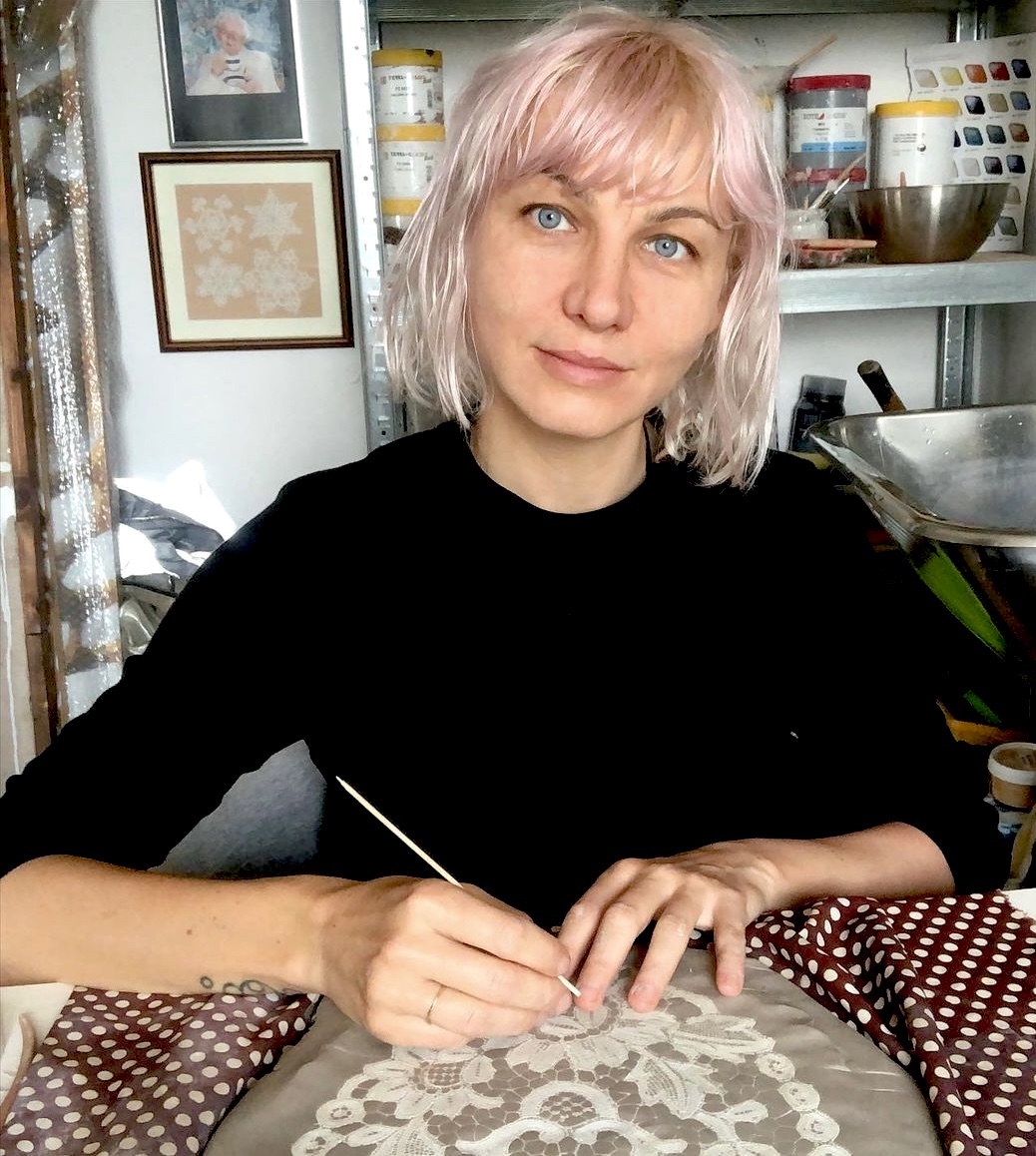 ---
NeSpoon's art, whether her ceramics or her lace murals across the world, bring joy and delight.
Behind the artist's detailed lace patterns lies a considerable amount of research the artist does together with communities from each place NeSpoon visits, sharing onto a mural, the histories and stories infused into a lace's pattern. NeSpoon's lace walls are a spectacular visual, emitting positive and harmonious vibes onto the viewer's direction.
Supporting human rights through her art, NeSpoon's work speaks about global issues and concerns, such as the water crises the world faces, deforestation, and art's role in public spaces, looking at what surrounds us in cities, replacing advertisements with art that can inspire. Her work is meaningful, highlighting critical matters.
NeSpoon's creative work is both about spreading good energy and carrying important messages that draw attention to issues the world is facing. We asked NeSpoon about what lies behind her art and her lace murals that adorn walls all over the world.
---
What first drew you towards art? And how did you get into urban art?
I have been painting ever since I can remember, since kindergarten, and wanted to be a "real artist" from the age of five. However, I only started doing art on the streets in 2009, which was a kind of rebirth. Before that, I painted sad, abstract oil paintings, that at one point, I found to be a dead end. I took a two-year break, and then started learning about ceramics. It was ceramic objects with lacy motifs that were the first works I placed on the street.
Your ceramic artworks are both in open spaces and glued onto walls. When did you start to perceive clay as a material you wanted to work with, and what do ceramics evoke for you?
Clay has always been my natural material since I was a child. It is the element of earth. I like working in soil, I like gardening, I like to get my hands dirty. At the Academy, I took clay sculpture classes, however, I became seriously interested in ceramics when I started working with porcelain, a very demanding material. I like to say that clay is kindergarten, porcelain is university. Despite a creative passage of nearly fifteen years working with ceramic, I am still learning and getting to know it. It's a journey that never ends.
Pictures of NeSpoon's process creating her ceramics
Line UP I Paris I France I 2022. "I created 14 ceramics of various sizes for them (Line Up) and integrated them into pieces of concrete remains."
2012 | Poland, Warsaw
"Scars" | Wroclaw, Poland | 2015.
"In many Polish cities, one will still come across houses with traces of heavy WWII battles. This is symbolic because holes and splinters from bullets represent a physical reminder of the harm that was done. [...] The physical scars on buildings that I filled with clay, symbolically healing the urban tissue. After a few days, the clay dried and fell off, like scabs from a healing wound. I used part of those clay scabs to make an installation presented at an exhibition in the BWA Gallery in Wrocław. I created structures to represent the blood-flow that would nourish and heal the dead places. The wound can heal and will rebuild damaged tissue."
How did the act of painting lace patterns on buildings come about? What does lace mean to you?
I've never liked lace; I've always preferred minimalism and modern design. Before I started working with lace, I thought it was something outdated. When I became serious about ceramics, it turned out that all over the world, one of the most popular ways to decorate dishes is by pushing lace onto fresh clay; this is how the pattern is created. One day I thought these motifs were interesting on their own; they don't need an excuse such as a plate or a mug to exist. I started to make such no-purpose lace objects and glue them somewhere on the streets. Then these patterns began to appear in my head as large-scale paintings on buildings, I then initiated to paint them for real on walls. Through my travels, I learnt more and more about the fascinating history of this craft. I can't say that I fell in love with lace; the laces just chose me, they came to me, and now I am working with them.
Ceramic by NeSpoon glued on wall
Art Walk Festival | Patras, Greece | 2021
MUSA Festival I Mendicino I Italy I 2022
Re:Think Sisak Festival | Sisak, Croatia | 2019. A mural based on Croatian Lepoglava lace motif.
GarGar Festival I Penelles I Spain I 2022
Festival Popularte – l'Arte Fora di Cità Corsica I France I 2022
You have created art all over the world, can you talk us through your art process, the lace you use for inspiration, and your work with local communities?
My art is always in situ made, set in a local context, and I always use local lace patterns if they exist. I research and check local museums. I respect and commemorate the emotional bond between individual patterns and particular cities. If there is no tradition of lace-making in the area where I work, I ask for laces from the homes of people living nearby. I always find something. I also like when people smile when they see my work. People all over the world are familiar with lace motifs, and the reactions to what I do are usually very positive. Lace motifs unite the older and younger generation, associated with memories from a person's grandmother's house, security, 'the good old days'. I also like when elders from the neighbourhood gather by my mural and watch me work. It has happened many times in different countries. When I get off the elevator they come to talk to me smiling, sometimes they bring me sweets and souvenirs. I often get old laces. I'm always happy to leave them something nice that they like.
Le Locle, Switzerland | 2019.
" Le Locle is a beautiful small town in Switzerland, which today is the seat of global watch brands such as Tissot, Zenith, Ulisse Nardin or Mont Blanc. However, in the nineteenth century the city was known for its beautiful lace – there were over 600 lace-makers working in the town. I met with the last of them to commemorate their heritage."
Lodhi Art Festival, India | 2019.
"On the occasion of International Women's Day 2019 I was invited to Delhi to paint a mural inspired by the traditional women led crafts, connecting the European lace patterns and the Indian rangoli patterns. The final work was also a result of a workshop with 25 women from Nizamuddin area, the medieval Islamic district in Delhi. [...] The women of Lodhi Art District are the inspiration behind the mural."
Street Arte en Baie I Yffiniac I France I 2022 .
"The embroidery comes from the time of Napoleon III, it was characterised by geometric forms connected with flowers."
BLINK Festival I Ohio I USA I 2022
Djerba, Tunisia | 2014
Calais, France | 2020. Museum of Design and Lace / La Cité de la dentelle et de la mode de la Calais.
"Calais in northern France is famous for its lace-making tradition. In the past, local factories employed 40,000 people in lace-making industry. Today in the city exists a unique lace museum. It is housed in a recently restored 19th-century factory building. In addition to the great collection of lace, it holds a 200-year-old, still working lace-making machines. Learning how to control this machine on master level took up to 12 years. The weaving master controlled 11,000 threads at the same time. I painted a mural based on a machine lace pattern designed in 1894, which I chose from one of the catalogs available in the museum archive.. I also created other works inspired by the local lace."
You had launched an NGO with the aim to propose a law to limit advertisements in public spaces, and have created artworks such as with your project 'One of 1580' that speak on that matter. What are your thoughts on the role of art in public spaces and the power it has?
I come from a country where street art was used by young oppositionists, often coming from punk-anarchist backgrounds, to fight communist dictatorship. At the turn of the 1980s and 1990s, the walls of Polish cities were literally covered with political stencil graffiti with a message of freedom. This is where I grew up; this early period of Polish urban art defined how I see my role as an artist. Lacy urban art is the project in which I am looking for the basic codes of beauty; it is an attempt to spread good energy through decorative art, whatever that means. But for me, as an artist, it is also important to carry a message, draw attention to real problems, and make people think.
"One of 1580" | Warsaw, Poland | 2017.

'Subvert the city' – Project 'One of 1580' by SC Szyman and NeSpoon
"After the fall of communism in 1989, the public space of our country, Poland, was literally flooded with adverts. There were no legal tools to control this process. [...] in 2007 as a group of friends we launched a NGO, "Miasto Moje A w Nim". It had one aim, to introduce law that would control and limit the presence of adverts in the public space. After seven years of lobbying, we managed to convince the parliament to pass a suitable act. Today, the flashiest ad forms are disappearing from streets and advertising agencies are observing the rules. At the beginning, our NGO had many invitations to directly and physically attack ads. We were always against this. [...] As street artists we use subvertising to protest. [...] ."
Your art tackles socio-political issues, can you share with us about some of those projects, such as 'World Without Water' and 'Epitaph for the Forest'?
I believe that dwindling drinking water resources are one of the most important problems in the world. In the past, great civilisations fell because of this. Along with the ongoing climate change, the lack of water causes mass migrations and wars. We can prevent this, we can provide water to millions of people in need, the technologies exist, but there is more money to be made in water wars. Money is also the reason for cutting down the last natural forests. Everyone knows about the Amazon, but also in my country, the government has decided to increase the logging of protected old-growth forests under the pretext of fighting bark beetles. I try to pay attention to such problems in my works.
"World without water" , Sandymount, New Zealand, 2016.
"In 2015, the World Economic Forum acknowledged the water crisis as the greatest threat to world order, greater than mass epidemics or conflicts with weapons of mass destruction. Today nearly a billion people have no access to running drinkable water. At the same time, there are those promoting the idea that water sources should be privatised and access to water should be paid for. That view should definitely be fought against.
On 28th July in 2010, the United Nations General Assembly passed a resolution that recognised access to clean water as a fundamental human right. We shall not stop climate change, but we can mitigate its effects. The technology does exist. Ensuring drinkable water for millions of suffering people would cost a fraction of what we're spending on wars caused by water shortage. And a fraction of a fraction of what we're going to spend."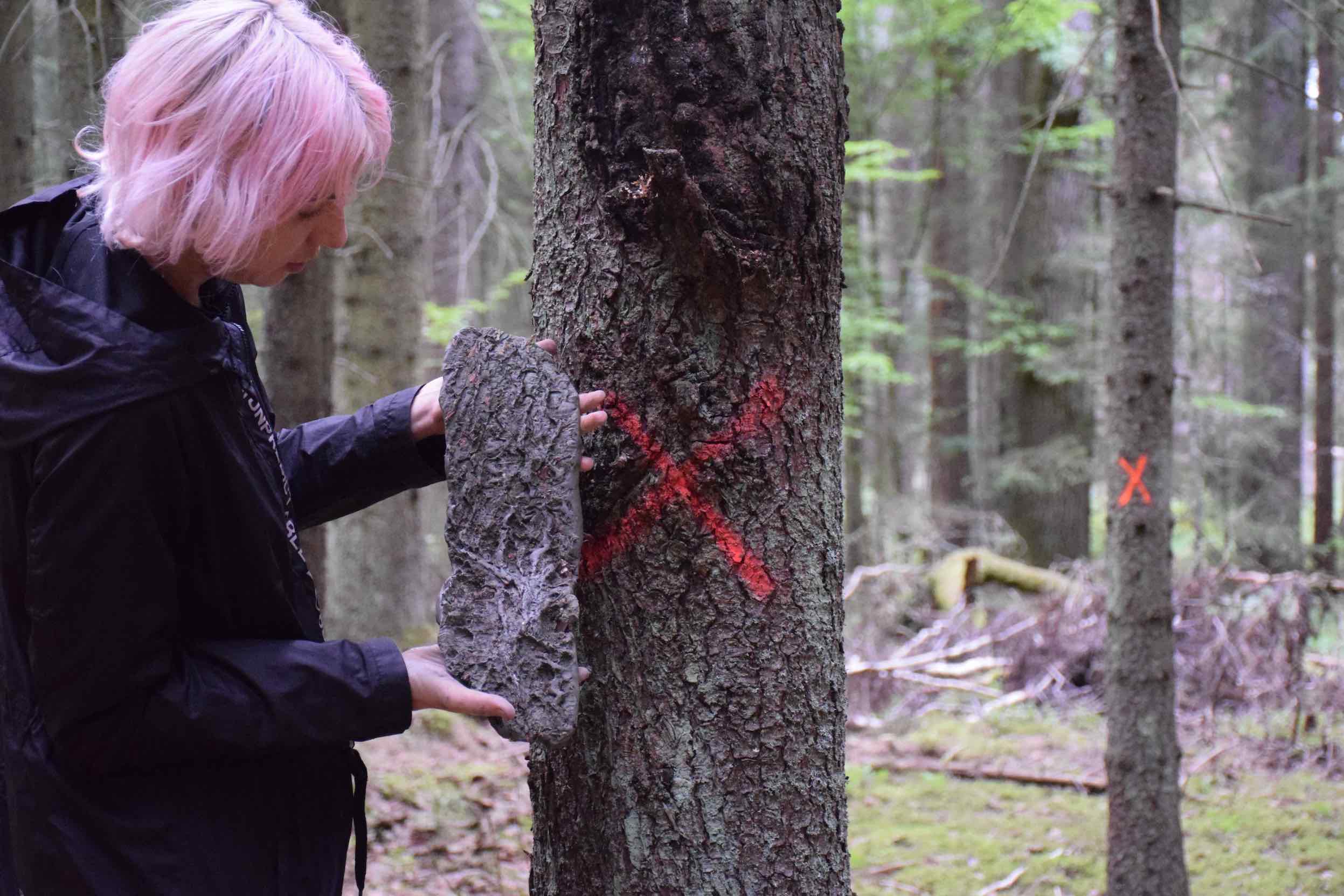 "Epitaph for the forest" | Poland | 2016 / Białowieża – Warsaw / Poland / 2016-2021.
"Białowieża Forest has a unique ecosystem. It is the last European lowland natural forest, a UNESCO World Heritage Site and a home to the last wild aurochs. Despite protests by ecologists, state owned wood companies are constantly increasing the timber extraction in the protected forest areas. They do this under the pretext of fighting beetle infestations. According to scientists and ecologists, this unique ecosystem will soon be destroyed and replaced with an industrial style of planting. In the endangered areas of the wood I made a collection of bark prints. The ceramic plaques are a posthumous mask in memory of the forest that has gone forever."
You participated in 'Art Embraces Politics' at the European Parliament, what was that like and can you tell us about the art you created there and your work regarding Human Rights?
In July 2010, the UN General Assembly adopted a resolution recognising that the right to safe, clean, potable water is an essential right to ensure the enjoyment of all other human rights. Along with air, water is the basis of life itself. The truth is that whoever controls the water controls freedom. I made the inscription "Human Rights" out of ice and filmed it melting. This short film warns against the erosion of human rights as drinking water supplies dwindle.
How did your artwork 'Thoughts' start, what is it about and how has its development been so far?
'Thoughts' is my most important project. I started it by accident ten years ago and will continue it until 2042. I wanted to use the remnants of clay left after making china laces, and I had a lot of it. One day I started making thin porcelain petals from that clay. As I was working, I became calmer and more focused, it was like meditation. I noticed that the more time I spent making them, the more the petals became delicate and regular. It was like recording my calming thoughts in clay. This process somehow reminds me of the old way of making records, when the vibrating needle carved grooves in the wax matrix, recording the sound. The project combines urban art, ceramic art and conceptual art. This is an attempt to record the state of meditation in solid material. I make petals sitting directly on the streets of the cities I visit, observing life and letting my thoughts flow. I decided that each year I find two to three months to calm down and focus solely on making just that. Every year I produce about 50 kg of 'Thoughts'; over 450 kgs are ready, and ultimately there will be 1.500 kg of them at the final exhibition in 2042.
83 kg, Sharjah Art Museum | UAE | 2014
Picture of 'Thoughts' project
---
NeSpoon is a Polish contemporary and street artist, working with ceramics, graffiti art, installations, design and art projects that relay human rights and global and social concerns. Starting in 2009, lace soon became her signature style, with ceramic street art at the heart of her work. Over the past 10 years, she has worked in almost 40 countries in Europe, Australia, Asia, America, Africa and New Zealand, and has participated in numerous individual and collective exhibitions and events including: Museum of Louvre – Lens. Lens, France. Installation + live painting. (2019) ; "Recrafted". Form Gallery, Perth, Australia. Duplex exhibition with Nandita Kumar (2015). ; "Harmony. Walls of Bologna". Solo exhibition. Porta Nova Gallery, Bologna, Italy. (2016) ; "Scars". Solo exhibition. BWA Gallery, Wrocław, Poland. (2015) ; International Contemporary Art Exhibition 2018. Yerevan, Armenia. Group exhibition. (2018) ; EXPO Dubai 2020, Dubai, UAE. Installation in Polish Pavilion. ; STRAAT Museum, Amsterdam, The Netherlands. Installation. ; The Jersey City Mural Arts Program (JCMAP), Jersey City / New Jersey, USA. Mural. ; Popularte Festival, Corsica, France. Mural. ; LineUp / Noisy Project, Paris, France. Ceramics & Murals. ; GarGar Festival, Les Penelles, Spain. Mural. ; Thoughts & Art embraces politics, European Parliament in Brussels, Belgium. Performance & discussion. ; and many more.
---
Cross Culture Festival | Bialystok, Poland | 2012
---
All images courtesy and copyright of NeSpoon
@nes.nespoon https://www.instagram.com/nes.nespoon/
---