Rakeb Sile, Mesai Haileleul and Michael Elmenbeck
on their collaboration: Addis Fine Art x CFHILL,
on Art from the Horn of Africa, Diversity in Art, Representation,
and the Power of art
Rakeb Sile and Mesai Haileleul of Addis Fine Art and Michael Elmenbeck of CFHILL Art Space
---
Art has a way of capturing our attention, it propels an array of emotions and introduces us to new perspectives and ideas. It often unravels layers of thoughts, turning the invisible, visible.
As a tool, it can ensure that numerous histories and a variety of cultures are brought to light. Multiple spheres of influence flow in several directions, in an exchange of cultures, with brushstrokes, threads and materials containing a myriad of narratives.
Revisiting Art History for a more inclusive History of Art framework is vital, ensuring that artists from all over the world are rightly known about.
When two art establishments decide to come together and collaborate, a magical artistic environment may occur; and that is what happened upon Addis Fine Art and CFHILL Art Space opening the exhibition "From Modern to Contemporary: Artists from the Horn of Africa and Diaspora". The exhibition which features artists of Ethiopian, Eritrean and Sudanese descent is held at CFHILL in Stockholm, Sweden, and showcases a range of artistic splendour, all revealing impactful ideas and notions on society, identity, politics and emotion.
Four main categories are presented in the exhibition, The Modernists, The Contemporary, The Diaspora and Emerging Artists, laid out over two floors in the five galleries of CFHILL Art Space. The poignant and impressive artworks are displayed to interact with each other, highlighting their diverse, rich and multiple cultural entities, as well as ignite a cultural exchange with the viewer.
Rakeb Sile and Mesai Haileleul of Addis Fine Art and Michael Elmenbeck of CFHILL Art Space, share through our conversation, their passion for adding to the narrative, highlighting, and bringing to the forefront diverse and meaningful art. Felt throughout, is their dedication to the arts, their drive to ensure that all art is made visible and that artist retain at all times the possibility to create and have a voice. Our conversation encompassed how their collaboration came about, what is important to them, and how their journey into art all began…

---
What first drew you all to art?
Rakeb and Mesai you founded Addis Fine Art and Michael the art space CFHILL , what led you each to that and why was it important for you?
Mesai Haileleul (MH): I had left Ethiopia after high school to live in the USA. In 1996, on my second trip back to my birth country, a friend took me to visit some of the artists' studios, an opportunity to really discover the work of Ethiopian artists. I developed a real passion for the art and began to purchase work to help the artists out, without yet having an understanding of what I was buying, but as they were such great people with immense talent, I felt like I wanted to support.
That led to the artists asking me to highlight their work in the USA, in the hope of being discovered by a wider audience. I didn't want to let them down, so from 2001 and for the next couple of years, I had pop-ups in Washington and The Bay Area where many Ethiopians live and the art was selling out.
From that, I developed my skills, learnt a bit more about the gallery business and then opened a gallery in Los Angeles. After a sabbatical and closing the gallery, Rakeb came to LA looking for me, our skills combined well, and fast forward to 2016, we opened our first art gallery together in Addis Ababa, six months later we opened a second space in London - it's been a long journey.
Rakeb Sile (RS): I grew up in the UK, but travelled regularly back to Ethiopia to visit my grandmother. Though coming from a business background, art was always at the back of my mind. But it wasn't until I wanted to understand what I was collecting, that art became an obsession for me. I hadn't seen myself or my culture being represented and it made me feel like there was an urgency to do something about that. If I had found it this difficult to learn about the Art History from the Horn of Africa, there was no chance anyone else was going to.
My research led me to Mesai who was championing African art way ahead of everyone. I had gone to LA with the hope to uncover more on art from Ethiopia.
I didn't have a grand vision that we were going to start a gallery together, but It became essential to create a space where we can help highlight the varied notions the artists want to express through their art. It's also about representation, as the art world tended to be Eurocentric.
Mesai and I both felt the need to open the gallery in Addis Ababa, which was probably the hardest road to take, but it was important that as the African discourse grows, that this part of Africa is also part of that conversation. Hard, but I think well worth the effort we put in, because as we are there, we can really support artists right from the get go, where many of them live.
Michael Elmenbeck (M E): As a young child I was interested in clothes, hip-hop, graffiti, and collecting records. Through those passions, I discovered artists such as Keith Haring and Jean-Michel Basquiat, leading me to learn of artists like Egon Schiele. I put my mind into starting to collect art, though I didn't have the money for it, I saved up and looked to emerging artists.
It took years until I started working in art, but I was always involved in it in some way, founding an e-commerce site, an advertising agency, a magazine (Bon Magazine), and merging art with fashion through collaborations with artists such as Jeff Koons and Alez Katz.
Starting CFHILL, was partly inspired by a friend of mine in the music industry, who had seen how music labels often placed restrictions on collaborations. The idea therefore was to create a space that is an open source, where any collaboration is possible.
Myself and co-founders Anna-Karin Pusic and Michael Storåkers have all together been involved in the art world for many years now, we took all our expertise and said, let's do something no one has done before, create a hybrid between a gallery and a museum, bring great and unique art to Stockholm, and from Stockholm communicate what we can offer. We hold exhibitions, collaborate with galleries and curators, and advise collectors and institutions, but without having CFHILL represent artists, to remain independent and be able to advise independently. From day one, it was not just about making ourselves more successful, but rather seeing how the art ecosystem and public could all benefit. We believe that when you give something back then we can all grow mutually together.
It was important to have a physical space, because that is the best way to share art and to feel creativity. In a building that dates back to 1648, we highlight emerging and established artists together to relay that quality is not defined by price.
We have the ability to showcase art with political themes, topics on race, gender or sexuality, and a couple of years ago, held an exhibition that couldn't take place in Nigeria, because the themes were politically forbidden. It was vital for us to act as a platform then and it is important for us that we continue to do so.
How have things changed or evolved for the art from the Horn of Africa?
RS: The artists, the art has always been there; but some had been working for years and not been heard of. Even if people wanted to know, similar to myself when I was researching art from Ethiopia, the foundational system to do so was lacking, and that needed to be set in place. All it needed was a platform; it's sad to imagine that these artworks might have gone unnoticed. A real success of our gallery has been Tadesse Mesfin, who should have long before, already had his place in Art History. He has taught and inspired generation of artists who have come out of the Alle School of Fine Arts and Design. He is well collected in Ethiopia, and yet, he could have potentially gone unnoticed outside of the country. He is a truly magnificent talent, and that could have happened. Many have now seen what talent he has; that is the kind of thing that drives me; that is what I am passionate about.
Every artist has their own voice and perspective. We are working with one little patch of the continent and there are so many ideas that stem from the artists. Every single region should feel represented, have the opportunity to do that and showcase their identity, discover their Art History and bring that out. Africa is such an exciting place.
Tadesse Mesfin, Pillars of Life: Saturday Market VII, 2021, Oil on canvas, 195x130 cm
Much of the Art from the African continent has influenced European artists,
RS: Exactly, and artists from the continent should have an international outreach. It's a two way conversation.
People's eyes have been open to what Africa is producing and what Black artists are doing, for instance in the USA.
MH: Ethiopian art is primarily embedded in the Ethiopian Orthodox Church and many know about Ethiopian Iconography.
Rakeb and myself spent most of our lives outside of Ethiopia and we recognised the lack internationally, of contemporary or modern art from Ethiopia. Our main objective from the get go was to see how we can create a bridge to bring out the talent from the Horn of Africa. Immediately we were present at art fairs, and then invited by the Armory; because people had the opportunity to see the art for themselves, it had a chance.
Though of course there were challenges we had to deal with along the way, in a fairly short time, the art received recognition from collectors, international institutions and the media, all appreciating the profound talent that we have been able to share and we are very proud of that.
Can you tell us about the collaboration between Addis Fine Art and CFHILL?
RS: We curated the show with four categories, The Modernists, with artists such as Tadesse Mesfin and Lulseged Retta who emerged from the Alle School of Fine Arts and Design. They were witness to a regime change in Ethiopia, which also meant studying in the then USSR's art schools was an option for them.
The Contemporary, our mid career artists, comprise of artists such as Merikokeb Berhanu, who had been working for years in obscurity, many would have given up, but she kept at it, carving out a career in a male dominated art scene. Her art deals with questions on the human condition, of life and death, inspired by nature and filled with symbolism. Addis Gezehagn, a master colourist who paints patchworks portraying the multifaceted characteristics of Addis Ababa and its society. Tesfaye Urgessa art looks to the politics of identity, race and social issues. This group of Contemporary artists had all worked for about 15 to 20 years before joining us. They are the generation that were taught directly by Tadesse Mesfin, and all of them will say the same thing, that he relayed to them the need to find their own voice, that you can be as trained as you want, but you need to bring what is important for you on the canvas. And each of these artists do have their own unique expressions.
The Emerging Artists, such as Selome Muleta who's portraits explore womanhood in different contexts, as an idea and as a lived experience, and Tizta Berhanu, a figurative painter looking at intimacy with expressive emotions of sadness or comfort. Her paintings are awash with bodies that interact together. In September we have a solo booth with her and are very excited about that.
Artists from The Diaspora, such as Tariku Shiferaw does mark-making that explore the physical and metaphysical spaces of painting and societal structures. Artist Atong Atem looks at identity and what it means to live between two different cultures.
CFHILL have been a wonderful partner to work with, and all the art looked great in their space.
Tizta Berhanu, Intimacy, 2020, Oil on canvas, 110 x 100 cm
Atong Atem, Ruth with Veil, 2020, Photography, Ilford smooth pearl print
Tariku Shiferaw Sky Walker (Miguel), 2021 Acrylic on canvas 101.6 x 76.2 cm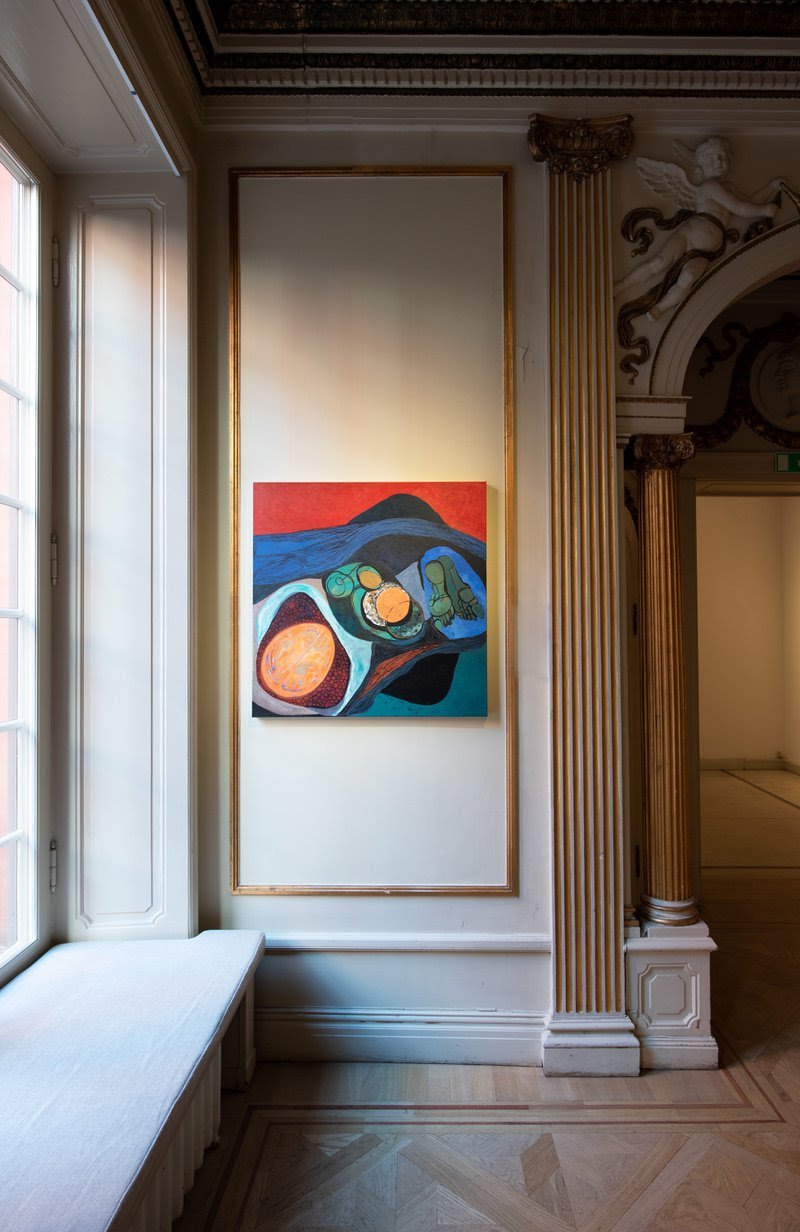 Merikokeb Berhanu, Untitled LV, 2021, Acrylic on Canvas, 76 x 76 cm
Installation view of 'From Modern to Contemporary', 2021. Courtesy of Sofia Johansson/CFHILL
MH: We put together some of our best works from some of our best artists and it was such a pleasure to work with CFHILL. Art was shipped from Addis, Washington, New York, London, and for the first time, artists from the neighbouring countries of Sudan and Eritrea were part of the exhibition.
This exhibition has garnered great interest
M E: It's been very positive, those who have viewed the exhibition were seriously interested in the work on display and into discovering art from the Horn of Africa, all the different regions, sub -regions, variety of arts and perspectives.
Working with Addis Fine Art has been such a great journey, learning more about the art and sharing that. Each artists' own path is a discovery, for instance, some of the Modernists from Ethiopia were at a later stage also trained in the then USSR, it's interesting to think about how that element had an impact on the artworks. Much of the art on show brings forth historical, societal or political notions, we really want people to understand what lies behind the exhibitions, what the art is trying to bring attention to, so we ensure we also always do that in a catalogue and interviews.
That's what I've always been into, art that educates or inspires.
In Sweden there's much talk about age discrimination, that it is only the young involved in start ups or social media, and everyone else couldn't possibly have an input, but that is a bias. In the artworks we present in the exhibition, the artists are of all ages, and one could not possibly tell their age from their work. New art, does not have to refer to someone who is young. The art in this exhibition is a testament that age does not define what feels new. Take a look at Tadesse Mesfin, the art he does feels so fresh, yet he is the godfather of art, who has been teaching the young artists for many years. At CFHILL we don't want to define what is new and exciting to mean that it has to come from someone young, it could be someone who has been undiscovered for years. The Swedish artist Hilma af Klint is an example of that, it took decades before her art was truly appreciated, and her art today feels just as fresh and exiting as any contemporary artwork. And on the other hand, a young person's art can also come with years of emotion and intensity.
RS: There is a large diaspora community in Sweden, and from the messages and emails we've been sent, this exhibition has been incredibly well received. It's also about feeling represented and seen.

Installation view of 'From Modern to Contemporary', 2021. Courtesy of Sofia Johansson/CFHILL.
How much power does art have as a tool?
M E: I think if you ask artists, they would say that art is a universal tool that is empowering, helping transmit ideas and holding messages within the artworks.
Art can be very effective, and its effects can also grow or go viral through technology. But we can't take this digital aid for granted, many artists may not have a functional wifi, having to go to a public space in order to publish their posts.
Art today has never been more important, and has in some ways become more accessible. I have always loved to see the arts being shared with as many people as possible. It's really fascinating how art has become something that everyone can access quite easily, yet it remains unique. And that one unique work of art can cost anything from 10 dollars to 100 million dollars. I realised throughout this period of the pandemic, that art and family photographs, tend to be what people have saved and want to pass on to the next generation. It doesn't matter if the art is expensive or not, it's something that is treasured.
This past year, we've all spent more time at home, and I think because of that, a realisation of what art can do and its power started to spread. When there was an opportunity to go out, visiting a museum almost became a spiritual thing. I think many have felt that if they should invest in something, it should be into a creative field, an artwork, something that can add to their lives, to society and to the world, like art can do.
Can art unite?
MH: For the last 20 years, there was no relationship between Ethiopia and Eritrea, no one was crossing the border, unless it was done illegally. As part of the exhibition in Stockholm, we have an Eritrean artist, we have two Sudanese artists, but if you follow the international news, Ethiopia and Sudan don't seem to be seeing eye to eye on a lot of things. It is all very politicised, and yet galleries and artists are saying, why don't we celebrate the beauty of what we all do and the passion that we all have. Personally I don't believe in wars, so in a little way, maybe art can start something, and bring people together.
We are hoping to have an exhibition in Addis Ababa with works by Sudanese artists, it might challenge the audience and also be a point of reflection. I really believe in art and what it can do.
Yasmeen Abdullah, The Box, 2021, Acrylic on Canvas, 87 x 78 cm

RS: Every decade there is an outflow of people and artists migrating, so the diaspora voices are really important, even tough they may not exactly be speaking to the condition of the region, they are still affected by what has and is happening. They are still influenced by their families, and the things that they have seen or heard about growing up. An artist like Helina Metaferia was born in the USA, her mum was an Ethiopian revolutionary, so she grew up being influenced by that, but as she is an African American artist, her work is also concerned about the African American experience. Artists and art can merge several concerns and ideas. To answer your question if art can unite, it may do so, by showing us what is similar about us, our humanity, our shared interests, our struggles with our identity, whatever that may be, our emotions, joys, pains. It can move us. The way also music does.
Helina Metaferia, Headdress XIX, 2021, Collage, Mixed Media, 71.1 x 48.3 cm
What is next and what are your hopes?
M E: I look forward to an exhibition on forests we are doing and another one on the young generation of LA, bringing their art to Stockholm and showcasing in return the best that Stockholm has to offer. It's often interesting to see what artists are drawn to in Sweden, we try to make everyone love Stockholm the way we love the part of the world the artists and galleries we work with or have worked with come from.
Art is unique. We hope that through our art space, we continue to showcase many interesting and meaningful collaborations and a variety of arts be brought to the forefront. Art should be something that is shared, that teaches us things, and makes us feel.
RS: The vision is that art from the Horn of Africa becomes part of the lexicon, everybody should own a piece of artwork from this region, it is exceptional art. We would like to see more galleries representing art from this part of the world, with the ability to connect internationally. The next step for Addis Fine Art that we will be involved in, is in the shape of being the institutional partner for the institutions that will add their support within the art scene in Ethiopia.
MH: I would like people to know that the art from the Horn of Africa is not one dimensional. We are so pleased that artists are able to speak the language of art that is very universal, helping artists express themselves in ways they want to, being a vehicle to share that internationally, and through this exhibition, doing that in Stockholm. I hope that many are able to visit the exhibition, but for those who can't be in Stockholm, if they go online and have a look at the diversity of the work, they will see the immense creativity, the power of art in this collaboration between Addis Fine Art x CFHILL that we are all so proud of, that has brought together so many talented artists in a beautiful space.
Selome Muleta, Tsédal XI, 2020, Acrylic and oil pastel on canvas, 150 x 130 cm
Lulseged Retta, Setate, 2010, Acrylic on canvas, 138 x 180 cm
---
Addis Fine Art X CFHILL Art Space: From Modern to Contemporary: Artists from the Horn of Africa and Diaspora
runs until 17 August 2021 in Stockholm, Sweden
All Images courtesy of Addis Fine Art https://addisfineart.com and CFHILL https://www.cfhill.com/
---
About Addis Fine Art
Founded in 2016 by Rakeb Sile and Mesai Haileleul, Addis Fine Art is a pioneering gallery based in Addis Ababa and London. Described as one of the "Most Important Young Galleries in the World" (Artsy 2019) and the "Ethiopian Gallery Enriching a Global Art Conversation" (New York Times 2019), it is the very first white cube space and international platform based in Ethiopia. The gallery focuses on highlighting modern and contemporary fine art from the Horn of Africa region and its Diasporas. Addis Fine Art has become one of the leading galleries from Africa, facilitating critical engagement with the local and mainstream art markets, championing an underrepresented, yet rich space in modern and contemporary fine art. In November 2020, Rakeb Sile was also named one of Apollo Magazine's 40 Under 40 Africa, a project dedicated to 40 of the most influential and talented people in the art world born or based in Africa.
About CFHILL
CFHILL is an international art space in central Stockholm, situated in a 17th century palace from 1643. Since its inception in 2015, CFHILL has presented over 50 exhibitions and artists – emerging as well as mid-career and art historical icons such as; Hilma af Klint, Math Bass, Carsten Höller, Sheila Hicks, Jonathan Lyndon Chase, Aaron Garber, Olafur Eliasson, Annie Morris, Yayoi Kusama, Donna Huanca and Amoako Boafo. CFHILL's philosophy is to operate as an independent open source in a global network of curators, artists, and galleries with the ambition to create a dialogue between generations for new art and artists. Previous shows have been curated in collaboration with; Melanie Lum (US/China YUZ Museum), Francesca Gavin (UK, Manifesta), Sandra Weil (Tel Aviv, Magasin 3), Rick Herron (US, New Museum), Sophie Mörner (US, Company), Javier Peres (Berlin, Peres Project), Destinee Ross (New York) and revolved around themes such as gender, sexuality, politics, and race. CFHILL was founded and is led by Michael Elmenbeck, Anna-Karin Pusic and Michael Storåkers.
---