Victor Ekpuk on
Africa, his Roots, his Art Journey,
Humanity, Empathy, Art and Philosophy,
Symbols, Mark Making and
Drawing Memories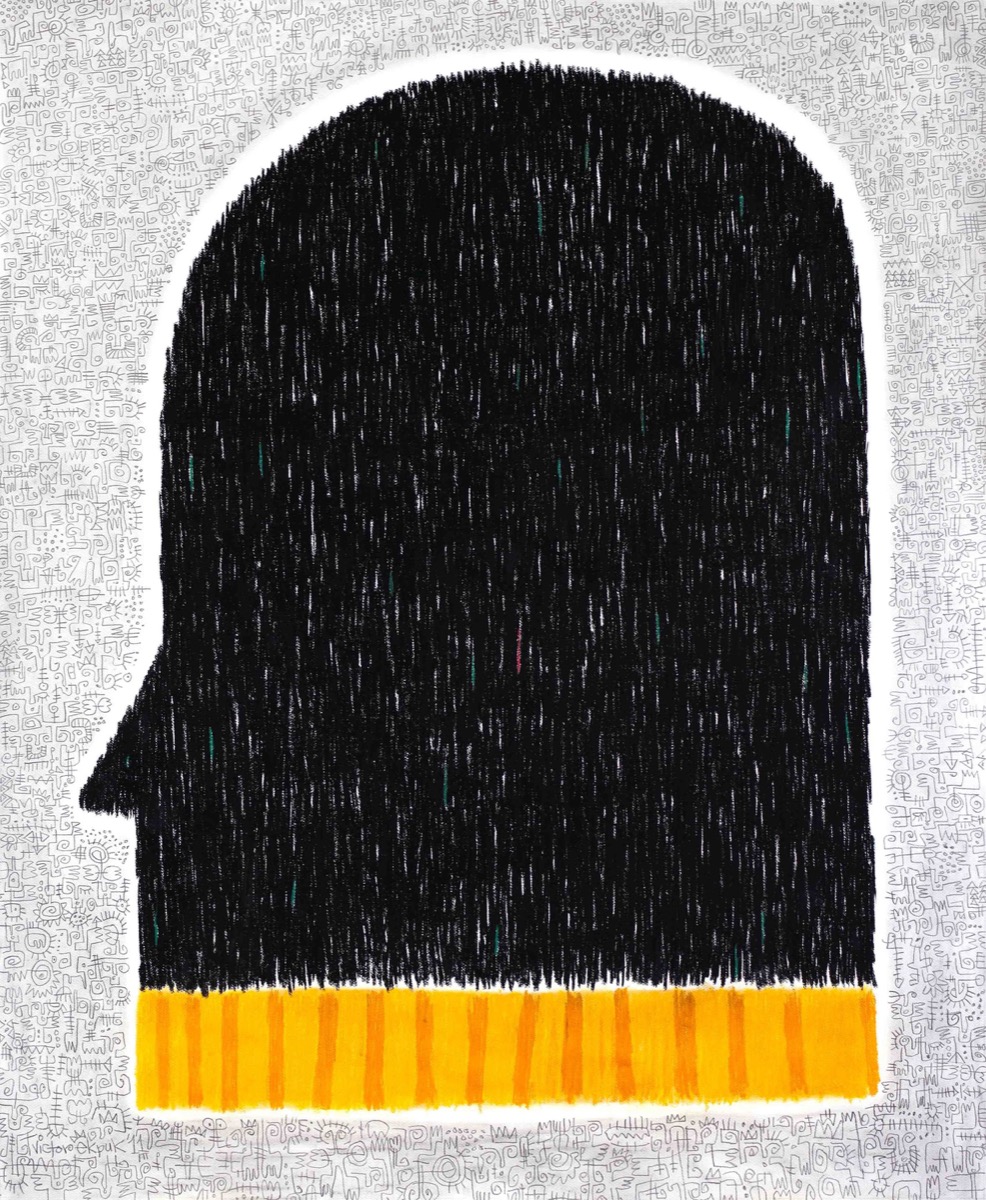 Head Of State by Victor Ekpuk. Graphite and pastel on paper. 2011. Aicon Gallery New York
---
The world is going through difficult times. Art can be a tool to resist, recall and empower.
Victor Ekpuk's art reflects roots, memories and humanity. His mark making are derived from emotions that then connect us to the art and to others. Art can unite us and bring forth perspectives in history and the History of Art.
We are marked through our lives by different aspects, experiences, objects and memories, and as Victor Ekpuk mentions in the interview it is "important to allow oneself to feel the art".
---
You were born in Nigeria, trained at Obefami Awolowo University and you are currently based in Washington DC. What are the different influences from your life journey that you've brought into your art?
Expression of the human condition greatly influences what I've brought into my work. I was born a few years before the Nigeria/Biafra civil war. And have grown up most of my life under successions of coups and military juntas. The mismanagement of the common wealth of Nigeria has led to gradual degradation of the quality of life of the citizenry. Art created a channel for which I could respond to these conditions. Aside from the socio-political, Africa and in particular Nigeria's rich artistic culture has nurtured and informed my own aesthetics far more than any other. This cultural milieu is where my own artistic forms take root.
Touch by Victor Ekpuk. Ink and pastel on paper. 2011
How much has the experience of working as a cartoonist in the 1990s for the Daily Times Nigerian Newspaper impacted your work and your interests?
My job at The Daily Times soon after college was probably the most fun I've had as salary earning employee. Going to work everyday to do what I love did not feel like work. The cartooning job at a major Newspaper like The Daily Times sharpened my political awareness; it gave me a large platform to have my say about the follies of the ruling class and other social issues of the day.
Professionally, it sharpened my drawing skills and the ability to summarize complex thoughts into simple, impactful pictorial image.
You have referenced an interest in the human condition with issues such as family, gender, politics, culture and identity, what draws you towards these subject matters?
Perhaps the fact that I am first of all human, I guess empathy for my fellow humans comes naturally because of our affinity with one another. I am drawn to introspective observation of human behaviors, and these find expressions in my work.
You have taken inspiration from the philosophy Nsibidi, can you tell us a bit more about that?
On closer analysis of the aesthetics of nsibidi and other writing systems in Africa, they reveal methods of communication where the essence of ideas and concepts are depicted in abstracted symbols and signs.
Following this aesthetic philosophy of abstraction of both form and meaning, I have developed a personal vocabulary that evoke the interplay of art and writing, where legibility and illegibility are metaphors for my contemporary expressions. It is not necessary to try to literally read my work, it is more important to allow oneself to feel the art, without the burden of looking for meaning in each mark.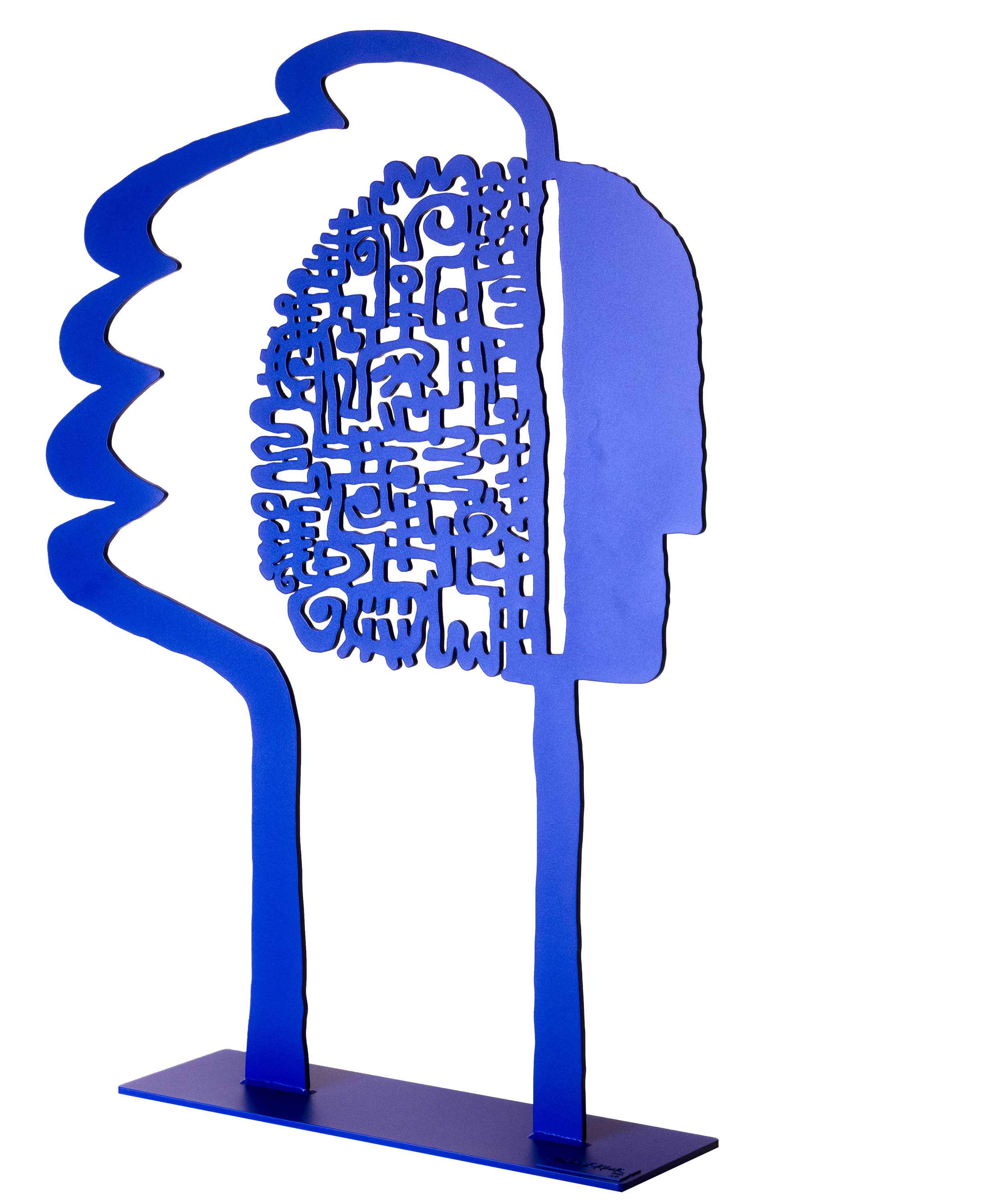 Philosopher by Victor Ekpuk. Powder coated steel. 2018
The fields of art and philosophy can impact or relate to each other, what are your thoughts in general on why these two fields can influence each together?
This seems like a chicken and egg question; I'll try my best here.
Philosophy studies the fundamental nature of reality, knowledge and existence.
In so far as art, culture, and artist exist, philosophy is necessary to enable the thinking and understanding of the three. Yes, both fields can influence one another. I made an example above of how my analysis of the aesthetic philosophy of nsibidi influenced my art.
You often work directly on surfaces, without any sketching, can you tell us a little bit about that process, your thoughts and emotions while doing so?
When making large scale drawings, I prefer to not have any preconceived ideas until I arrive at the site, I let the environment of the project to determine the content of the composition.
Once I am in the space, I take a few hours or even a day to consider the design and composition which I would often sketch on my iPad or iPhone. Once I am satisfied with my composition, the process of filling in the "story" is usually a stream of consciousness. As I open myself to the flow of myriads forms as they come rushing through while my hand struggles to catch up with what is happening in my head. This explains why I draw so fast. It is usually mentally and physically taxing endeavor.
Untitled 2 by Victor Ekpuk. Acrylic on canvas. 2019
Composition in Red 1 by Victor Ekpuk. Acrylic on canvas. 2019
Marks and Objects at Aicon Gallery by Victor Ekpuk.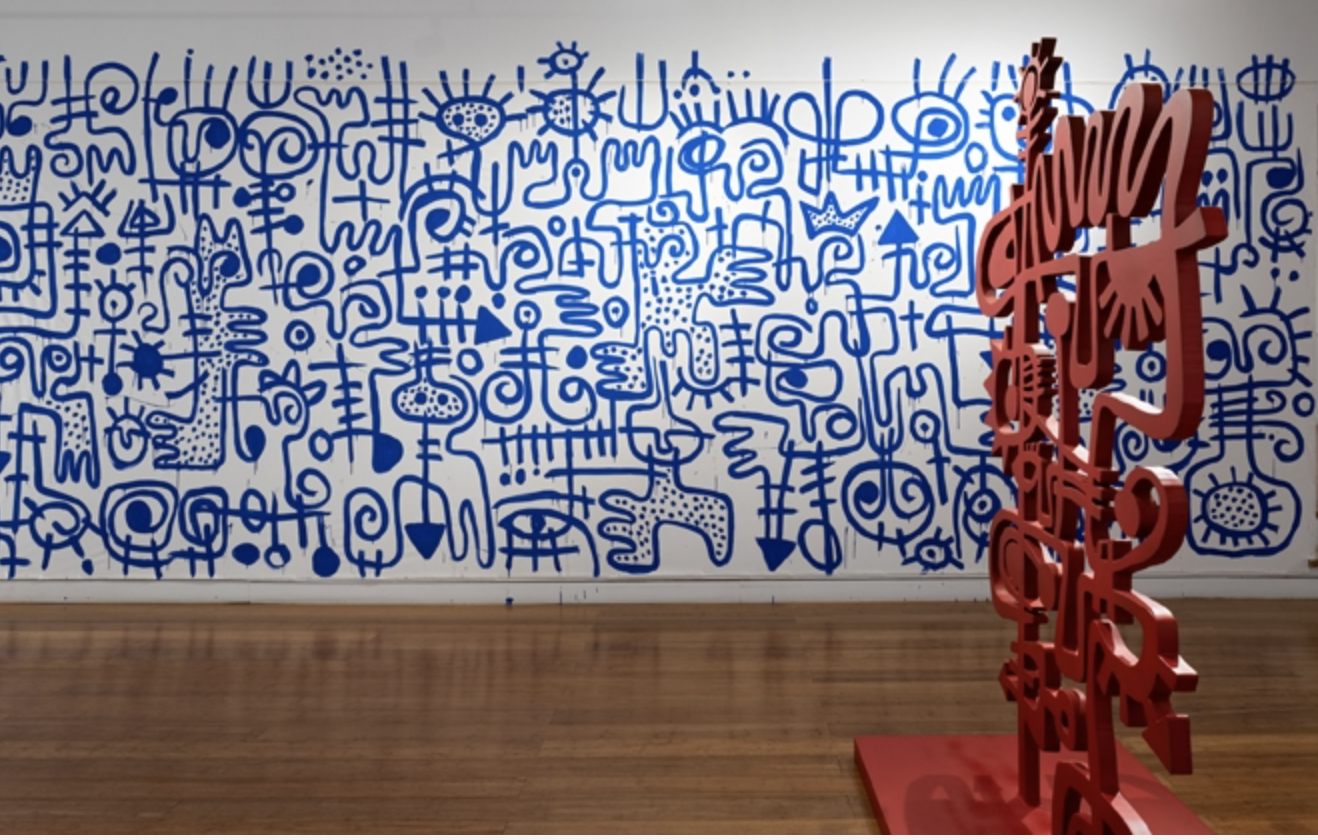 Marks and Objects at Aicon Gallery by Victor Ekpuk.
Your wall drawings are known as "drawing memories", how much can art evoke our memories, and what memories do you want to project in and from your art?
As noted earlier, my works frequently investigate the human condition of identity, politics, social, cultural and psychological.
"Meditation on Memory Series" or "Drawing memories series" explores the notion of memory, which one derives a sense of self/identity as an ephemeral condition that is constantly in flux and could be affected by life circumstances.
This series of work was inspired by my personal experience as an immigrant. Or the condition of the living in diaspora with a dual consciousness of ancestral home and the new home.
The state of often being assumed as an other and different, often results in questioning and negotiating one's identity.
For the pieces to be completed, they have to be erased. The erasure exemplifies the notion of memory being affected. But no matter the erasure the residual marks are usually visible on the wall, this to me are genetic memories that has been imprinted and lives within us. It informs our cultural memory and unique way of life as a group.
In the 2015 Havana biennale in Cuba, I installed "Meditations on Memories" at The Wilfredo Lam Art center. My intent was to create a sacred space of memory to honor my ancestors from the Cross River region of Nigeria who were forced into slavery on that island about 400 years ago but whose memory/identity as Ibibio, Efik and Ejagham peoples has been enshrined in the Abakua society. It was an emotional reunion for me and the Cubans.
What is rooted behind your mark making, are they symbolic for a universal language? And For instance, in your artwork "Mickey on Broadway" by taking Mickey into a different narrative, are you using symbols to fuse different culture together?
"Mickey On Broadway" uses symbols to convey a portrait of the artist pondering the conditions of his layered identities and hybridity.
It expresses loss and memory, the identity crises of an "immigrant", an "other", an "In-betweener", who is neither a native nor a foreigner, as he claims his space as an American.
It steps back to observe the humour of our hubris in the pursuance of the American Dream and the persona we put on like 3 pence masquerades while performing on stages of dreams, wishing to catch our spotlight before it dims.
Mickey On Broadway by Victor Ekpuk. Found objects on wood panels. 2014
Do you think creating art can be like a daily ritual or like a performance?
Creating art can be both. An artist lives and breathes art, she/he can't help but create however or wherever they can.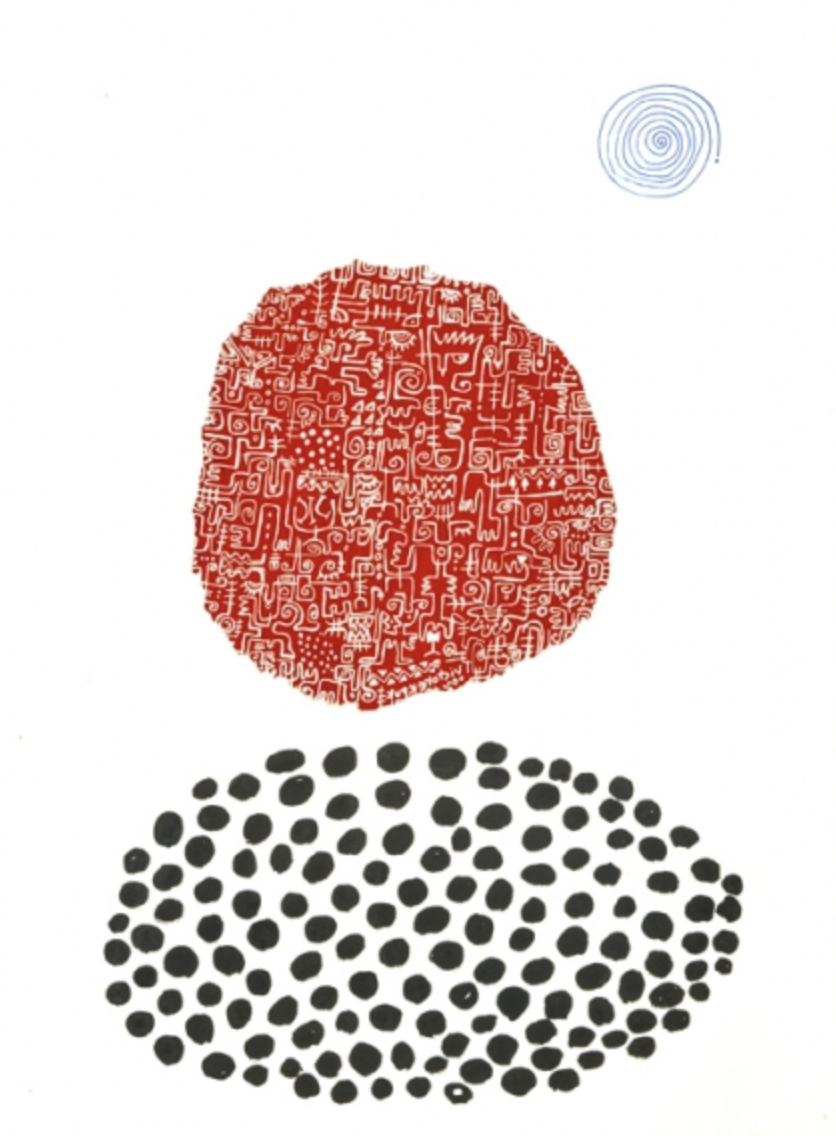 Morning Prayer 2 by Victor Ekpuk. Ink on paper. 2018
---
Victor Ekpuk trained at Obafemi Awolowo University, Ile-Ife, in southwestern Nigeria, where he was first exposed to drawing. In the 1990s he worked as a cartoonist for Daily Times, a leading Nigerian newspaper. Ekpuk's works have been shown at Institut du Monde Arabe in Paris, 12th Havana Biennial, Dakar Biennial, The Tang museum, Hood Museum, Fowler Museum, Museum of Art and Design, Newark Museum, The World Bank, Smithsonian Institution National Museum of African Art, New Museum of Contemporary Art, and the 1st Johannesburg Biennial. His artworks are in permanent collections of The Smithsonian Institution National Museum of African Art, The World Bank, Newark Museum, Hood Museum, Krannert Art Museum, United States Art in Embassies Art Collection, and Fidelity Investment Art Collection. Ekpuk has been awarded commissions by major museums in the United States. In 2016, he designed trophies awarded to recipients of the museum's first African Art Awards by The Smithsonian Institution National Museum of African Art. In 2017, he completed a large-scale 30 x 18ft. centerpiece mural commission at the North Carolina Museum of Art in the African art gallery. He is currently commissioned by Penguin Random House Publishers to illustrate new covers of popular books by Africa's most renowned author, Chinua Achebe. Victor Epuk has just had an exhibition at Aicon Gallery in New York and his work is currently on show at Sommerset House.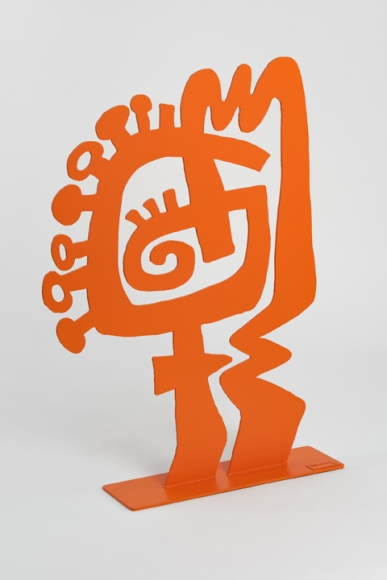 Woman Dancing in the Mirror by Victor Ekpuk. Powder coated steel
All pictures are courtesy of Aicon Gallery New York and of Victor Ekpuk