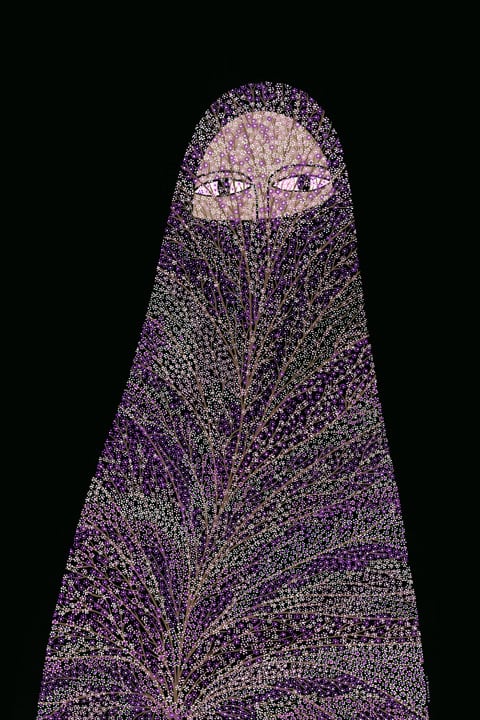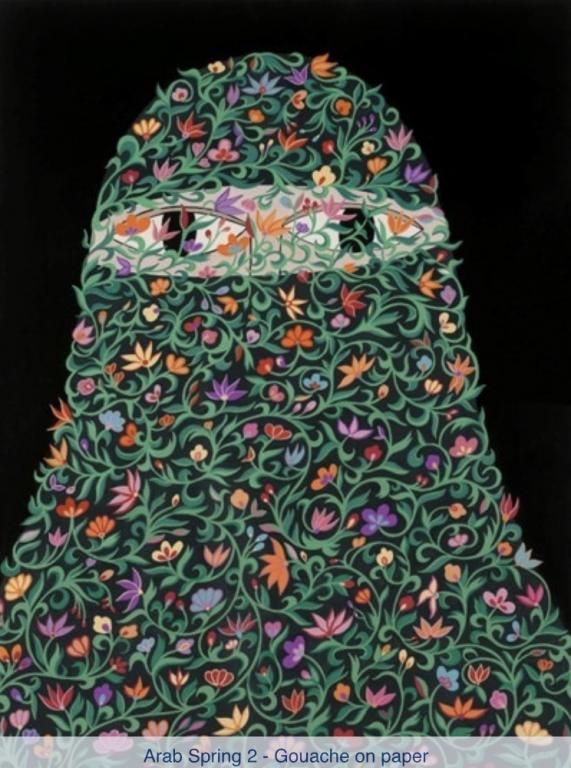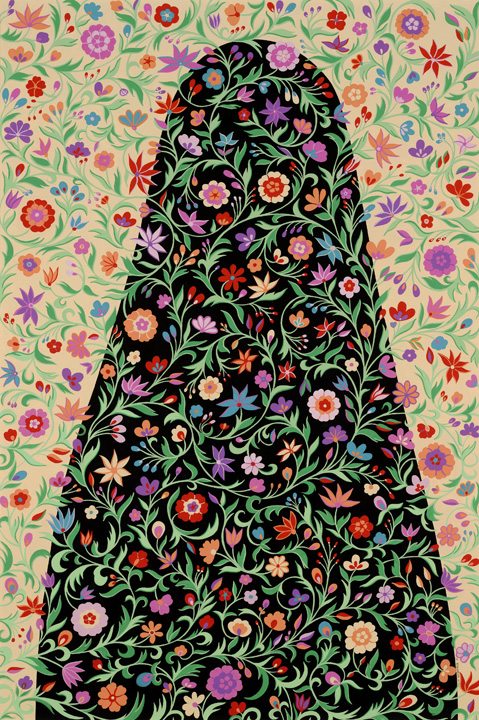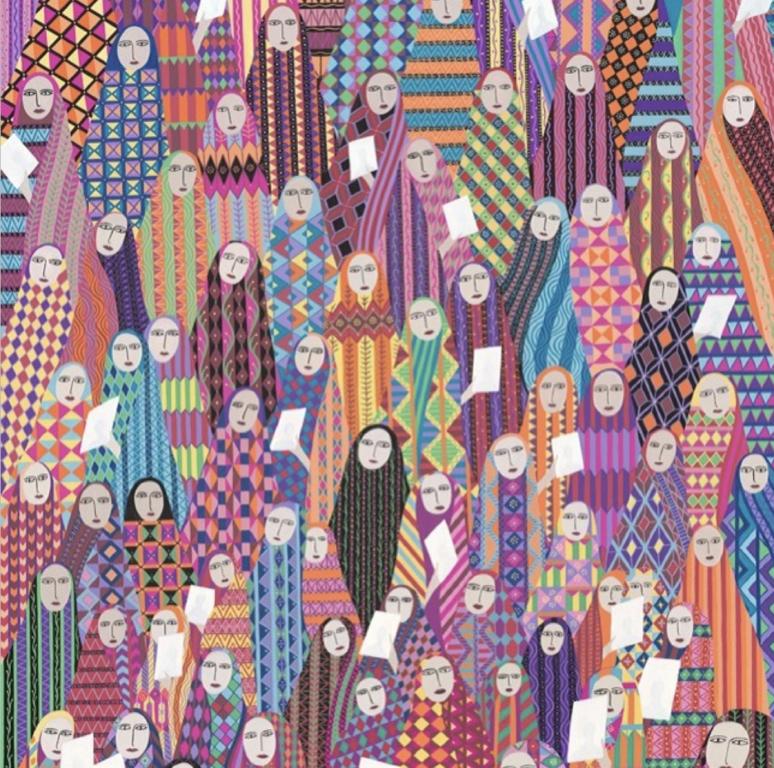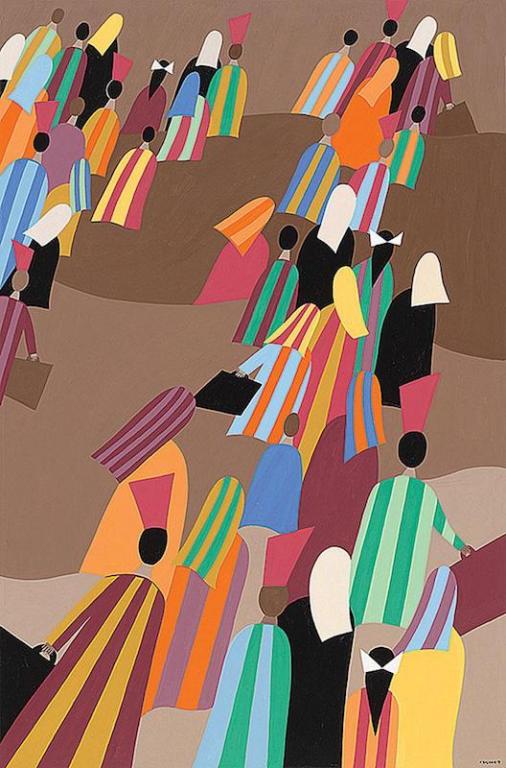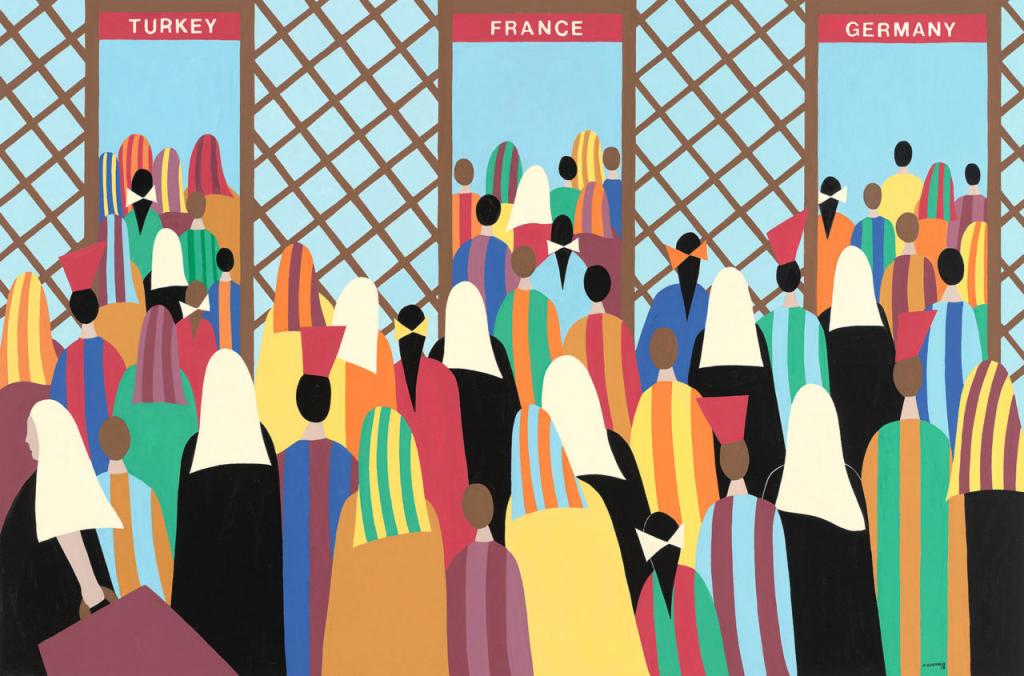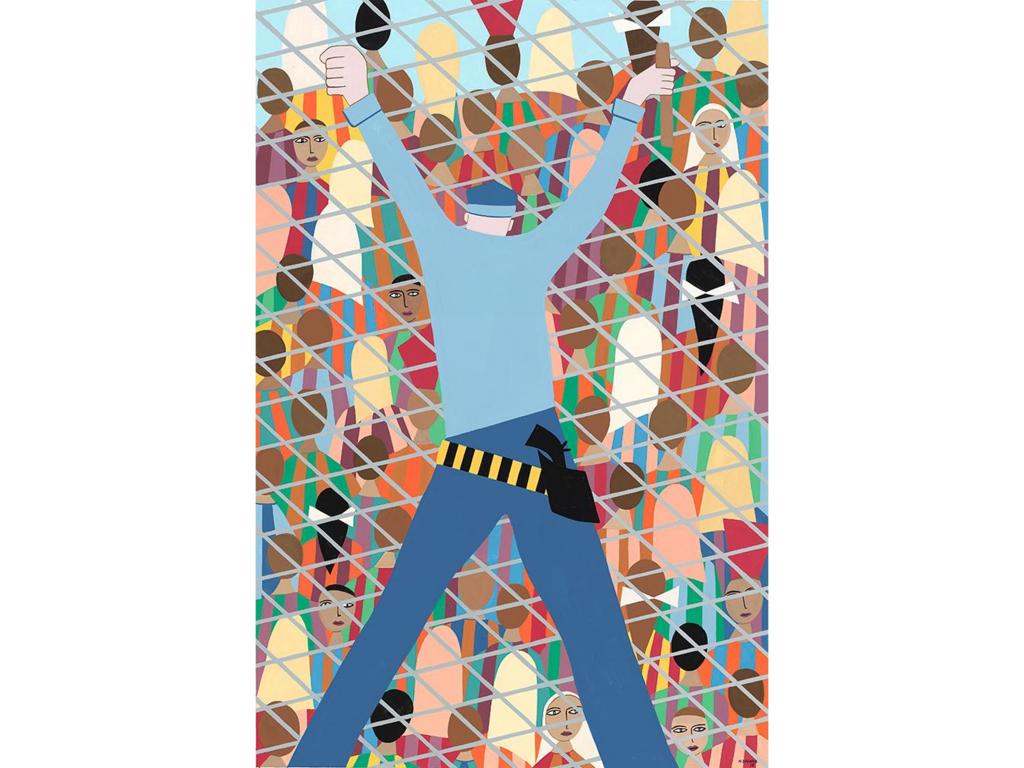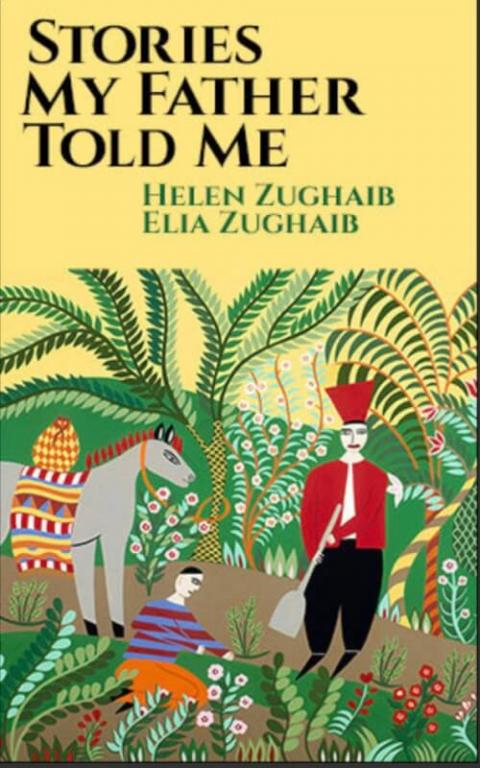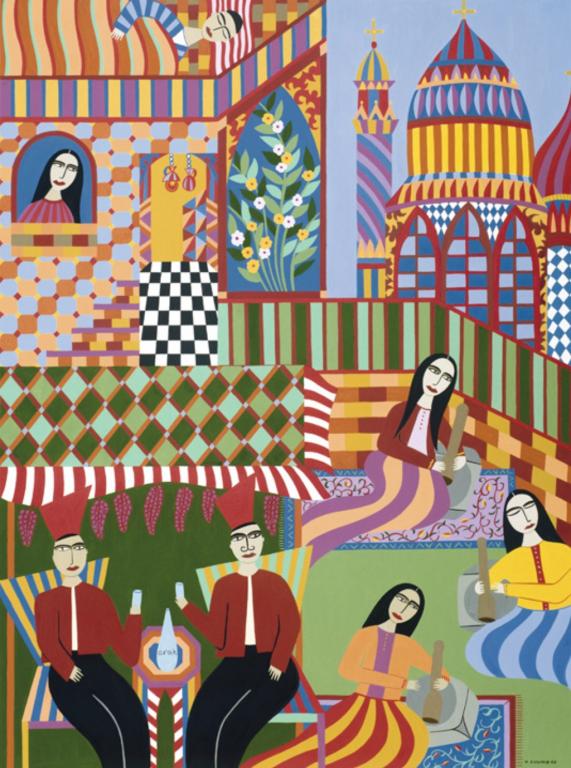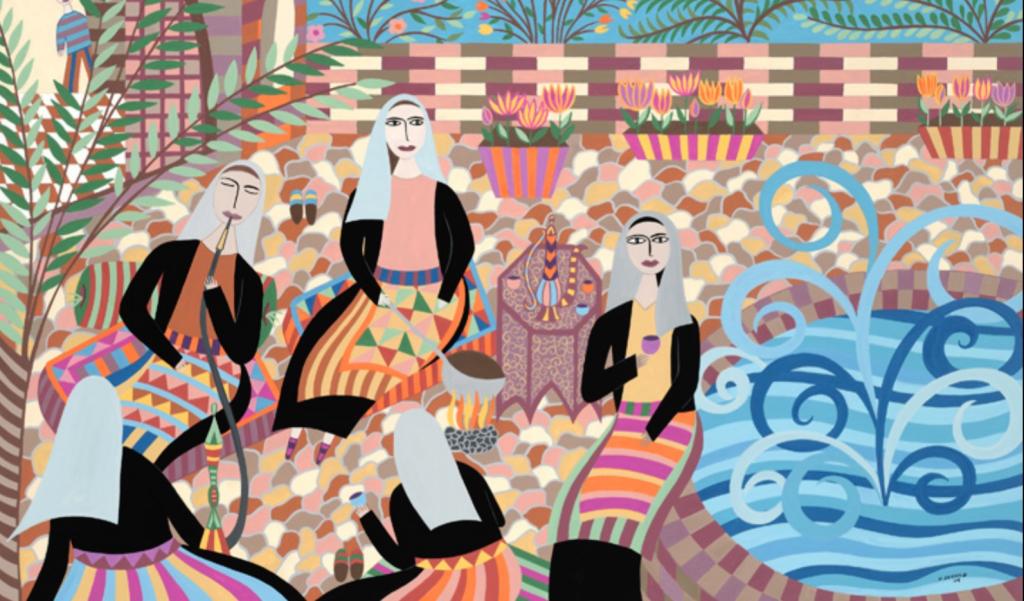 Helen Zughaib
Helen Zughaib's art draws the viewer in through her delightful hues, patterns and intriguing figures, with an overall radiant essence—all of which are there to depict the powerful and meaningful stories, themes and issues that concern our world.
With a mixture of post-Impressionism and pop art style, important notions are brought to the forefront through Zughaib's delicate gouache brushstrokes. Alongside her paintings being aesthetically beautiful, intricate motifs are drenched in colour wrapping her art lines with empathy.
There are layers of meaning in Zughaib's work, they unravel into streams of heartfelt messages, deep emotion, and critical questions.
Using art as a tool for dialogue, a way to reach out across borders, showcase different narratives, a path to relay stories of past and present and within that, future hopes, Helen Zughaib's artworks evoke issues on migration, wars, the plight of refugees, family ties, women's equality as well as transporting us into nostalgic elements.
Her artworks on Syrian Migration are based on Jacob Lawrence's Migration Series. They embody an insight and intensity on the emotion and pain displacement and migration cause, but also on survival. Poignant paintings, art as a voice amidst a silence, speaking a language for compassion and understanding through the vibrant illustrated series.
Works on the Arab Spring and on the artist's time spent in Lebanon—then having to leave due to the outbreak of the Civil War, reveal the depth of Zughaib's subject matter. Art flowing with geometric patterns and floral arabesque propel a conversation between the Middle East and the United States, with the aim to bring about tolerance, acceptance and positive attributes.
Subhiyya, making kibbeh, family gatherings, and rituals are depicted in illustrations such as in "The Stories My Father Told Me", a book based on her father Elia Zughaib's family accounts of his childhood in Syria and Lebanon in the 1930s, pages of which travel across memories of folk tales, ceremonies and customs, in art and storytelling.

Helen Zughaib art navigates a landscape of emotions, a blend of questioning and thinking, joy and sorrow, nostalgia and heartache, highlighting important issues, creating through her alluring and engaging artworks, a gateway to understanding, perspectives, empathy and a sense of humanity.
---
Helen Zughaib is a painter and multimedia artist. She studied visual and performing arts at Syracuse University earning a BFA.
Her work has been widely exhibited in galleries and museums in the United States, Europe and Lebanon.
Helen Zughaib's paintings are included in many private and public collections, including the White House, World Bank, Library of Congress, US Consulate General, Vancouver, Canada, American Embassy in Baghdad, Iraq, the Arab American National Museum in, Michigan, and the DC Art Bank collection.
She was awarded a grant from the DC Commission on the Arts and Humanities and included in the new Washingtonia Collection, in Washington, DC.
Zughaib was invited as artist in residence at George Mason University, Virginia, and Wesley Theological Seminary in Washington, DC. Her paintings have been included in several Art in Embassy exhibitions abroad, including Brunei, Nicaragua, Mauritius, Iraq, Belgium and Lebanon.
In 2008, she was invited as US Cultural Envoy through the US Department of State, to Palestine, where she led a month- long workshop with Palestinian women artists from the West Bank. This exhibit titled "Women's Art, Women's Vision," presented an opportunity for both American and Palestinian women to share their stories and culture celebrating International Women's History Month.
In 2009, she was invited to Switzerland and France, under the US Department of State's Speaker and Specialist Program, sharing her work with universities and schools.
The series of 23 paintings titled "Stories My Father Told Me" was shown at the Arab American National Museum in 2015.
In October 2016, she traveled to Saudi Arabia as US Cultural Envoy, speaking to young Saudi women artists and exhibiting her work at the Quincy House in Riyadh.
Her paintings have been gifted to heads of state by President Obama and former Secretary of State, Hillary Clinton.

---
More information about the artist:
http://hzughaib.com/index.html
https://www.instagram.com/hzughaib/
---
Pictures all copyright and courtesy of Helen Zughaib
Details:
"Veil of Dreams" by Helen Zughaib.
Gouache on paper. From the Series 'Arab Spring'
© Helen Zughaib
"Arab Spring 2" by Helen Zughaib.
Gouache on paper. From the Series 'Arab Spring'
© Helen Zughaib
"Arab Spring" by Helen Zughaib.
Gouache on paper. From the Series 'Arab Spring'
© Helen Zughaib
"Generations Lost" by Helen Zughaib.
Gouache on paper. From the Series 'Arab Spring'
© Helen Zughaib
"Prayers for Lebanon" by Helen Zughaib.
Gouache on paper. From the Series 'Selected Works'
© Helen Zughaib
"Map of Home" by Helen Zughaib.
Gouache on paper. From the Series 'Selected Works'
© Helen Zughaib
"Syrian Migration 1" by Helen Zughaib.
Gouache on paper. From the Series 'Migration'
© Helen Zughaib
"Syrian Migration 3" by Helen Zughaib.
Gouache on paper. From the Series 'Migration'
© Helen Zughaib
"Syrian Migration 4" by Helen Zughaib.
Gouache on paper. From the Series 'Migration'
© Helen Zughaib
"Syrian Migration 14" by Helen Zughaib.
Gouache on paper. From the Series 'Migration'
© Helen Zughaib
"Syrian Migration 16" by Helen Zughaib.
Gouache on paper. From the Series 'Migration'
© Helen Zughaib
"Syrian Migration 26" by Helen Zughaib.
Gouache on paper. From the Series 'Migration'
© Helen Zughaib
"The Stories my Father told me" by Helen Zughaib and Elia Zughaib
"Making Kibbeh on Sunday Morning" by Helen Zughaib.
Gouache on paper. From the book 'Stories My Father Told Me'
© Helen Zughaib
"Subhiyya — Subhiyyi at My Grandmother's House" by Helen Zughaib.
Gouache on paper. From the book 'Stories My Father Told Me'
© Helen Zughaib