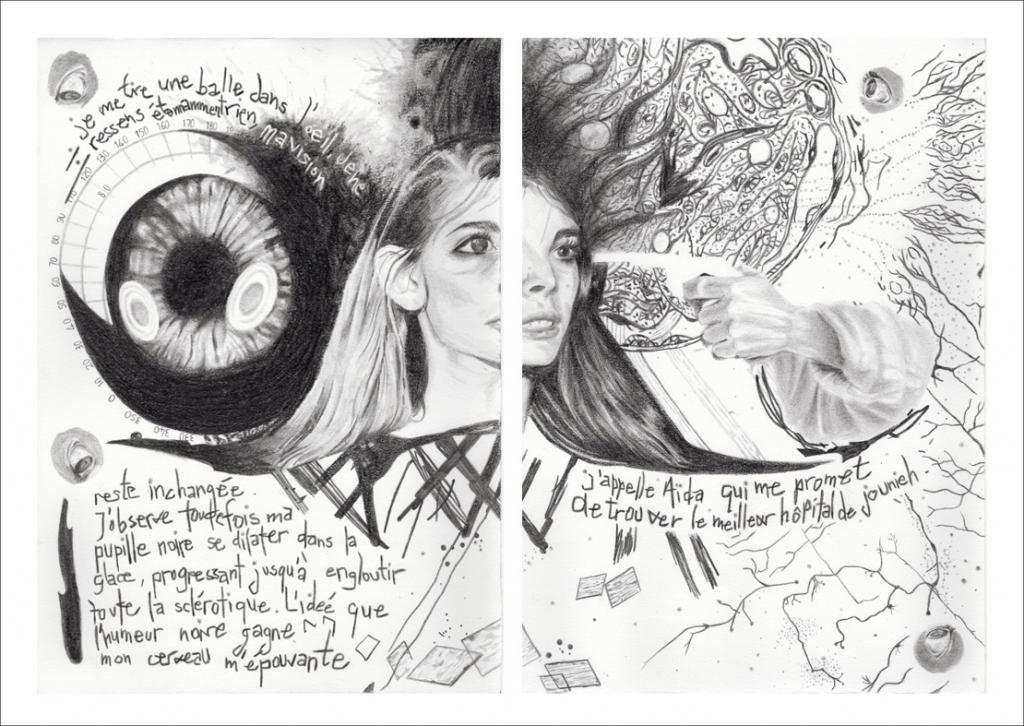 Sandra Ghosn
Ink and pencil glistening across Sandra Ghosn's drawings, artistic atoms, faces, splitting figures, stars, magical ethereal scenes are exquisitely drawn by the artist, embodying a depth of emotion.
The artist shapes her work around light and dark, connecting memories to cosmic elements, artworks entangled between reality and the imaginary, in a contemplative state.
Having worked on graphic comics, Ghosn's art incorporates a storytelling approach, fusing memories, political nuances, healing, and written work alongside her illustrations.
Drawn piercing lights shine from the artist's work, engaging the viewer in, in-between the artist's delicate and fragile, strong and resilient lines. The further Ghosn's drawings are observed, the more the intricate details unravel, skilfully revealing themselves into a fusion of celestial and earth bound artistic eruptions of sentiments and recollections, exuding light, shimmering, connecting skies and souls together through art.
---
Sandra Ghosn recently exhibited with Art Absolument gallery at MENART Fair in Paris at the Palais d'IENA.
---
Sandra Ghosn is a Lebanese-French artist born during the civil war period in Beirut. She graduated in Illustration and Comics at the Lebanese Academy of Fine Arts (2006), and completed a one-year internship in Printed Image at ENSAD Paris (2007). Her work crosses writing and contemporary drawing, as judged by her various publications at United Dead Artists (2014-2021), the installation produced for the Ferme du Buisson as part of the Pulp Festival (2018), the Mahmoud Kahil Prize (2019) received for her artist's book published by Les Crocs Électriques, her cover drawing for Samandal magazine (winner of the Fauve de la BD alternative at Angoulême in 2019 as well as her drawings exhibited at the Ddessin fair (2022, 2023) and the Moderne Art fair (2022), all of which respond to a narrative logic consisting of transcribing the language of the unconscious into images. Today, she lives and works in Paris and is represented by the Art Absolument gallery.
---
Click on each image for details of artworks