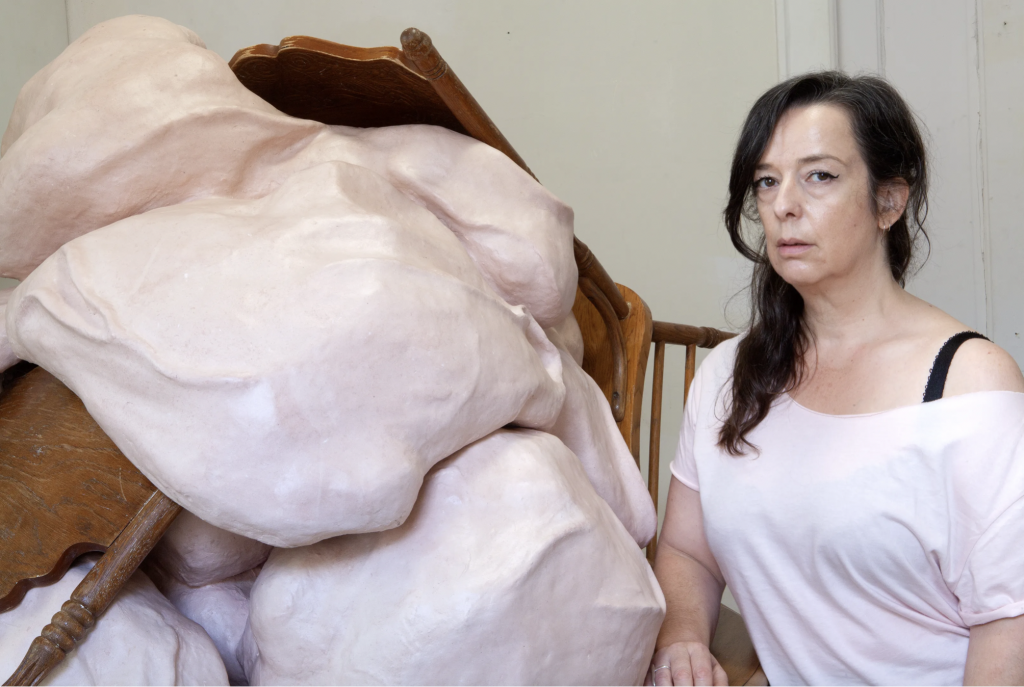 Santina Amato
Santina Amato takes everyday materials and infuses them into her art. Flour, toilet paper, bedsheets, or furniture become tools in the quest to explore questions relating to identity, cultural traditions, norms, and the body. Through the artist's work and live performances the concept of labour comes into perspective, as the artist looks to break down gender stereotypes with the aid of the materials found within a domestic environment, as well as evoke the notion of memory in relation to what those materials have meant, and what they can mean.
Bread dough sits at the core of Amato's work, a familiar matter, a nostalgic element for the artist, expressing that bread dough, "relates back to my immigrant Italian childhood, where dough was no foreign matter. My first memory and experience of femininity and the power of creation (and potentially female desire) was watching my mother knead this soft, white, voluptuous material on our kitchen table. Folding the dough over onto itself and pushing her whole body towards it, she transformed the ingredients of flour and water into a living organism, created for both our oral pleasure and life sustenance. As a material focus, I am interested in the life cycle of bread dough and its ephemeral qualities. Once activated by warm water and sugar, the cells of yeast split and divide, similarly to when an egg is fertilized by sperm. There is a peak moment when the dough is full and voluminous, just before it begins to 'die'."
Amato's art, her sculptures, videos, live performances, confronts the expectations placed on women by society. The stirring of flour with water, stirs up of ideas and thoughts, kneading dough, the power of the body's weight when working through the dough is felt and seen through the art, as power dynamics and gender assumptions unfold. For the artist, bread dough, a familiar entity, represents a life cycle, absorbing and setting free a multitude of notions, expanding them towards the viewer.
The essence of food takes on a socio-political stance in Santina Amato's work, with the artist gathering people around a recognisable substance, evoking memories and provoking communality.
Santina Amato's work is engaging, compelling, through her art and use of common elements interacted with in the everyday, questions on societal norms, thoughts, ideas are raised, just like Amato's dough raises.
---
Santina Amato was born in Melbourne, Australia to Italian immigrants, and has lived and worked in the USA since 2010. Amato received an MFA (Photography) from the School of the Art Institute of Chicago (2017) and was a 2022 AIM Fellow at the Bronx Museum of Art in New York. She is a recipient of the 2023 New York State Council on the Arts, Individual Artist Grant.
She is currently a 2023 Mentor for the New York Foundation for the Arts, Immigrant Artist Program.
Amato's work has been exhibited and screened at Samek Art Museum, Bucknell University, PA, The Arts Club of Chicago, Chicago, IL, MOCA Tucson, AZ, Here Arts Center, NYC, Governors Island Art Fair, NYC and the Kuntshalle Detroit Museum of Contemporary Art, MI. She has received funding from city and state agencies in New York and Illinois, and the Australian Council for the Arts among others.
In 2018, Amato was named as a Hot Pick Artist by Smack Mellon, Brooklyn, NY, and she has held positions as Fellow and Artist-in-Residence at MoCA Tucson, AZ, supported by the Illinois Arts Council Agency (IACA), MASS MoCA in North Adams, MA supported by the City of Chicago's DCASE, 2018 IAP Grant, Crosstown Arts, Memphis, TN, Process Park, Artslant & Chashama, Pine Plains, NY, BRIC Arts Media, Brooklyn, NY. Amato Founded and Directed Moving_Image_00:00, a biannual festival in Chicago of moving image works by Chicago-based artists from 2016-2019.
Her work is part of a collective photographic portfolio at The Joan Flasch Artist' Book Collection and The Art Institute of Chicago, and video collection at the Victorian College of the Arts, Melbourne, Australia and the Samek Art Museum, Lewisburg, PA
For more information about the artist: https://www.santinaamato.com
---
Pictures all copyright © Santina Amato
Click on each image for title of artwork; details of each art series:
-Portraits Of Women With Their Weight In Dough: "Portraits of Women With Their Weight In Dough is an on-going photographic and video series inviting women from diverse backgrounds, to labor in the creation of and to pose with, their weight in dough over a two hour time frame. In 2019 the project was supported by the City of Chicago, Department of Cultural Affairs and Special Events, Individual Artist Program 2019 Grant. Amato has been awarded a 2023 New York State Council on the Arts, Individual Artist Grant and plans to create new portraits in this ongoing series."
-Blurring Boundaries: "Created while AIR at 4Heads Portal, Governors Island, New York, NY, this series places domestic furniture in direct conversation with a bio-morphic, organic shape made from domestic materials such as recycled household junk mail, garbage bags, flour, and glue. The sculptures reflect on a our world that was reduced to the confines of our domestic environment due to the pandemic, where boundaries of work and personal spaces became blurred."
-Seedbed, 2019: "In her performance titled Seedbed, Amato combined two childhood memories from her upbringing in Australia within an immigrant family household: the first of her mother using her body to make bread dough, the other, her mother dyeing her clothes black on news that her father had passed away in Italy.
A common sight for Amato growing up was witnessing her mother using her whole body to knead dough on the kitchen table to feed the family. When the dough was ready, Amato's mother would put the dough in a large bowl and lead Amato and her siblings into Amato's bedroom, placing the bowl on her bed while covering the bowl of dough with her bed blankets. She would then shuffle Amato and her siblings out of the room, shutting the bedroom door behind them whispering, "Keep quiet! The dough is sleeping". The fascination of the dough doubling in size while 'sleeping' always captivated young Amato.
The other childhood memory Amato has combined to create Seedbed is watching her mother boil up a big pot on the kitchen stove when she received a phone call stating that her father had passed away in Italy. She proceeded to put her clothes into the pot, one by one, to dye them black to wear over the coming year as a sign of mourning her father's death; black being the colour of mourning in the Italian culture and the only time it is (was) seen appropriate to wear this colour.
Amato created 40lbs of bread dough (the approximate weight she would have been when witnessing her mother dye her clothes as a sign of mourning) to place into a bowl that sat waiting on a single bed. Wearing a black Labour and Birthing Hospital Gown bought off Etsy, Amato walked away, leaving the dough to "sleep" while it continued to perform for the public without the body present.
Seedbed references Vito Acconci's 1972 performance of the same name, subverting, while reclaiming, the uterus as the ultimate seedbed. The performance was held on June 16th, 2019 at Dfbrl8r in the Zhou B Arts Center in Chicago, as part of the Bubbly Creek Performance Art Assembly, a performance festival celebrating the Bridgeport neighborhood of Chicago and homage to Chicago's rich labor and immigrant history, curated by Angeliki Tsoli. The remains of the performance were left in the gallery to 'decay' as part of the Visual Art Exhibition component of the performance festival, until July 12th, 2019."
https://dfbrl8r.org/event/bubbly-creek-performance-art-assembly-2
-Dis-rupted, 2018: "Dis-rupted was a durational performance that focused on the materiality of bread dough and women's bodies in a designated space. Dis-rupted was the largest project Amato has attempted with bread dough to date, inviting twelve female identifying women to create 900 lbs of dough in a public performance setting held on December 4th, 2018. The (anti)climax of the event saw the performers lay in the dough as it rose around them, consuming their bodies for a period of over an hour. This work is a continuation of Amato's investigations into the materiality of dough and her focus on the notion of the intimate body, especially the female body."
Performers: Santina Amato, Caitlin Hassinger, Ashli Aaron, Megan Travis-Carr, Bianca Phillips, Mary Jo Karimnia, Lily Anderson, Julianna Johnston, Erica Vanhaute, Madelyn Altman, Asayah Young, Elizabeth Elder
-Mother Dough, 2020: "Mother Dough is a photographic series capturing Amato's 83 year old mother holding dough. While her attempt to hold the dough between her hands appeared fruitless at the time of shooting – sliding and slipping away by its own agency and gravity – it is only later, through the camera's eye, the true nature of the material creating 'momentary sculptures' that morph and change between her grip, reveal themselves. These sculptures have an extremely short existence in the world, appearing at times to suggest male genitalia that then morph into female genitalia. Others appear as if a baby human dangles between her hands. The body of work reflects on the all time fascination humans have had with sex, death and life as Amato's mother heads towards the final decade(s) of her life."
-Re-Perform, 2017: "This series of sculptures are specifically created from a domestic material (ceramics) in a size that considers its relation to the human body, with the aim to be 'maintained' after each dough performance. Overtime, they will carry the scars of their previous performances on their unglazed surfaces." Governors Island Art Fair, Governors Island, New York, NY, September 2nd – October 2nd 2017.
-Still Life With Flowers, 2016
-Because the flowers wont last, 2019: "In this series titled 'Because the flowers wont last', glass is making its first appearance in Amato's work, sitting alongside her old friend bread dough. Amato says of the work; "Glass has been a difficult material to work with and has brought out the most delightful of challenges, that of strength and fragility co-existing. The glassware itself was purchased from local thrift stores and my intention is for them to be returned to the shelves to await their forever homes, having momentarily existed in this exhibition."