Art can be a voice and showcase multiple perspectives. History of Art bringing in a multitude of narratives is vital and important, but these perspectives unfortunately have not always been made visible. Not being taught all perspectives in art history means that art becomes a tool for one history, one power and not multiple spheres of influence or the multitude of beautiful art that comes from all over the world. Thankfully there are artists, art galleries, organisations and foundations highlighting numerous voices and beautiful and important artworks from across the world...
---
Addis Fine Art gallery showcases engaging and profound contemporary art from the Horn of Africa region and its Diasporas.
Founded in 2016 by Rakeb Sile and Mesai Haileleul, Addis Fine Art galleries are based both in Addis Ababa and London. January 2016 saw the opening of the gallery's main space in the heart of Addis Ababa displaying diverse works of modern and contemporary artists, and in London in October 2016, the gallery's AFA Project Space was launched with an international programme around voices from the Diaspora. In 2020 Addis Fine Art expanded, moving to an exhibition space in Cromwell Place, opening with an impressive exhibition by the brilliant Ethiopian modernist painter Tadesse Mesfin.
Tadesse Mesfin, Pillars of Life: Hope III, 2020, Oil on Canvas, 130 x 98 cm.
From 23rd February until 7th March, Addis Fine Art will join more than 40 galleries from across five continents and participate in South-South Veza the inaugural event of South South, a peer-led platform that focuses on art from the Global South.
South South was conceived by Liza Essers, owner and director of Goodman Gallery, as a response to the global pandemic - to the difficulty of showing work in these challenging times. South South is an online community, an anthology, an archive and resource for artists, galleries, curators and collectors invested in the Global South. It is an art platform that highlights art histories and perspectives, bringing forth a de-centred art world.
Veza meaning "to show, produce or reveal' in isiZulu, combines art dedicated to the Global South via an Online Viewing Room as well as through an online timed auction.
For the South South Veza auction and online viewing, Addis Fine Art's exhibit will present works by artists Ermias Kifleyesus and Tesfaye Urgessa that explore subjects surrounding migration and cultural assimilation, as well as discussing the impact these two artists' Ethiopian heritage has on their artistry. Art from Ethiopia is rich in history, and its contemporary art scene is enveloped in meaning and depth.
Ermias Kifleyesus (b. 1974) lives and works in Brussels. He attended the Addis Ababa University, Ale School of Fine Arts and Design where he was taught by the influential painter Tadesse Mesfin. As a multidisciplinary artist, Kifleyesus uses a plethora of artistic techniques and media to investigate important questions about the human condition and provide commentary about the larger complexities of the world that occupy him. His art is layered with meaning, thoughts on readdressing history and presenting perspectives and the notion of identity in between each deconstructed and constructed layer and collage work, where coats of hidden historic moments are transformed and brought to our attention through profound, impactful beautiful artworks.
Tesfaye Urgessa (b. 1983) has quickly become one of the most prominent contemporary artists from Ethiopia since graduating from Alle School of Fine Art and Design in 2006. He enrolled at the Staatlichen Akademie der Bildende Kunst in 2009 and has been based in Germany ever since. Urgessa artistic subject matter focuses on social criticism, race, and the politics of identity. His figurative artworks are strong and impactful with an essence of fragility and emotion embodying both surreal and biographical work. His artworks are impressive and beautiful, coated with meaning and brushstrokes filled with depth and sentiment.
Part of the proceeds for the South South Veza event will go to the SOUTH SOUTH not-for-profit partners RAW Material Company (Dakar), Casa do Povo (São Paulo) and Green Papaya Art Projects (Manila). These grassroots organisations are dedicated to nurturing multidisciplinary practices and arts discourses in their communities.
For the timed auction the two artworks available are: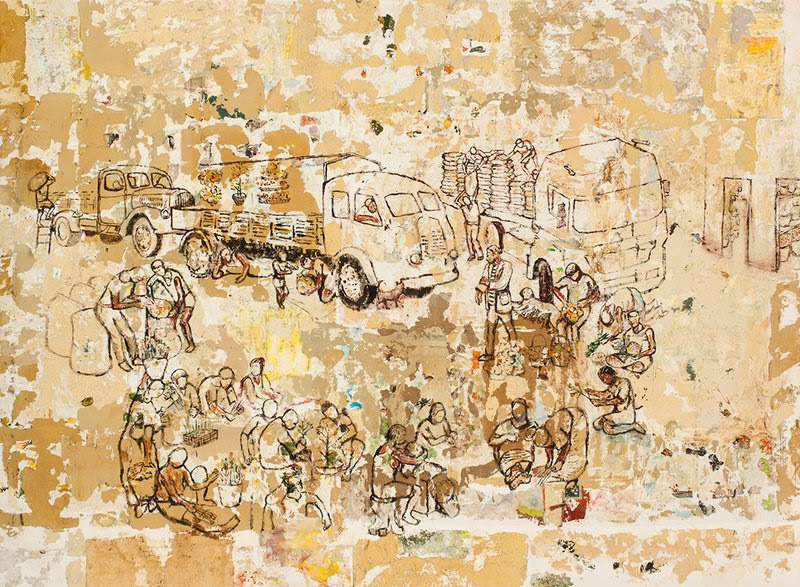 Ermias Kifleyesus, Small Market, 2020, Mixed media, collage, oil on canvas, 160 x 218 cm
Tesfaye Urgessa, Chasing After the Wind I, 2020, Oil on canvas, 150 x 150 cm
Works by Ermias Kifleyesus and Tesfaye Urgessa on the Online Viewing Room :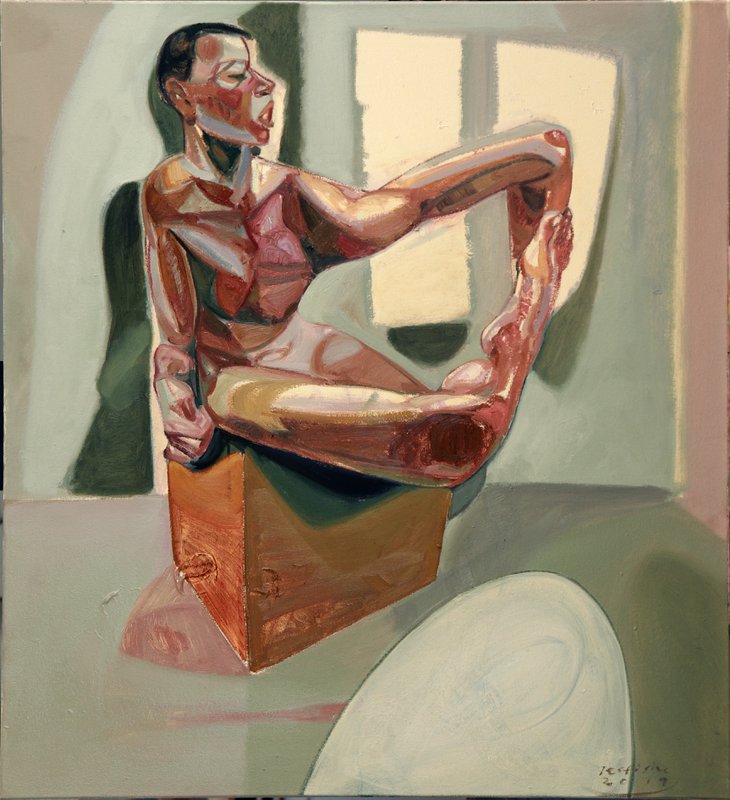 Tesfaye Urgessa, Wandering Man, 2019, Oil on canvas, 120 x 110 cm
Ermias Kifleyesus, Three-Thousand-Century Human, 2020, Mixed media, collage, oil on canvas, 180 x 135 cm
---
Addis Fine Art: https://addisfineart.com
South South: https://south-south.art
---
Images courtesy of Addis Fine Art. COPYRIGHT © THE ARTISTS.