Joanna Chevalier on
the Impact and Power of Art from the MENA Region,
MENART FAIR Brussels, Emerging Artists,
and Art as a Voice and Expression
Joanna Chevalier @JulesMonnier
As the February days get closer, MENART FAIR heads to Brussels at Fondation Boghassian Villa Empain, showcasing art from the Levant, the countries of North Africa, the Gulf and Iran.
Joanna Chevalier the artistic director of MENART FAIR, conveys to us the strength that art from the MENA region holds, its impressive depth with either subtle or direct outlooks on topics from artistic personal emotions to current affairs, about the fair's programme focusing on present issues, on how NFT's have become a tool for many to express themselves in, gained ground in the art world, and were well received in the previous edition of MENART FAIR, on the art community highlighting art from across the world, on MENART FAIR showcasing emerging contemporary artists and creating ripple effects, on her devotion for art, and hoping that eventually artworks will be appreciated for what they are, leaving trends and geographical identities to one side.
In conversation with Joanna Chevalier, her dedication for the arts and for artists to have a space to communicate their great talent, is sensed through her words, with her insight into art's role to connect and create links by way of artworks and through MENART FAIR, alongside a belief that disaccord within discussion, can propel recognition to further comprehend one another. Listen below to full interview with Joanna Chevalier, and get to hear about art from the MENA region and more on MENART FAIR.

---
Joanna Chevalier is an artistic director and advisor specialising in contemporary art from the Middle East. Born in Lebanon, she lives and works in Paris, France. She graduated in Political Science at the American University of Paris and founded TalentsVideo, an art film production and distribution company in 2005. In 2010, she produced and delivered ten films linking art and classical music, which were projected during the Nuit Blanche at the Musée de la Chasse et de la Nature. The same year, she curated the exhibition "Who are you Peter?" at the Espace culturel Louis Vuitton. In the following years, she curated several exhibitions, including "Heartland" at the Beirut Exhibition Center, "Forms and Patterns" in collaboration with the Beirut Design Fair at the Maison Rabih Kayrouz and "La Valise d'Orphée" at the Musée de la Chasse et de la Nature. She has also curated several exhibitions in auction houses, including "Michel Deverne" organised by Piasa Beirut ; "Pierre Malbec & Furniture and Art Objects" at Artcurial Beirut. And "From Beirut Art+Design Scene" at Piasa Paris. In 2019, she became the artistic director of the Beirut Art Fair, followed in 2021 by the Menart Fair, a position she still holds today.
At the same time, she founded CMS COLLECTION with Hervé Mikaeloff and François Sarkozy, which is both a joint collection and a tool to support the artists featured in it in their artistic development.
---
MENART FAIR BRUSSELS: 3-5 February, press preview 2 February, at Boghossian Foundation - Villa Empain
More on MENART FAIR, images of some of the artworks and galleries here: https://artbreath.org/coffee-talk/menart-fair-brussels
The galleries and artists that will attend the fair include:
Amenor Contemporary x Simine Paris:
 Roya Akhavan, Reza Derakshani, Ghasem Hajizadeh
Ghasem Hajizadeh, Le Cabaret, 1979, oil on canvas, 130x162cm
Atelier Nadeen x jihad khairallah architects: 
Jihad Khairallah, Nadine Roufael
Ayn Gallery: Roger Moukarzel in collaboration with Mariam Boehm, Amina Zoubir
Baronian: Mekhitar Garabedian, Toufan Hosseiny, Achraf Touloub
Galerie Bessières: 
Serge Najjar, Hala Schoukair
Galerie Dar D'Art: 
Mahi Binebine, Mohamed Melehi, Farid Belkahia, Mohamed Ataallah, Mohamed Chebaa
Everything I Want: Flavie Audi, Tarek Shamma, Osman Youzefada
Fann À Porter: Houssam Ballan, Omran Younis
Houssam Ballan, Untitled, 2022 oil on canvas, 130x150 cm
Galerie Françoise Livinec: Georges Hanna Sabbagh
Gaya Art:
 Baya (Fatma Haddad Mahieddine), Bardi (Mehdi Djelil), Dadkhah (Bahman)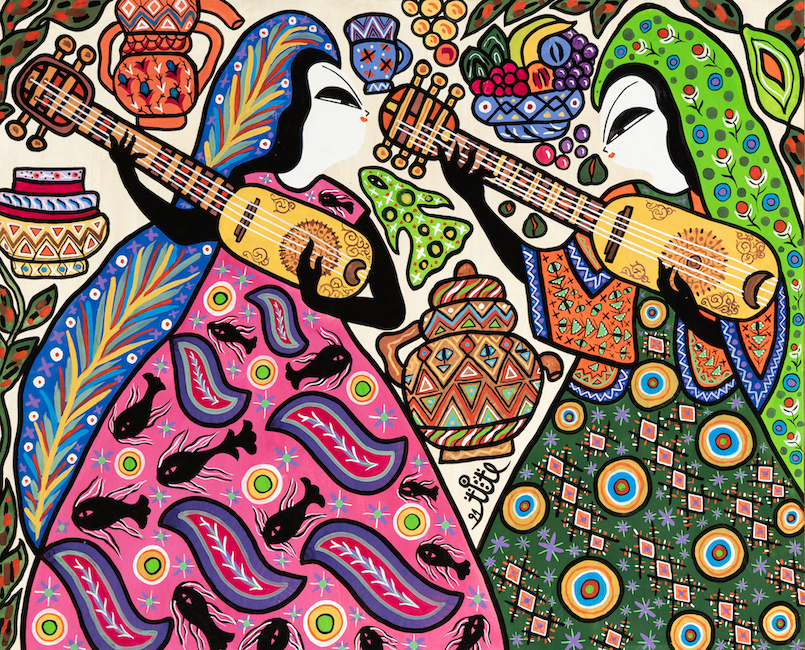 Baya, Untitled, 1991, gouache on paper, 82x100 cm
Gery Art Gallery: Bilal Bahir
Hunna Art: Eman Ali, Zayn Qahtani, Alymamah Rashed
In Situ – fabienne leclerc: Joana Hadjithomas & Khalil Joreige, Ramin Haerizadeh, Rokni Haerizadeh, Hesam Rahmanian
Joana Hadjithomas & Khalil Joreige♂, Message with(out) a code I, 2022, Tapestry (Linen, Cotton, Polyester, Paper, Viscose, Acrylic, Wool), 123x171cm, Edition of 5 + 2 AP © The artists & Ga
Galerie La La Lande: Slimen El Kamel, Aïcha Snoussi, Nada El Kalaawy, Ilham Etamadi
Le LAB: Bahaa Amer, Omar Chakil
Mark Hachem: Hamed Abdalla
Musk and Amber Gallery: Mohamed Ghaderi
Galerie Nathalie Obadia: Hoda Kashiha, Shahpour Pouyan, Youssef Nabil, Sarkis
Galerie Tanit: Adel Abidin, Abed Al Kadiri, Mojé Assefjah, Zena Assi, Simone Fattal, Chafa Ghaddar, Tamara Haddad, Kevork Mourad, Nabil Nahas, Serge Najjar, Ghassan Zard
Saleh Barakat Gallery: Anas Albraehe, Abdul Rahman Katanani, Tagreed Darghouth, Walid Sadek, Azza Abo Ribieh
Anas Albraehe, painting detail
The Great Design Disaster: 
Gregory Gatserelia
Zalfa Halabi Art Gallery: 
Yasmina Hilal
Zawyeh Gallery: Nabil Anani, Khaled Hourani, Yazan Abu Salameh
Museum Exhibition/Exposition Muséale: (Non-profit) Tribute to Etel Adnan
Museum Exhibition/Exposition Muséale: (Non-profit) Art Selections Cultural Narratives
---
MENART FAIR BRUSSELS:
From Friday, February 3 to Sunday, February 5 with a press preview on the Thursday 2nd February, at Boghossian Foundation - Villa Empain, Avenue Franklin Roosevelt, 67, 1050- Brussels, Belgium.
---
Interview as part of a series Art Breath x MENART FAIR
---