Laure d'Hauteville on MENART FAIR Brussels,
Art to Connect us, Perspectives through Art, and
the Diverse Richness and Power of Art and Design from the MENA Region
Laure d'Hauteville @JulesMonnier
For its third edition, MENART FAIR heads to Brussels this February, highlighting art from the Levant, the countries of North Africa, the Gulf and Iran. Founder and director of the fair, Laure d'Hauteville relays to us, her dedication for art from the MENA region, the beginnings of the fair, what we can expect to see at MENART FAIR Brussels at Fondation Boghossian Villa Empain, on the international galleries representing modern and contemporary artists, showcasing their engaging and notable art and design works, the non-profit sections that will form part of the fair, and the importance art from the MENA region holds.
MENART FAIR's aim is to share, show and highlight art, voices and perspectives from the region, encouraging people and countries to connect, building bridges and starting a dialogue. Emerging artists alongside established ones through a range of galleries, will display their work on varied topics, from past to current issues, to personal experiences, as well as design works that fuse heritage and contemporary elements.
In conversation with Laure d'Hauteville, her devotion towards art, the galleries, artists and for their stories, histories, messages and viewpoints to come through during MENART FAIR, is felt across her words with her deep understanding on the essence the power art has, to inform, cultivate, develop and bring people together, alongside creating a flourishing art arena. Listen below to full interview with Laure d'Hauteville, and hear more on art from the MENA region and about MENART FAIR.
---
MENART FAIR BRUSSELS: 3-5 February, press preview 2 February, at Boghossian Foundation - Villa Empain
---
Laure d'Hauteville lives and works in Paris as an artistic consultant who works with collectors, galleries and artists. Formerly a cultural journalist, she has been active on the art scene since 1991, working between France and the Middle East. Fuelled by her passion for the arts of these regions, her career has been devoted to the promotion of intercultural dialogue between the Middle East and the West.
In 1998, she founded Artuel in Beirut, the first international modern and contemporary art fair in the region, which she directed and curated until 2005. During that period, she also created JABAL, a fair dedicated to the discovery and recognition of young emerging artists in Lebanon. In 2007 and 2008, she established the Artparis-Abu Dhabi Fair (Abu Dhabi, United Arab Emirates). In 2010, she created and directed the Beirut Art Fair, followed by the Singapore Art Fair in 2014. From 2012 to 2018, she launched the Byblos Bank Award for Photography in Lebanon, which helped many photographers gain recognition on the international scene.
In 2021, she conceived and developed the MENART FAIR in Paris, the first fair dedicated to galleries presenting artists from the Middle East and North Africa (ME.NA), which she then succeeded in expanding to other European capitals.
D'Hauteville curated an exhibition at the abbey of Jumièges in July 2022 in collaboration with the Département de la Seine Maritime that did bring together sixteen photographers from the contemporary art scene in Lebanon.
---
More on MENART FAIR, images of some of the artworks and galleries here: https://artbreath.org/coffee-talk/menart-fair-brussels
The galleries and artists that will attend the fair include:
Amenor Contemporary x Simine Paris:
 Roya Akhavan, Reza Derakshani, Ghasem Hajizadeh
Atelier Nadeen x jihad khairallah architects: 
Jihad Khairallah, Nadine Roufael
Jihad Khairallah, Kōzō, 2022, solid wood structure with steel brackets, 228x121,5cm
Ayn Gallery: Roger Moukarzel in collaboration with Mariam Boehm, Amina Zoubir
Marion Boehm, in collaboration with Roger Moukarzel, JAMILA, 2022, mixed media collage, 166x118 cm
Baronian: Mekhitar Garabedian, Toufan Hosseiny, Achraf Touloub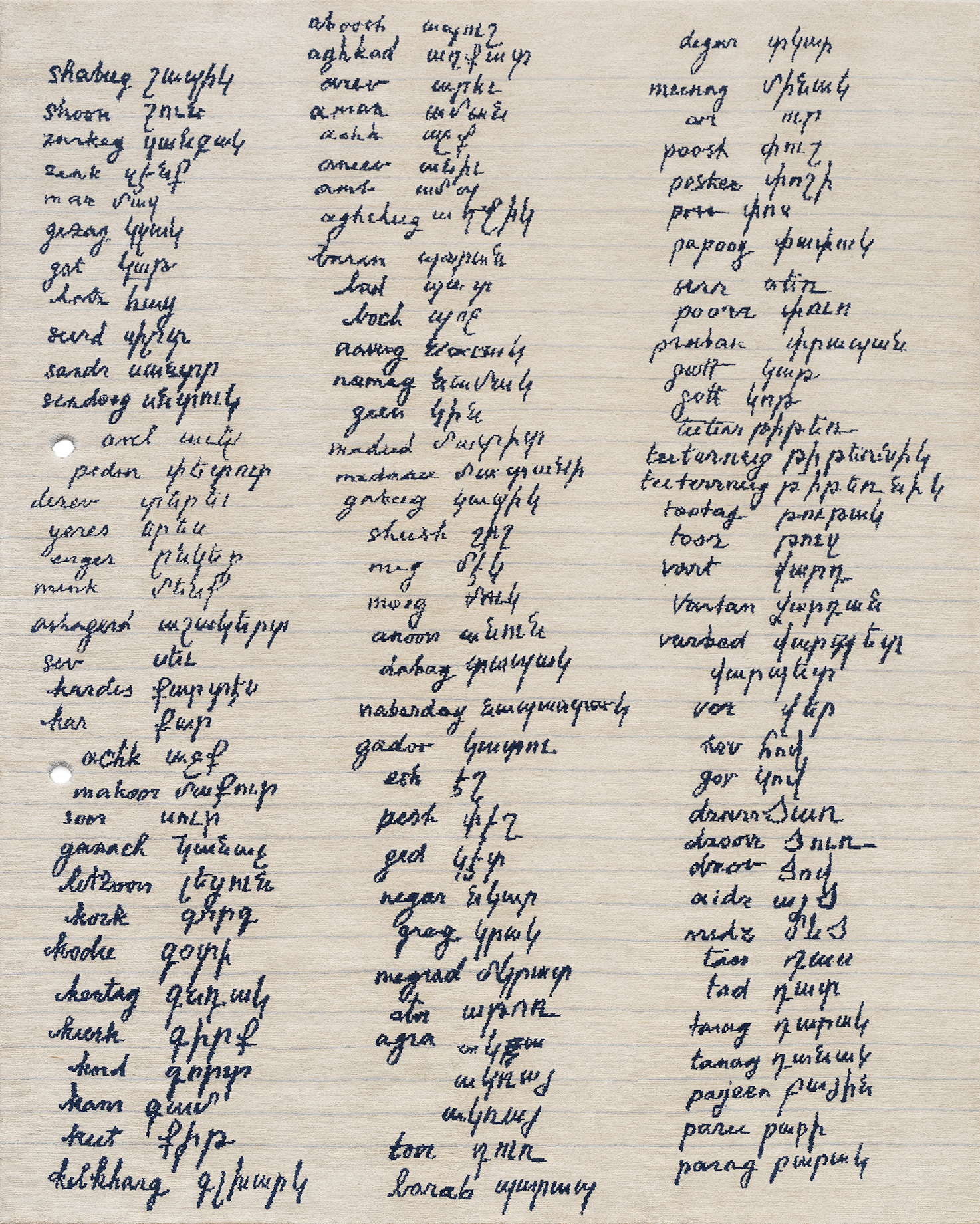 Mekhitar Garabedian, fig. a, a comme alphabet (shabeeg-parag), 2020, Handmade carpet, wool, silk, 240 x 182 cm
Galerie Bessières: 
Serge Najjar, Hala Schoukair
Galerie Dar D'Art: 
Mahi Binebine, Mohamed Melehi, Farid Belkahia, Mohamed Ataallah, Mohamed Chebaa (Morocco)
Everything I Want: Flavie Audi, Tarek Shamma, Osman Youzefada
Fann À Porter: Houssam Ballan, Omran Younis
Galerie Françoise Livinec: Georges Hanna Sabbagh
Gaya Art:
 Baya (Fatma Haddad Mahieddine), Bardi (Mehdi Djelil), Dadkhah (Bahman)
Gery Art Gallery: Bilal Bahir
Hunna Art: Eman Ali, Zayn Qahtani, Alymamah Rashed
Alymamah Rashed, I ROSE OUT OF EARTH TO LOSE YOUR PRAISE (I LONG FOR YOU), 2021, watercolor and charcoal on paper, 434x152 cm.
In Situ – fabienne leclerc: Joana Hadjithomas & Khalil Joreige, Ramin Haerizadeh, Rokni Haerizadeh, Hesam Rahmanian
Galerie La La Lande: Slimen El Kamel, Aïcha Snoussi, Nada El Kalaawy, Ilham Etamadi
Le LAB: Bahaa Amer, Omar Chakil
Mark Hachem: Hamed Abdalla
Musk and Amber Gallery: Mohamed Ghaderi
Galerie Nathalie Obadia: Hoda Kashiha, Shahpour Pouyan, Youssef Nabil, Sarkis
Galerie Tanit: Adel Abidin, Abed Al Kadiri, Mojé Assefjah, Zena Assi, Simone Fattal, Chafa Ghaddar, Tamara Haddad, Kevork Mourad, Nabil Nahas, Serge Najjar, Ghassan Zard
Serge Najjar, The Traveler, 2018, inkjet on ultra smooth paper, 50x50 cm, edition 1 of 5 + 2 AP
Saleh Barakat Gallery: Anas Albraehe, Abdul Rahman Katanani, Tagreed Darghouth, Walid Sadek, Azza Abo Ribieh
The Great Design Disaster: 
Gregory Gatserelia
Zalfa Halabi Art Gallery: 
Yasmina Hilal
Zawyeh Gallery: Nabil Anani, Khaled Hourani, Yazan Abu Salameh
Yazan Abu Salameh, Shams Al-Ard, 2022, acrylic and ink on paper, 53x68cm
Museum Exhibition/Exposition Muséale: (Non-profit) Tribute to Etel Adnan: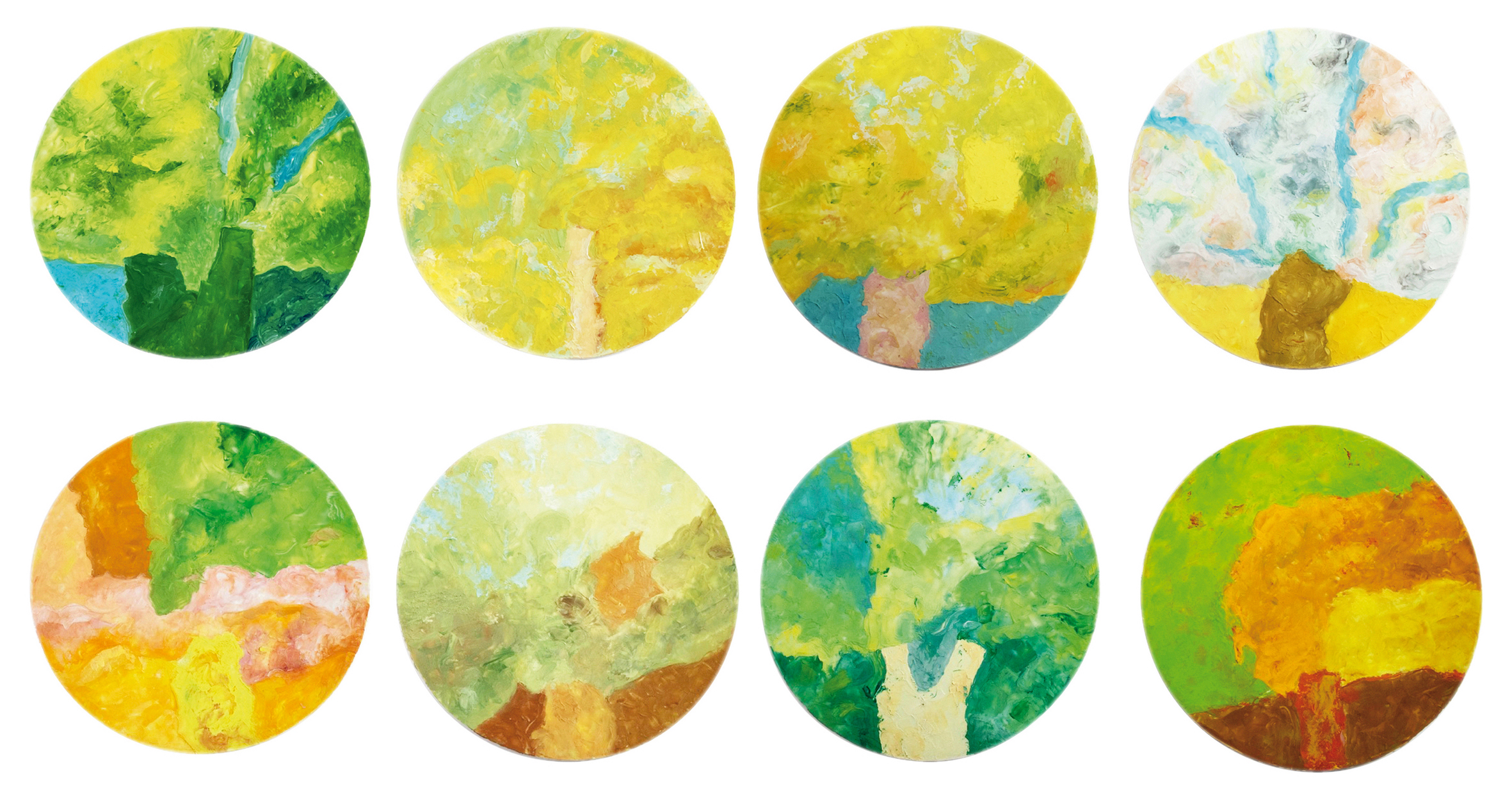 The Seine-Maritime department will exhibit at MENART FAIR, a series of eight ceramics by Etel Adnan, produced as part of the project "A roof for silence" designed by the architect Hala Wardé. These eight ceramics are part of the "Olivéa series, a tribute to the goddess of the olive tree", and are one of Étel Adnan's last projects before she passed away. They were produced at the Pôle Céramique Normandie with several months of research by the ceramist Alexandra Catelain-Orange.
Museum Exhibition/Exposition Muséale: (Non-profit) Art Selections Cultural Narratives:
Artists that will form part of the Non Profit Cultural Narratives include: Marwan Sahmarani, Simone Fattal, Ayman Baalbaki, Laure Ghorayeb, Gilbert Hage, Chantale Fahmi, Yasmina Nysten, Sarah Abou Mrad, Anachar Basbous, Oussama Baalbaki, Safwan Dahoul, Bahram Hajo, Jean Boghossian, Lutfi Romhein, Anas Albraehe, Nazir Ismail, Thaier Helal, Elias Izoli, Kais Salman, Khaled Takriti, Safak Gurboga, Cansu Sönmez, Şeyda Özdamar, Elif Firat Guirguis Lotfy, Aly Sirry, Hady Boraey, Tahar Ben Jelloun, Feryel Lakhdar, Khaled Ben Slimane, Imed Jemaiel, Nja Mahdaoui, Omar Bey, Slimen Elkamel
F160(Abdulraheem Ayyad), Sami Mohammad, Ghadah Alkandari, Fereydoun Ave, Kourosh Salehi, Sina Choopani, Mohsen Ahmadvand, Nariman Farrokhi, Sepideh Zamani, Mirmohammad Fattahi, Hanaa Malallah, Mahmoud Obaidi, Resmi Al Kafaji, Sadik Kwaish Alfaraji, Dia Azzawi, Serwan Baran Nedim Kufi, Abdulrahman Katanani, Amer Shomali, Hazem Harb, Samia Halaby, Nabil Anani, Bashar Alhroub, Hamza Bounoua, Fatima Al Mazrouie Muhannad Shono, Hussain Sharif, Yasser Al Mulla, Fatma Al Shebani, Mohanna Durra, Ali Hassan, Moath Alofi
---
MENART FAIR BRUSSELS:
From Friday, February 3 to Sunday, February 5 with a press preview on the Thursday 2nd February, at Boghossian Foundation - Villa Empain, Avenue Franklin Roosevelt, 67, 1050- Brussels, Belgium.
---
Interview as part of a series Art Breath x MENART FAIR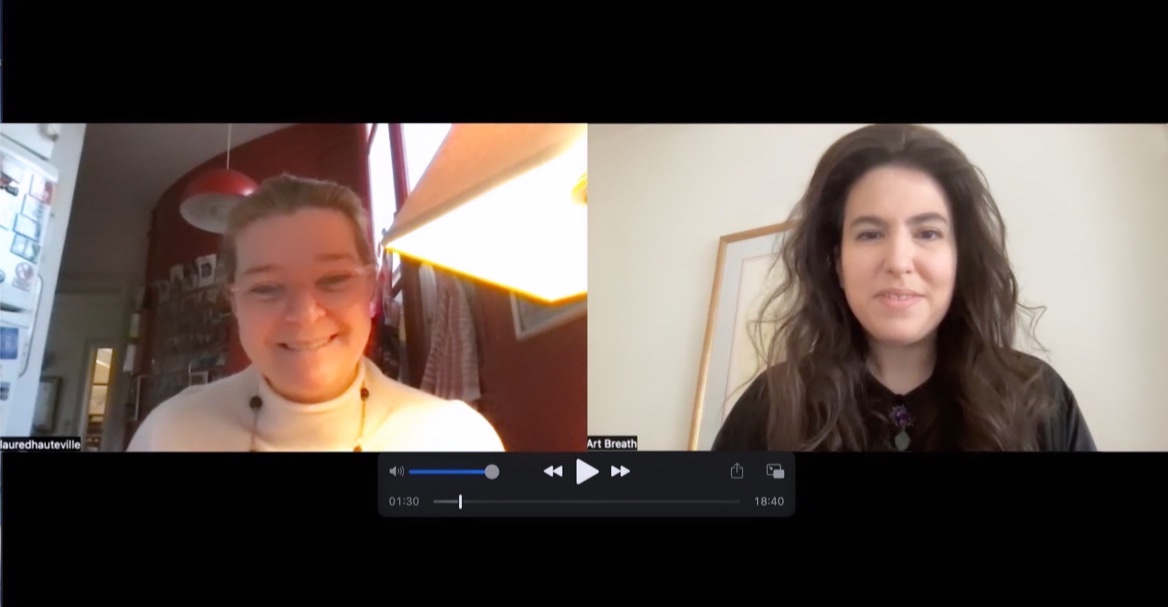 ---